---

News
New Surplus Property Operations Manual Posted Online
The Purchasing Division has posted its newest publication, the Surplus Property Operations Manual, which combines the former West Virginia State Agency for Surplus Property Reference Manual and the Inventory Management and WVFIMS Fixed Assets Training Manual. This updated manual has been created to provide state agency personnel with updated information on the Surplus Property processes, as well as asset management guidelines and fixed asset training procedures. It may be reviewed by following the direct menu link at WVSurplus.gov.
Agencies Develop Procedures for Purchasing Documents at the Fiscal Year End
The Purchasing Division, along with the Finance Division and State Auditor's Office, has formulated policies and procedures for the processing of purchasing documents at the end of the state's fiscal year (June 30). These policies are posted on the Finance Division's website at www.wvfinance.state.wv.us/wvfimsmain.htm. Questions regarding the Purchasing Division's timeline may be directed to Beverly Toler at (304) 558-2336 or via e-mail at Beverly.A.Toler@wv.gov.
Multiple Award Determination (Form WV-70) Created and Available to State Agencies
West Virginia Code requires the Purchasing Division to determine in writing that an award to multiple vendors is in the best interest of the state by considering various factors. To ensure consistency in this determination among all agencies, the Purchasing Division has created the Multiple Award Determination Form (WV-70) for agencies to use when requesting that a contract be awarded to more than one vendor. Agencies submitting requisitions to the Purchasing Division which include a request to award the contract to more than one vendor must also include this new form. The Purchasing Division Director may approve or deny the request before the requisition can proceed. The form is available to state agency employees on the Purchasing Division intranet site under "Purchasing Forms."
Vendor Training Initiatives a Success!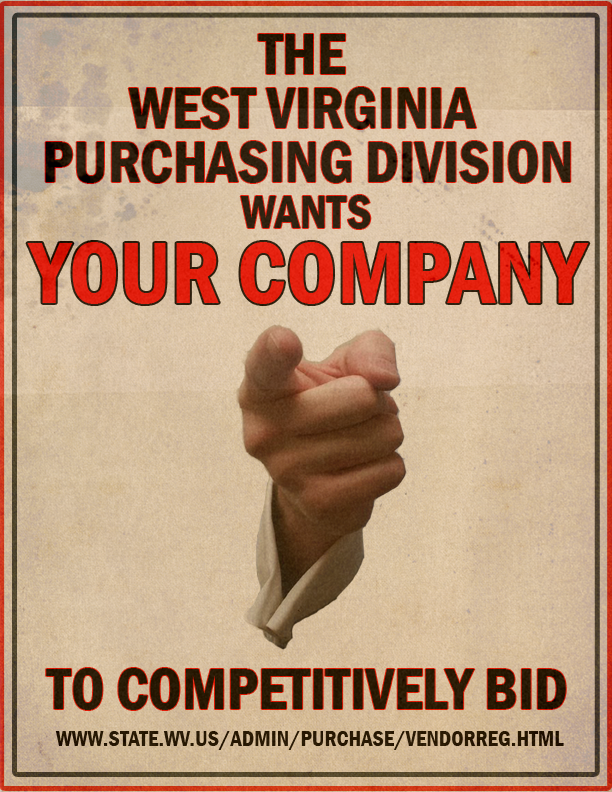 The West Virginia Purchasing Division recently participated in two vendor training initiatives. On March 20, Purchasing Division personnel presented a seminar at the West Virginia Contractor's Association Exposition on Doing Business with the State. The following week, on March 29, the same presentation was conducted via webinar technology. More than 60 vendors participated in these two events. We would like to thank all vendors who participated in these informative sessions. If you have specific topics you would like to see addressed in future vendor training sessions, contact Staff Development Specialist Samantha Knapp at (304) 558-7022 or Samantha.S.Knapp@wv.gov.
Purchasing Division Releases Eleventh Online Training Module
The West Virginia Purchasing Division develops and maintains online training modules to meet the training needs of agency purc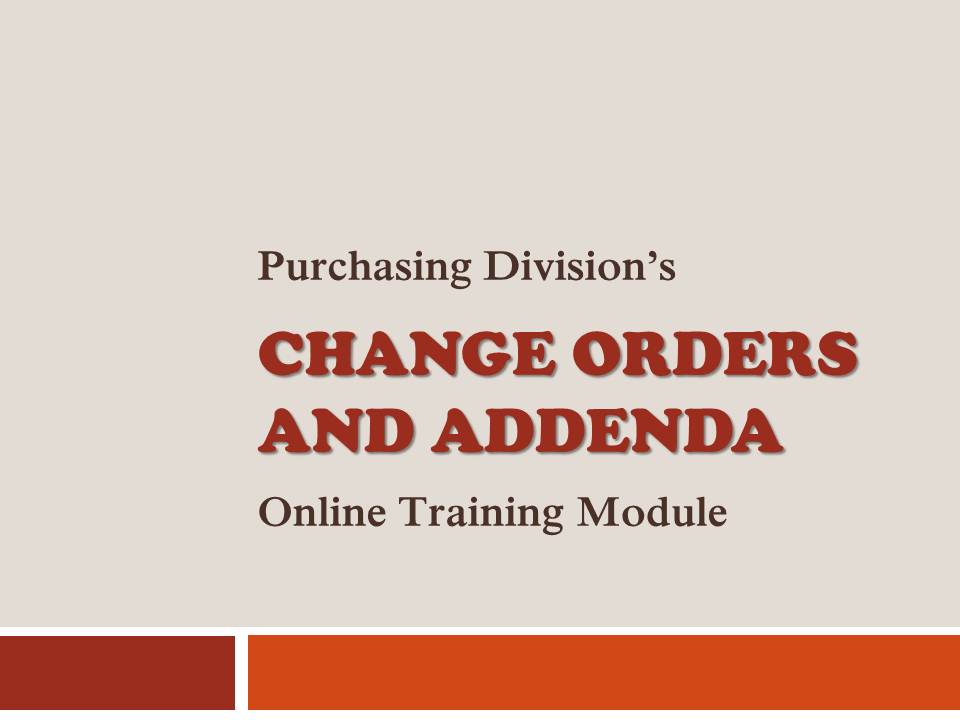 hasers statewide. The purpose of these modules is to describe in detail the most current policies and procedures of the state purchasing process as outlined in West Virginia Code, the Code of State Rules, and the Purchasing Division Procedures Handbook. Recently, the Purchasing Division developed its eleventh online training module on Change Orders and Addenda. To view this module, visit the Purchasing Division's website at http://www.state.wv.us/admin/purchase/training/modules.html.
In addition to the Change Orders and Addenda Online Training Module, other topics include Agency Delegated Purchasing, Basic Purchasing, Best Value Procurement/Request for Proposals, Emergency and Sole Source Purchases, Evaluation and Award Process, Fixed Assets, Request for Quotations, Vendor Registration, Vendor Remedies, and Writing Specifications.
If you have feedback regarding these online training modules or have suggestions for future topics, please contact Staff Development Specialist Samantha Knapp at (304) 558-7022 or Samantha.S.Knapp@wv.gov.
2013 Agency Purchasing Conferences Announced
The West Virginia Purchasing Division is pleased to announce tentative dates for the 2013 Agency Purchasing Conferences. The locations and tentative dates for these conferences are Pipestem Resort State Park, Tuesday, October 22, through Thursday, October 24 and Stonewall Resort State Park, Wednesday, October 30, through Friday, November 1. Please review The Buyers Network and the Purchasing Division website throughout 2013 for additional information on these upcoming events.
The Buyers Network
For more news, check out the latest issue of The Buyers Network.
---
Events
2013 Open House Invites Agency Procurement Officers to Come As You Are on May 14
The annual Purchasing Division Open House for state agency procurement employees is scheduled for Tuesday, May 14, from 10 AM – 2 PM at the agency's office at 2019 Washington Street, East (Capitol Complex Building 15).

Three informational sessions, an informal Purchasing quiz game station; and a chance to win a complimentary registration to the 2013 Agency Purchasing Conference are among the features for this year's Open House. Purchasing staff will be available throughout the event to meet one-on-one with procurement officers to discuss general topics or specific situations. Food and beverage will be available throughout the event.

The three informational topics are:
Questions and Answers with Purchasing Director Dave Tincher

What's New in Purchasing?

Purchasing Forms and Checklists
Procurement officers are invited to attend any time during the event hours. There is no set agenda other than the informational sessions. Signups for these sessions will be on a first-come, first-serve basis the day of the Open House, as seating is limited.

To RSVP for the event or receive additional information, please e-mail Tony O'Leary at Tony.M.OLeary@wv.gov or Chad Williamson at Chad.B.Williamson@wv.gov.
2013 In-House Training Program Schedule Released
The West Virginia Purchasing Division is pleased to release its 2013 In-House Training Program schedule. The In-House Training Program offers agency purchasers the opportunity to attend one-hour training sessions which cover a variety of purchasing-related topics. These sessions are free to all agency purchasers who work under the Purchasing Division's authority and are conducted at the Capitol Complex in Charleston.
The Purchasing Division has made some improvements to the 2013 schedule, which include grouping workshops together to provide half-day trainings and adding several new workshop subjects.
For additional information or to register for these trainings, you may contact Staff Development Specialist Samantha Knapp at (304) 558-7022 or view a copy of the 2013 In-House Training Program Registration Form and Workshop Summary.
---

Job Opportunities
There are no job opportunities at this time.
---
[HOME] [SITE MAP] [CONTACT US] [SEARCH]
Privacy Information
© 2013 State of West Virginia
All Rights Reserved