The Buyers Network is Published Monthly by the Purchasing Division of the West
Virginia Department of Administration to Promote Better Value in Public Purchasing
---
Welcome to the March 2005 Issue of the The Buyers Network!
---
Articles in this Issue:
Public Purchasing Officials Celebrate Contributions Made to Governments throughout Nation
Clarification on Digital Copier Contract Offered to State Agencies
Director's Comments:
Project Underway to Offer Statewide Contracts Electronically
Surplus Property Public Auction
What's State Government Buying?
West Virginia NIGP Chapter Sponsors Course on Legalities of Procurement
An Important Skill in Business: How to Remember a Name
Proceed with Caution...Toner Cartridges Issue Resurfaces
MoneyWise...Tips for the Thrifty
Marc Roberts Joins the Purchasing Division's ACA Staff as Senior Buyer
Statewide Contract Spotlight...
Family Business Services State with Variety of Products
Purchasing's Barry Gunnoe Honored for Excellent Service
Current Statewide Contract Update
---

Public Purchasing Officials Celebrate Contributions
Made to Governments throughout the Nation

State procurement agents are a member of an elite group of professionals that have made a difference in governmental efficiency and effectiveness. For this reason, celebrate! Make sure to take time this March to celebrate your accomplishments and contributions during National Purchasing Month.

The importance of proclaiming a month throughout the year as National Purchasing Month is to promote public procurement. By highlighting these individuals, government officials, students and the public can understand the value of what the profession contributes.

Public purchasers have progressed greatly in the past 60 years to increase professionalism and ethics in the entire purchasing process. National certification objectives have been pursued to further public trust. At the state and agency level, a stronger focus has been made on research and development in contracting with businesses. In addition, the importance of continually reviewing new products, benefits and services has been made to enhance our offerings.

During the month of March, it is your efforts that bring attention to the procurement profession.

What is the purpose of National Purchasing Month? This is your month to get noticed for all your hard work. Your efforts to get the word out on how critical your professional services are to your agency helps not only to promote you, but your profession. Let's get the public and your co-workers aware of what public purchasing is all about!

Clarification on Digital Copier Contract Offered to State Agencies

The statewide contract for digital copiers (DIGICOP04) specifically prohibits copiers, defined as a single machine or multiple machines operating in tandem, that exceed 90 copies per minute, according to Betty Francisco, Senior Buyer who manages all statewide contracts.

A recent report from an agency purchaser has brought an issue to her attention which she wishes to clarify. If a vendor offers an option to install two copiers to operate in tandem to avoid properly bidding a machine that would meet their actual requirements, it is a violation of the contract.

Should a situation relating to this issue arise, the agency must refuse the offer and notify Betty Francisco at (304) 558-0468 or via e-mail at bfrancisco@wvadmin.gov. Your cooperation is greatly appreciated in this matter.




The Director's Comments:
Project Underway to Offer Statewide Contracts Electronically

By Dave Tincher
State Purchasing Director

The Purchasing Division is working on a new project that will assist all of our customers — state agencies, political subdivisions and business representatives.

This offering will make statewide contracts that are currently issued by the Purchasing Division available electronically at the division's website.

Recently, a scanning module was installed on the division's copy machines offering us this capability. With more than 60 statewide contracts issued by the Purchasing Division currently in effect, several of which are awarded to multiple vendors, the scanning process is the first step to making these contracts accessible on the Internet.

Because some contracts are discounted from catalog pricing, not all contracts will be scanned completely; however, if the vendor has an online catalog, we will assist in guiding the user to that website for their convenience.

The division anticipates having the online statewide contract information available on our website (www.state.wv.us/ admin/purchase) by April 1, 2005.

Additional information on the status of the statewide contract project will be reported in next month's issue of The Buyers Network.

This project is yet another attempt which the Purchasing Division is making to enhance the availability of information to our business custo-mers utilizing today's technology.

If you have a suggestion regarding our website, including information you would like to see made available or general comments, please feel free to e-mail our web team at team@wvadmin.gov. Your input is greatly appreciated and always valued.

Statewide Contract Information...At Your Fingertips
A current statewide contract listing is available at the Purchasing Division's website at www.state.wv.us/admin/purchase/ swcframe.htm.

This list contains the purchase order number, vendor name, and expiration date. A link to statewide contract descriptions is available.

Back to the Top

Surplus Property Public Auction

Mark your calendar now... for the next Surplus Property public auction.

The next public auction scheduled by the West Virginia State Agency for Surplus Property is Saturday, March 5, 2005, at 2700 Charles Avenue in Dunbar.

Contact Surplus Property at 766-2626 for more details or visit its website at www.state.wv.us/admin/purchase/surplus.

What's State Government Buying?

(This information is compiled from the West Virginia Purchasing Bulletin. The purpose is to provide an awareness of the variety of products and services being procured in state government. Only a small sample of solicitations are listed.)
w

Department of Agriculture
Request to furnish grains and fertilizer for the General John McCausland Memorial Farm.

w

Division of Corrections
Request to provide Motorola radio equipment for Martinsburg Correctional Center.

w

Department of Health and Human Resources
Request to replace porches, concrete pads, metal railing, etc. at the West Virginia Children's Home in Elkins.

w

Division of Rehabilitative Services
Request to provide medical transcription services.

w

Lottery Commission
Request to provide a licensed CPA firm to provide auditing services in accordance with SAS70 requirements.

w

Department of Health and Human Resources
Request to provide baked goods for Hopemont Hospital.
West Virginia NIGP Chapter Sponsors Course on Legalities of Procurement

The West Virginia Chapter of the National Institute of Governmental Purchasing is sponsoring the course, "The Legal Aspects of Public Procurement" on April 6-8, 2005.

The class, which will be conducted at the Hampton Inn in downtown Charleston, is designed to be an educational exploration of the legalities of public procurement. It provides a foundation of the principles and general concepts of the law as it applies to purchasing.

Attention will be given to the ethical issues facing the professional relevant to the law. The course targets any individual who is substantially involved in the public procurement contracting process.

In addition, this course would be of interest to individuals who want to increase their understanding of both the capability and limitation of the law on government procedures.

Barbara Johnson, CPPO, CPPB, will be the instructor for this course.

Another upcoming educational opportunity...The West Virginia Chapter of NIGP also is planning to sponsor yet another professional development course, "Introduction to Public Procurement."

This course is tentatively scheduled for September 14-16, 2005. The location has not been confirmed at this time. The instructor will be Larry Wellman, CPPO.

An Important Skill in Business: How to Remember a Name

In the purchasing world, individuals with the responsibility of procurement have to deal with many different persons: business representatives, agency purchasers, legislators and the public.

During these interactions, it is often difficult to remember an individual's name after you meet him/her. The following technique may aid your memory during your business conversations.

1. Focus. You want to send a positive message to the person you are meeting. Pay attention to your pose. Are you leaning in, are you telling the person that this moment is important to you and that he/she has your undivided attention?

2. Ask. Repeat the name back to the person you are meeting. Ask if you have the name correct. This will make you an active participant in the meeting and shows that you are paying attention.

3. The Spelling. Make sure you know how the person's name is spelled. It will help cement the name in your mind. Once you have repeated the name and the spelling in your mind, cross reference it with something else — possibly a celebrity's name with whom you are already familiar.

4. Employ. Once you have everything clarified, it is very helpful to introduce your new acquaintance to someone else. This makes you say the name out loud and fixes it in your memory.

—

Adapted from Remember Every Name Every Time by Benjamin Levy

Proceed with Caution...Toner Cartridge Issue Resurfaces

In the past, our agency purchasers have notified the Purchasing Division regarding suspicious contacts from vendors regarding the purchase of toner cartridges.

One agency procurement officer indicated a vendor contacted her regarding copy machine supplies and told her there was some confusion about an increase in pricing on toner cartridges. They offered to send her two at a specially low price. Unsure of this vendor, she began asking questions and quickly called their bluff.

This is an important lesson for all of us...ask questions! If you are suspicious that a deal is too good to be true, ask the vendor for more information. Even offer to get back with them which will most likely deter their scam.

Senior Buyer Betty Francisco reminds agency personnel of a statewide contract for toner cartridges (INKCRT03) that IS legal. The vendor for this contract is Impression Products. She adds that cartridges which may not be available through this contract may most likely be obtained at Office Max (as part of the Office Supply Contract [OFFICE02]).

MONEYWISE...Tips for the Thrifty

Identity Theft Protection

Identity theft insurance is being offered by many insurance and credit card companies. Allstate customers with homeowner's, renter's, or condo insurance can buy a policy for about $30 a year. St. Paul Travelers sells a service to businesses who can then make it available to employees. American Express policies cost $60 a year and cover up to $2,000 for lost wages and $5,000 for attorney fees.

The Federal Trade Commission (FTC) says the average victim of identity theft spends about $500 on such items as certified letters and telephone calls. Those who have new charge accounts opened in their names pay out much more.

Marc Roberts Joins the Purchasing Division's ACA Staff as Senior Buyer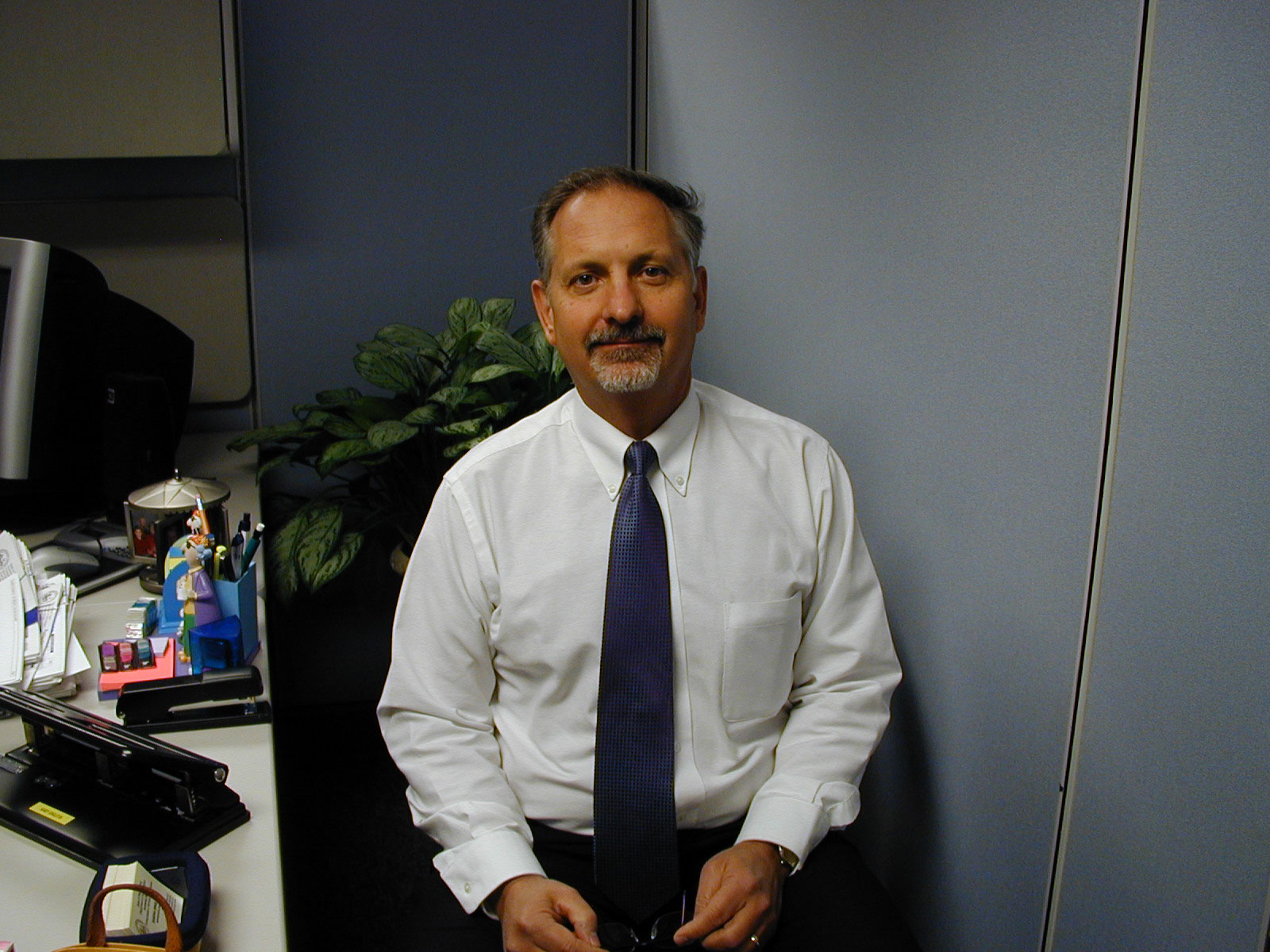 Marc Roberts recently joined the Acquisitions and Contract Administration Section as senior buyer.
His resume definitely reflects he is a man who enjoys a challenge. At the early age of 21, he became a state trooper, stationed at the Beckley detachment. He later transferred to the security detail at the Governor's Mansion, in which he was responsible to guard our state's top executive - the governor and/or his family members.
His first assignment was with Gov. John D. Rockefeller, IV, and he remained in this position during the administrations of Gov. Arch Moore, Jr. and Gov. Gaston Caperton.
Roberts said he enjoyed his experience working with the various governors. "It was our job to protect the governor and his family," he said.
In 1994, Roberts transferred to the West Virginia State Police's Planning and Research Section where his duties included grant management. That was his first experience working with the Purchasing Division and its buying staff. He said he has always had a pleasant experience because the staff was always eager to assist meeting his needs.
Six years later, he transferred to the State Police's Procurement Section, where he was later promoted to rank of captain and was named director of procurement.
After 27 years with the State Police, Roberts decided to retire only to find himself looking for another challenge a year later. Having tried real estate appraisals and even becoming a court security officer at the Robert C. Byrd Federal Building, he explained, "I'm so used to being busy. Working with grants and procurement meant I juggled a large amount of paperwork, reading, searching the Internet and using my brain. I heard about this position, and decided to apply."
Assistant Purchasing Director Karen Byrd is enthusiastic about Roberts coming on board. "The fact that Marc comes to us with not only purchasing experience, but state government experience is exciting. Having come from outside state government myself, I realize state government is something you have to learn and experience," she said. "I don't think there is any education that trains you for state government. I think that will definitely be an advantage and Marc's learning curve will be much shorter because of his experience as a buyer with the State Police."
Roberts said he has known several of the buyers for more than seven years and has worked with them in various aspects. Because of this previous working relationship with many of the ACA staff, he felt comfortable in accepting this position. "There is just so much to learn," he said. "I feel like I should be running when I walk in the door."
Roberts and his wife Tammy have been married for more than 22 years and have two children: Eric, 21, who attends West Virginia State College, and Emily, 20, who attends Marshall University.
The Purchasing Division is pleased to welcome Marc!

Statewide Contract Spotlight...
Family Business Services State with Variety of Products
In each issue of The Buyers Network, the Purchasing Division will highlight one of our statewide contractors. Providing information on the company and the products offered on the statewide contract, this feature will help familiarize our agency purchasers with our business partners.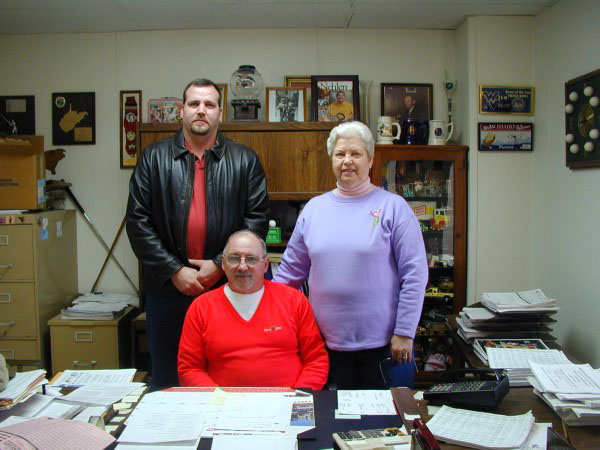 In the early 1900's, Albert Wendling cut ice from the river to cool meats for his wholesale meat business called A.F. Wendling Wholesale Meats. After surviving the Great Depression and suffering from a broken back, his efforts to create a successful business appeared in vain.
Not being one easily deterred, he chose to double his efforts and rebuild his business with a renewed vigor. The old saying, 'You can't keep a good man down," certainly seemed to apply to this Wendling.
Today, that business is known as J.A. Wendling's Food Service, and is owned and operated by a third generation of Wendlings. With two locations in West Virginia, in Pinch and Buckhannon, this company offers over 5,500 items, including a full line of food products as well as a wide variety of paper and cleaning supplies.
Nearly five years ago, J.A. Wendling became a statewide contractor for food [FOOD04] in West Virginia.
The FOOD04 statewide contract offers over 800 items, such as styrofoam cups, plates, janitorial supplies, can liners and disposable food products to all state agencies and political subdivision. The Wendlings experience dealing with the state has been positive and has attributed to their growth.
"We try to provide a one-day turn around, depending on when orders are faxed to us," said John Wendling. "If it comes in late on Thursday and it's far away, it may take us up until Tuesday to get it to them."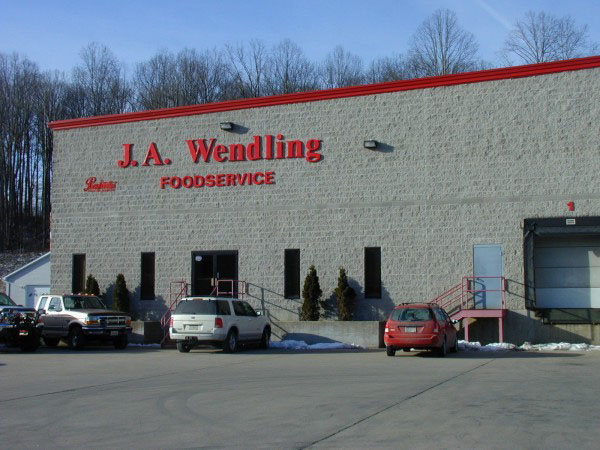 Now being semi-retired, John has recently reduced some of his involvement in the business. Linda, his wife, has worked along side him since he took over the business with his brother in 1963. His son, Bert, now serves as the president of the company and runs the facility in Pinch, with his nephew, Chris, operating the Buchannon facility.
"I have visited some of the state facilities trying to take care of preventable problems and to offer suggestions," said Bert Wendling. "Chris is doing the same thing in the northern part of the state." His dad added that he thinks it is easier to handle problems if you work with the individuals from the agency on a one-
TEAM Automated Purchasing System

2005 TEAM Training Scheduled
The Technical Services Unit of the Purchasing Division has announced its 2005 TEAM Training Schedule.
TEAM (Team Effort for Acquisition Management) is the automated system used primarily for purchases over $10,000; however, several agencies do use this system for delegated purchases under $10,000. To register for classes, visit the Purchasing Division's Intranet site at http://intranet.state.wv.us/admin/purchase and select "register for TEAM classes" under the Automated Purchasing System.
The Technical Services Unit offers training in all aspects of the automated purchasing system, including general inquiry, requisition approval, requisition entry, purchase order processing, receipt posting and reporting. If the training in which you are interested does not appear on the schedule, please e-mail the Technical Services Manager Dan Miller with your request and special arrangements will be made.
All purchasing system classes are FREE! Classes are held on Thursday mornings from 9:00 A.M. to noon for the following dates:
March 17: General Inquiry
April 7: General Inquiry
May 5: General Inquiry
August 4: General Inquiry
September 8: General Inquiry
October 6: General Inquiry
November 3: General Inquiry
Classes are held in the training room at the Purchasing Division's location in Charleston. Questions may be directed to Miller at 558-2314 or e-mail at dmiller@wvadmin.gov.
Purchasing's Barry Gunnoe Honored for Excellent Service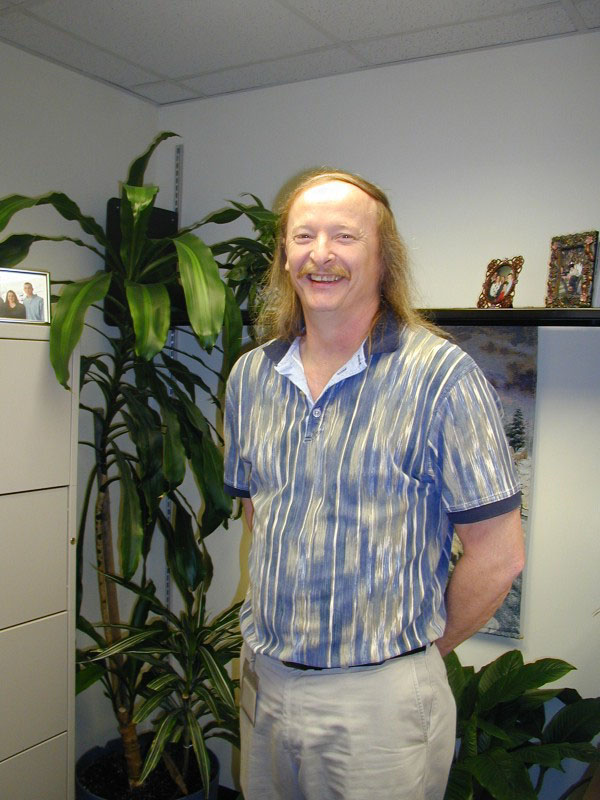 Barry Gunnoe, an administrative services assistant I for the Purchasing Division has been selected as the Department of Administration's Employee of the Month for March.
A 29-year employee of state government, Barry also serves as the program assistant for the Fleet Management Office / Employee Parking Unit. Performing various duties in maintaining these programs, he communicates effectively with agency coordinators.
One of his co-workers said, "Barry's positive attitude and respectful nature makes any interaction with him enjoyable. His first goal is getting the job done efficiently and accurately, but he has mastered the art of making work a pleasant experience."
Another co-worker added, "He laughs and smiles each day and is always willing to offer assistance to his co-workers, fellow state employees and, equally important, his customers. The term, customer service, best describes Barry and his work ethic."
Barry will be honored during a special ceremony at 11:30 a.m. on Wednesday March 2, 2005, in the Purchasing Bid Room in Building 15.

CURRENT STATEWIDE CONTRACT UPDATE
Information and dates (as of January 15, 2005) included in this Current Statewide Contract Update are subject to change. If you need additional information, please contact the appropriate state buyer.
Contracts Awarded
Contract: RSHEET
Description: Reflective Sheeting
Vendor: 3M Company
Effective Date: 01/01/05
Contracts Out for Bid
Description: Disposable Food Items
PreBid Date: ---
Bid Opening: 02/24/05
Contract: CLRM05
Description: Classroom Furniture
PreBid Date: --
Bid Opening: 03/08/05
Contracts Under Evaluation
Contract: SUPFD05
Description: Supplemental Food
Bid Opening Date: 02/08/05
Under Evaluation: Yes
Contract: ALUM05
Description: Aluminum Blanks for Signs
Bid Opening Date: 02/08/05
Under Evaluation: Yes
Contracts Renewed
Contract: PAINT05
Description: Paint and Paint Supplies
Vendor: Pittsburgh Paints
Expiration Date: 04/30/06
Contract: PCARD02
Description: Purchasing Card Program
Vendor: BB&T
Expiration Date: 04/14/06
Contract: PHOTO04
Description: Photographic Film and Supplies
Vendor: Fuller & Dalbert Inc.
Expiration Date: 04/30/06
Contract: TEMP04 (A, B, G, H, I, K, L, M)
Description: Temporary Services
Vendors: WVARF, Adecco USA Inc., Manpower Temporary Services, Saunders Staffing Services, United Talent, Winans Sanitary Supply
Expiration Date: 04/30/06
Contract: SYSFURN02 (C)
Description: Furniture
Vendor: American Seating Company
Expiration Date: 08/12/05
Contract: CRENTAL
Description: Car Rental
Vendor: Enterprise
Expiration Date: 03/31/06
Contract: MOTEL
Description: Hotel/Motel Rooms
Vendor: Various
Expiration Date: 12/31/05
Contract: FINEPAP
Description: Paper
Vendor: Unisource, XPEDX
Expiration Date: 03/31/05
Working on Specifications - To Be Rebid
Contract: DIAPER
Description: Diapers
Contract: CANLINER
Description: Plastic Can Liners
Contract: C-PIPE
Description: Corrugated Pipe

Contract: LAWN
Description: Lawn Maintenance Equipment
Miscellaneous Action on Contract
Contract: WVARF04
Description: WV Association of Rehabilitative Facilities
Action: Increased cost for low monitoring services and soaps
Contract: CABLE02
Description: SESCO Electronics
Action: Authorized product changes
Contracts to be Reviewed
MARCH
DEBT
Debt Collection Services
FILTER
Filters: Oil, Air and Fuel
APRIL
AEBATT
Automotive and Storage Batteries
SAFETY
Safety Items
Purchasing Division Staff
For questions concerning these contracts listed, please contact the appropriate buyer:
File 21
Charlyn Miller
(558-0067)
File 22
Marc Roberts
(558-0067)
File 23
Chuck Bowman
(558-2157)
File 31
Evan Williams
(558-2596)
File 31
Mike Sheets
(558-2544)
File 33
John Johnston
(558-0492)
File 41
Ron Price
(558-2316)
File 42
Betty Francisco
(558-0468)

Back to the Top
Questions?...Just Ask!
Are you unsure of certain purchasing procedures? ... Do you have a question regarding travel requests? ... Would you want to know what surplus property is available? ... If you need information concerning any function within the Purchasing Division, complete this form:

Back to the Top
Thank you for viewing our March 2005 Issue of The Buyers Network