The Buyers Network is Published Monthly by the Purchasing Division of the West
Virginia Department of Administration to Promote Better Value in Public Purchasing
---
Welcome to the February 2005 Issue of the The Buyers Network!
---
Articles in this Issue:
Public Purchasing Ethics Essential to Today's Proper Business Practices
Ferguson Named Cabinet Secretary of the Department of Administration
Director's Comments:
Providing Valuable Information to New Administration
Employee Parking Office Addresses Assigned Spaces
What's State Government Buying?
MoneyWise...Tips for the Thrifty
Stretching State Government Dollars Vital to Efficient Purchasing Power
Statewide Contract for Plastic Can Liners Cancelled
Overview of State Purchasing Process
Statewide Contract Spotlight...
Hourly Computer Realizes Many Benefits of Participating in Statewide Contract
New Business Development: Outreach Program Offers Vendors Guidance in Purchasing Process
AG's Office Revises its Requirement
Current Statewide Contract Update
---
Public Purchasing Ethics Essential to Today's Proper Business Practices
Ethics in any profession is of utmost importance; however, in the public sector, the importance is magnified.
Because state government utilizes taxpayer's money to operate programs and make purchases of goods and services, the public needs to be assured that the process used to make those purchases are done so in the most cost-effective, ethical manner.
The West Virginia Purchasing Division is an active member of the National Institute of Governmental Purchasing, Inc. and abides by the Code of Ethics which the Institute has initiated.
The Institute believes, and it is a condition of membership, that the following ethical principles should govern the conduct of every person employed by any public sector procurement or materials management organization:
1. Seeks or accepts a position as head or employee only when fully in accord with the professional principles applicable thereto, and when confident of possessing the qualifications to serve under those principles to the advantage of the employing organization.

2. Believes in the dignity and worth of services rendered by the organization and the social responsibilities assumed as a trusted public servant.

3. Is governed by the highest ideals of honor and integrity in all public and personal relationships, in order to merit the respect and inspire the confidence of the organization and the public being served.

4. Believes that personal aggrandizement or personal profit obtained through misuse of public or personal relationships is dishonest and not tolerable.

5. Identifies and eliminates participation of any individual in operational situations where a conflict of interest may be involved.

6. Believes that members of the Institute and its staff should at no time or under any circumstances, accept directly or indirectly, gifts, gratuities or other things of value from suppliers.

7. Keeps the governmental organization informed, through appropriate channels, of problems and progress of applicable operations, but personally remains in the background by emphasizing the importance of the facts.

8. Resists encroachment on control of personnel in order to preserve integrity as a professional manager. Handles all personnel matters on a merit basis. Political, religious, racial, gender and age considerations carry no weight in personnel administration in the agency being directed or served.

9. Seeks or dispenses no personal favors. Handles each administrative problem objectively and empathetically on the basis of principles and justice without discrimination.

10. Subscribes to and supports the professional aims and objectives of the National Institute of Governmental Purchasing, Inc.
The Purchasing Division encourages all agency purchasers to prescribe to this Code of Ethics or to create a similar code to follow in performing their job responsibilities.
Ferguson Named Cabinet Secretary of Department of Administration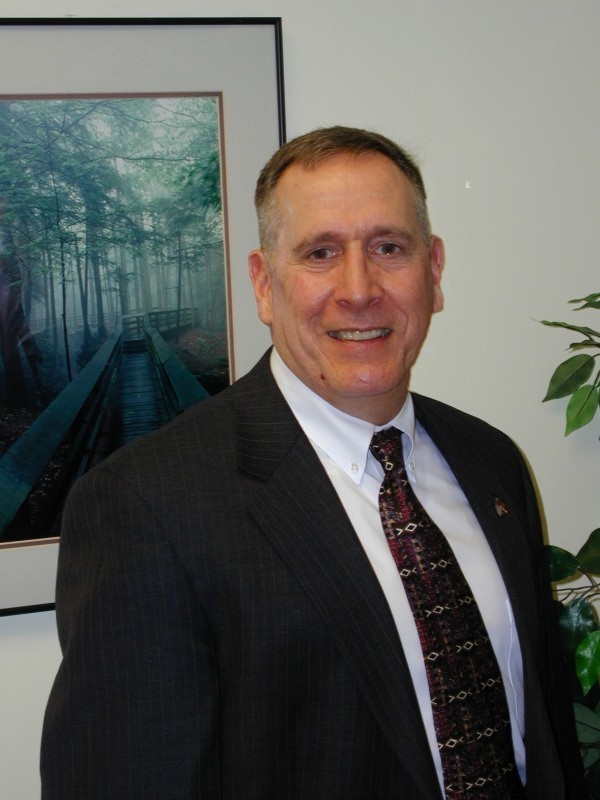 On January 11, 2005, Gov. Joe Manchin III appointed Robert W. Ferguson, Jr. as cabinet secretary of the Department of Administration. The Purchasing Division is organizationally structured under this department.
A native of Long Island, Ferguson spent 22 years in the Marines, performing a variety of command and staff assignments that included commanding all the Marine Recruiters in West Virginia from 1991-1994. He also is a combat veteran of Desert Shield / Desert Storm.
Ferguson holds a bachelor's degree in biology from the Citadel, the Military College in Charleston, S.C, and a master's degree in management from National University in San Diego, California. In addition, he is a graduate of the Marine Corps' Command and Staff College.
Most recently, he worked as the fleet fueling sales manager and the retail dealer operations manager for Petroleum Products, a petroleum distribution company in Belle.
The Purchasing Division looks forward to working closely with Cabinet Secretary Ferguson on issues relative to state procurement and other services, including fleet, travel, fixed assets and surplus property, which our division administers for state government.
The Director's Comments:
Providing Valuable Information to New Administration
By Dave Tincher
State Purchasing Director
With administrative changes occurring as a result of a new administration, the importance of sharing valuable and accurate information to those who may be new to our organization is crucial.
It is our responsibility to assist our leaders by referencing the statutory and legislative citations by which we perform our jobs as agency purchasers.
There are several ways which we can assist with information. §5A-3 of the West Virginia Code offers a great deal of information regarding the procedures by which state government procures goods and services. The Legislative Rule (CSR 148) provides additional direction relating to the purchasing processes and procedures.
In this issue of The Buyers Network, a high level overview of the purchasing process is included on page four. This flowchart shows the decisions necessary to be made when an agency determines a need to procure a good or service from a supplier.
The Purchasing Division's Policies and Procedures Handbook which is used by our agency purchasers to assist them in performing their purchasing tasks is another helpful resource when explaining the competitive purchasing process. This handbook is in the process of being revised and will be distributed this year.
In today's electronic world, many administrators utilize the Internet to gain information on programs, services and procedures. The Purchasing Division maintains a website at www.state.wv.us/admin/purchase, which includes information for state agencies, vendors and the general public. A project is underway to revamp our site to offer more features in an easier user-friendly format.
These listed are a few of the resources available. As agency purchasers, you are the experts in our profession; share your knowledge.
Employee Parking Office Addresses Assigned Spaces
The Employee Parking Unit of the Purchasing Division recently advised state employees who have assigned spaces at the Capitol Complex what to do should a car park in their space.
Parking Manager Janice Boggs explained that if an employee arrives and someone has parked in their assigned space, the proper procedure is to notify the parking attendant at the Piedmont Road guardhouse. The attendant will provide a space to the employee until the situation can be resolved.
Should this problem occur on a regular basis, you are advised to contact Parking Manager Janice Boggs at 558-0086 or via e-mail at jboggs@wvadmin.gov or Parking Assistant Barry Gunnoe at 558-2614 or via e-mail at bgunnoe@wvadmin.gov.
What's State Government Buying?
(This information is compiled from the West Virginia Purchasing Bulletin. The purpose is to provide an awareness of the variety of products and services being procured in state government. Only a small sample of solicitations are listed.)
w

Division of Rehabilitation Services
Request to provide heating, ventilation and air-conditioning maintenance.

w

Division of Culture and History
Request to provide 3,000 copies for an initial order for the printing and binding of a 128 page book, titled "Picturing West Virginia: A Century of Collecting by the West Virginia State Archives."

w

Division of Public Transit
Request to provide 15-passenger converted window vans with wheelchair lift and securement system.

w

Division of Highways
Request to provide pine bridge lumber.

w

All State Agencies
Request to provide envelopes to all state agencies and political subdivisions.
MONEYWISE...Tips for the Thrifty
Wanting to Buy a House?
If you are wondering whether to invest in real estate now or wait, here are some things to consider:
w

You may think housing prices in your area will fall. But by the time they do, interest rates will be higher. Your savings could be nil considering the long-term cost of a mortgage.

w

Renting instead of owning could cost you less and give you money to invest. But if you put money into a low-interest money market fund, you won't earn much.

w

The break-even point for buying and selling a house is still five to seven years, so it might not be a good idea if you will move within that time frame.
A good rent-versus-buy calculator is available at dinkytown.net, a website of financial tools named after a neighborhood near the University of Minnesota.
Stretching State Government Dollars Vital to Efficient Purchasing Power
Budgetary constraints are a concern to all entities, private and public.
However, there are ways the dollar can be stretched to enhance the budget of your operation.
In some cases, quantities of the same products and services may originate from different cost centers and it may prove beneficial to combine requirements of like items that can be purchased from the same source. Combining requirements will usually result in lower costs because of the higher quantity or overall number of line items.
Even though combining quantities of like items may result in the need to obtain competition, it should not deter you from trying to reduce costs for your agency. The administrative costs associated with multiple orders, deliveries and invoice processing are a substantial part of the overall indirect savings to be gained.
Another dollar-stretching idea is to purchase from a statewide contract even when the order will not meet the contract's minimum order requirement. Often, with those contracts that specify a minimum and allow the vendor to apply actual shipping charges, the total amount paid will still be less than the cost on the open market.
Establishing competitively bid term contracts for small dollar repetitive type service requirements - such as trash removal, janitorial, equipment maintenance, lab testing - even when the total annual expenditure may not exceed $5,000, is yet another way to generate cost savings.
These are just a few of the ways that, as a procurement officer, you can attempt to maximize the potential for saving tax dollars and expanding your agency's budget. It is important to be creative, while staying within ethical constrictions of state law and regulations, to seek ways to better utilize the state taxpayers' dollars.
The important point to remember is that, as your agency's purchasing agent, your goal is to get the biggest benefit of each dollar.
Statewide Contract for Plastic Can Liners Cancelled
Senior Buyer Betty Francisco informs all agency purchasers that the statewide contract for plastic can liners, CANLINE03, was cancelled, effective December 31, 2004.
New specifications are currently being written and a solicitation will be released in the near future, Francisco adds.
State agencies should purchase can liners from other sources using the normal delegated purchasing procedures.
For more information on delegated purchasing procedures, please refer to the Purchasing Division's Policies and Procedures Handbook, which is available online at www.state.wv.us/admin/purchase/Handbook/hand6.htm. Questions may be directed to Francisco at 558-0468 or via e-mail at bfrancisco@wvadmin.gov.
Overview of State Purchasing Process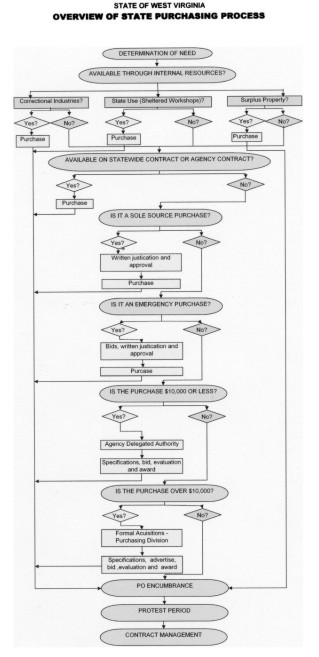 Statewide Contract Spotlight...
Hourly Computer Services, Inc. Realizes Many
Benefits of Participating in Statewide Contract
In each issue of The Buyers Network, the Purchasing Division will highlight one of our statewide contractors. Providing information on the company and the products offered on the statewide contract, this feature will help familiarize our agency purchasers with our business partners.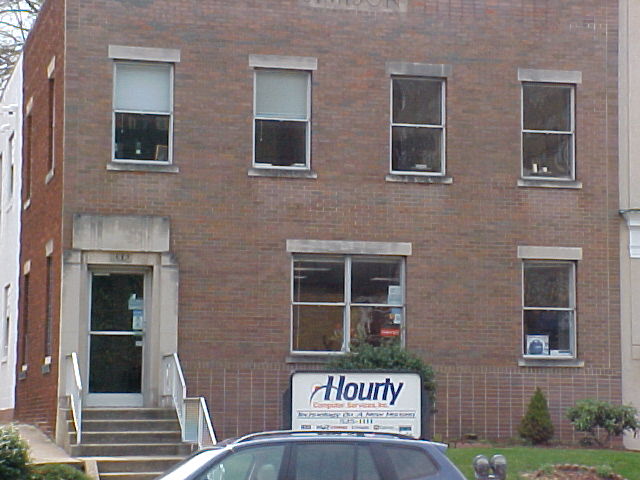 Hourly Computer Services, Inc. (HCSI), a full-service information technology firm, is one of the contractors servicing the statewide contract for information processing equipment (SWC-IP). This contract offers computer hardware and software for state agencies and political subdivisions.
In 1992, HCSI first began working with the state; one year later, it was being awarded the statewide IP contract. It has been consistently doing business with the state ever since.
"It was one of the best things that ever happened to our company because it helped us grow," said Vice President Ben Mohebbie. "At one point when the job market was very low, we were hiring 40 people because of having this statewide contract."
Under the IP contract, Mohebbie indicates HCSI works closely with the Information Services and Communications Division who helps direct their resources.
HCSI has three different types of customers — commercial customers, state agencies, and federal agencies. By doing business with the state, Mohebbie said it has helped them contract with bigger commercial companies, like CISCO and Hewlett Packard.
HCSI provides complete technology solutions for networking, service and distribution of computers and peripherals as well as training on a variety of hardware and software configurations. They also provide networking integration services to federal government agencies, such as Army Corps, Wildlife Resources and the Internal Revenue Service.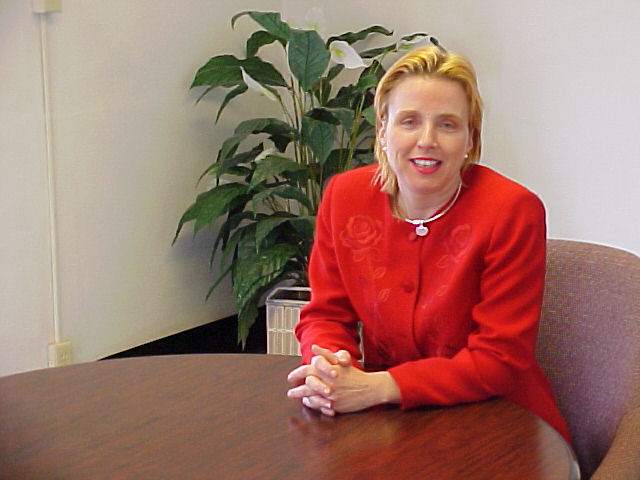 Mohebbie is pleased with the good working relationship between his company and the state. He adds the purchasing conferences are a great source for building communication among vendors, agencies and the Purchasing Division.
HCSI was started in 1991 by Mohebbie's wife, Cathy, after moving to West Virginia from California where Ben worked in the aerospace industry. At that time, HCSI focused on providing affordable computer rentals to the local community in Huntington. In 1994, the focus became technology networking at which time she built a strong partnership with Fortune 500 leaders by becoming a partner with Microsoft, IBM, HP, Citrix, Gateway, Lexmark and Novell.
In 2004, she implemented Partnering Solutions, which focuses on small business development technology consultations. The company opened other branches in Kentucky and Ohio, with additional branches expected in 2005. She added that doing business with West Virginia state government is important to their company's growth and stability and in securing their employees' jobs.
"HCSI prides itself in providing excellent customized client services and guarantees the quality of their efforts to their customers," he said.
Outreach Program Offers Vendors Guidance in Purchasing Process
The New Business Development Office of the Purchasing Division assists vendors and promotes competition within the state's procurement process. This office encourages vendor participation and aids in expanding the pool of registered vendors within state government.
All inquiries by potential vendors as referred by the Purchasing Division, other state agencies and representatives of the Small Business Development Centers of the West Virginia Development Office are referred to the New Business Development Office.
The goal of the New Business Development Office is to ensure that the first steps taken by interested vendors result in a positive experience with state government. One-on-one meetings are held with the vendors and the information provided by this office is invaluable to new or established business interested in adding state government to its customer base. The office also offered regional seminars last year to assist state vendors.
This office not only assists businesses in locating an appropriate market for their goods and services within state government, but continues to guide those businesses as they conduct business and/or attempt to expand their business relationship with state government.
State agencies are encouraged to direct vendors who may have questions regarding the state purchasing process to the New Business Development Office. For more information, contact New Business Development Manager Scott Padon at 558-3488 or via e-mail at spadon@wvadmin.gov.
Attorney General's Office Revises its Requirements
In a recent memorandum from Deputy Attorney General Dawn Warfield, a change to a countersignature requirement has been made. Pursuant to a 2004 amendment to the West Virginia Code, §33-12-11, a West Virginia resident agent countersignature is no longer required on any surety bond issued on or after December 31, 2004.
Accordingly, as long as there is a valid signature for the surety, the Attorney General's Office will not disapprove any bond executed after that date for lack of a countersignature.

CURRENT STATEWIDE CONTRACT UPDATE
Information and dates (as of January 15, 2005) included in this Current Statewide Contract Update are subject to change. If you need additional information, please contact the appropriate state buyer.
Contracts Awarded
Contract: LAN04*
Description: Local Area Network Software, Hardware and Service
Bid Opening: 12/15/04
Vendors: Advanced Technical Solutions, Foundry Networks, Enterasys Network, Netranom Communications,
Pomeroy Comptuer Resrouces, SESCO Electronics, Verizon Network Integration
*WAN04 - Verizon (11/01/05) and LAN04 awards replace teh ROUTER statewide contract
Contract: OIL
Description: Oils - Motor and Heating
Bid Opening: 01/25/05
Vendor: Harris Oil Co.
Contracts to be Bid
Contract: ENVLOP
Description: Envelopes, Printed and Plain
PreBid Date: 01/25/05
Bid Opening: 02/17/05
Contract: SUPFD05
Description: Supplemental Food Items
PreBid Date: --
Bid Opening: 02/08/05
Contracts Out for Bid
Contract: ALUM05
Description: Sheet Aluminum (Signs)
Bid Opening Date: 02/08/05
Contracts Under Evaluation
Contract: RSHEET
Description: Reflective Sheeting
Bid Opening Date: 11/18/04
Under Evaluation: Yes
Working on Specifications - To Be Rebid
Contract: CLRM
Description: Classroom Furniture
Contract: SANPAP
Description: Sanitary Paper Supplies
Contract: DFS
Description: Disposable Food Service Items
Contracts to be Reviewed
FEBRUARY
CRENTAL
Car Rental Services
LGLOVES
Latex Gloves
MARCH
DEBT
Debt Collection Services
FILTER
Filters: Oil, Air and Fuel
Purchasing Division Staff
For questions concerning these contracts listed, please contact the appropriate buyer:
File 21
Charlyn Miller
(558-0067)
File 22
Vacant
(558-0468)
File 23
Chuck Bowman
(558-2157)
File 31
Evan Williams
(558-2596)
File 31
Mike Sheets
(558-2544)
File 33
John Johnston
(558-0492)
File 41
Ron Price
(558-2316)
File 42
Betty Francisco
(558-0468)

Back to the Top
Questions?...Just Ask!
Are you unsure of certain purchasing procedures? ... Do you have a question regarding travel requests? ... Would you want to know what surplus property is available? ... If you need information concerning any function within the Purchasing Division, complete this form:

Back to the Top
Thank you for viewing our February 2005 Issue of The Buyers Network