The Buyers Network is Published Monthly by the Purchasing Division of the West
Virginia Department of Administration to Promote Better Value in Public Purchasing
---
Welcome to the November 2003 Issue of the The Buyers Network!
---
Articles in this Issue:
Architectural and Engineering Conference Focuses on Various Interpretations of §5G
Director's Comments:
Process Checklists Assist Agency Purchasers
Vendor Spotlight...Meet Some of Our Valuable Business Partners!
Guardhouses Get a Facelift
Parking Attendants Maintain Flow of Vehicles at the Capitol Complex
New Statewide Contract Awarded to Arcmate for Litter Grabbers
DNR Utilizes roomMaster 2000 Software for Park Online Reservation System
Saying Goodbye to Two Special People
MONEYWISE...Tips for the Thrifty
Agency Process Checklists
Guidance Provided to State Agency Purchasers in Processing Transactions
Surplus Property Prepares for its Second Annual Federal Surplus Property Auction
Statewide Contracts Under Jones' File Moved to Francisco
Current Statewide Contract Update
---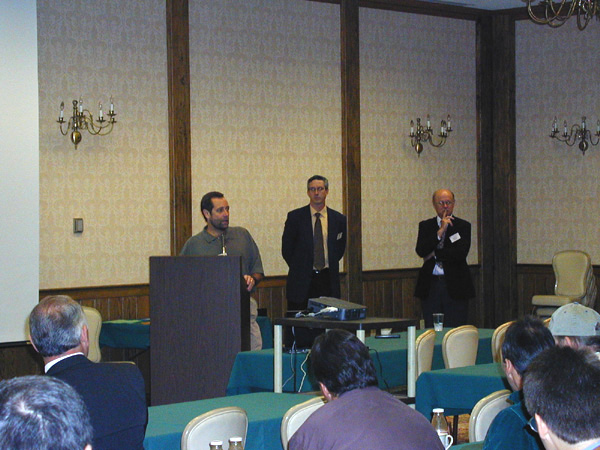 Architectural and Engineering Conference
Focuses on Various Interpretations of §5G
With over 110 representatives of architectural and engineering (A&E) firms and public agencies, the 2003 Architectural and Engineering 5G Conference was conducted on September 30-October 1 at Oglebay Park in Wheeling. The Purchasing Division was pleased to take a proactive role in offering for the first time a conference focused on such services. The American Council of Engineering Companies of WV and the American Institute of Architects were co-sponsors of this endeavor.
§5G of the West Virginia Code addresses the procurement of architect-engineer services by the state and its political subdivisions. In addition to state government employees, there were representatives of counties, cities, public service districts, housing authorities, development corporations and other public entities who wanted to learn more about the requirements of procuring A&E services for projects.
"The participants were pleased with the agenda, which included panel discussions, guest presentations as well as a mock interview of our expression of interest purchasing method. But more importantly, what I heard more than anything was that everyone was pleased that a conference of this nature finally happened. This open forum has been not only needed, but wanted by A&E firms as well as public agencies," said Purchasing Director Dave Tincher.
State government representatives served as panelists for workshops geared toward the A&E audience and, in turn, architects and engineers served as panelists for workshops geared toward public agencies. "This truly was a joint effort among many," Tincher added. "When we kicked off the conference, there was a long list of people to thank because we solicited the help of government and A&E representatives."
The workshops included such topics as the interpretations and applications of §5G; project management; development, evaluation and award of expressions of interest; and future projects and funding issues. A special presentation was offered by Richard Berich, a consultant from Maryland who has a great deal of knowledge in quality-based selection.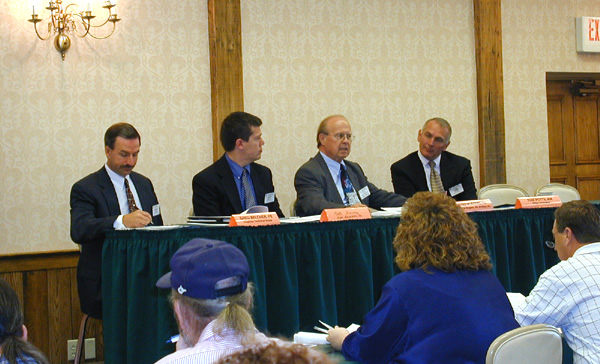 Another positive aspect of this conference was a mock interview, showcasing the expression of interest process. Steve Canterbury, director of the Regional Jail Authority, and Diana Johnson and Chilton Lilly, also of the Authority, joined with Steve Branner and Carl Agsten, Jr. of ZMM, Inc., an A&E firm, in conducting the mock interview and entertaining questions during the simulation of the process. "The goal of this conference was to provide the conference participants with a better understanding of the responsibilities encompassed in §5G and to gain different perspectives on how public agencies interpret and apply this legislation into their procurement processes," Tincher said.

The Director's Comments:
Process Checklists Assist Agency Purchasers
By Dave Tincher
State Purchasing Director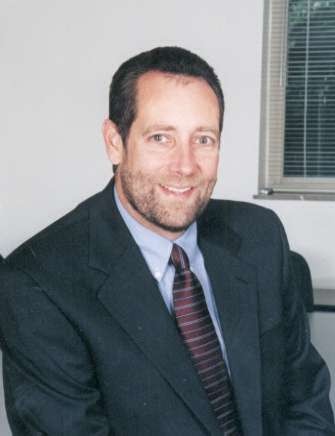 At the 2003 Agency and Vendor Purchasing Conference & Product Expo in April, the final version of the agency process checklists were addressed in the "Just the Basics" workshop session and included in the handout materials distributed to all agency participants.

Please be aware that these checklists were developed with the agency purchaser in mind to assist in procuring goods and services on behalf of their state agency. To simplify the process, individual checklists were created for requests for quotations, requests for proposals,

agreements, expressions of interest, equipment contract orders, direct purchase orders, emergency purchases and change orders.

Copies of these checklists may be downloaded on the Purchasing DIvision's Intranet site at http://intranet.state.wv.us/admin/purchase.

Questions regarding these checklists may be directed to the buying staff of the Purchasing Division's Acquisition and Contract Administration Section at 558-2306.

VENDOR SPOTLIGHT...Meet Some of Our Valuable Business Partners!

Each month, The Buyers Network familiarizes our readers with businesses who have attended our past vendor purchasing conferences. We appreciated their participation in these training events.

Introducing

Premier Computer Services of Morgantown, WV

Premier Computer Services of Morgantown, WV, provides computer technology infrastructure specialty services, including LAN/WAN, network design, and implementation.

Mark Tennant, Sales Manager for Premier Computer Services, explains that his company is in the beginning stages of marketing to state government; however, they have worked closely with the public education, higher education and county government sectors.

He attended the 2003 Agency and Vendor Purchasing Conference to start the process of learning more about state government opportunities. He said it was beneficial to him by having many different agency representatives available. "I learned more about the terms by which I am required to work with at the state level. It was also helpful to make various contacts and to find out the needs which the departments currently have," Tennant said. For more information regarding the services offered by Premier Computer Services, please contact Mark Tennant at (304) 599-1520 or by e-mail at mtennant@softwaresystems.com.

Back to the Top

QUESTION

What are the requirements when purchasing products under delegated authority ($10,000 or less)?

ANSWER

State agencies have been delegated authority for procurements estimated to cost $10,000 or less. No agency shall issue a series of requisitions to circumvent this dollar threshold. Agencies are always encouraged to use West Virginia vendors when possible under this authority.

Commodities expected to cost $1,000 or less require no bids; however, competition is always encouraged.

For purchases $1,000.01 to $5,000, three verbal bids are required, where possible, and should be documented on a Verbal Bid Quotation Summary (WV-49).

Purchases $5,000.01 to $10,000 require three written bids, where possible. Agencies should use the Request for Quotation (WV-43) to document the vendors solicited and their responses.

Fax bids are accepted, but should be confirmed with an original copy within two working days.

A "no bid" is not considered a bid.

We want your questions! … Submit your questions via e-mail to Diane Holley at dholley@gwmail.state.wv.us.


Guardhouses Get a Facelift
Parking Attendants Maintain Flow of Vehicles at the Capitol Complex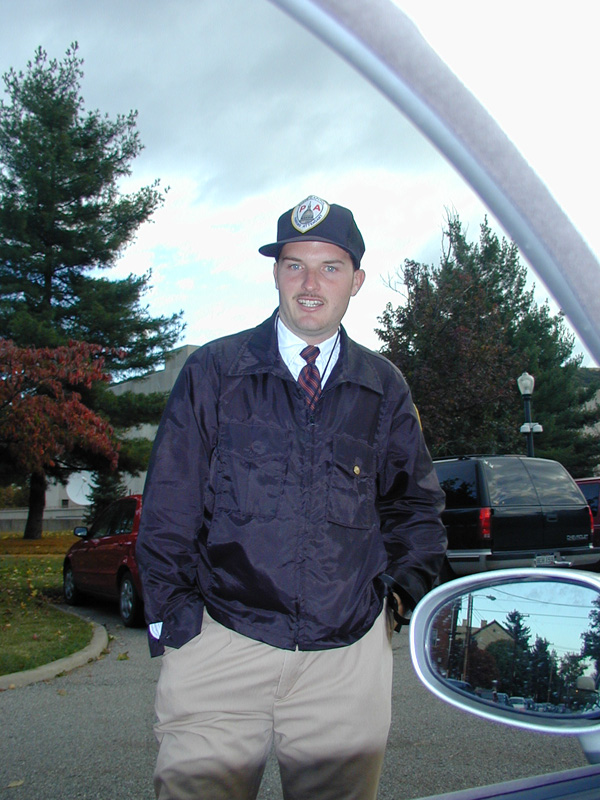 To ensure that parking flows as smoothly as possible, it is the responsibility of the parking attendants to make sure that vehicles are parked in the assigned spaces and to issue tickets if a violation is detected.
With five attendants and a working supervisor, over 3,000 assigned parking spaces in addition to the metered spaces must be maintained. "When a vehicle enters the lots, our guards make sure that a decal is visible," said Capitol Parking Manager Janice Boggs. "If a decal is not displayed, the person in the vehicle could be a visitor and the attendants will direct him or her to the visitor's parking areas."
The majority of state employees park behind Building 3. "During the day, the guards walk the campus to make sure decals are visible and if there is improper parking, tickets are issued for the violations," Boggs said. The attendants also reserve meter spaces for approved parking arrangements.
In addition to these duties, the attendants provide information to assist those individuals unfamiliar with the Capitol grounds. "When visitors arrive needing to know where certain buildings or departments are located, the attendants serve as the central point of contact by providing directions to their destination," Boggs said.
They are relieved at the end of their shift by St. Moritz employees, a contractor that assists with parking and security after business hours.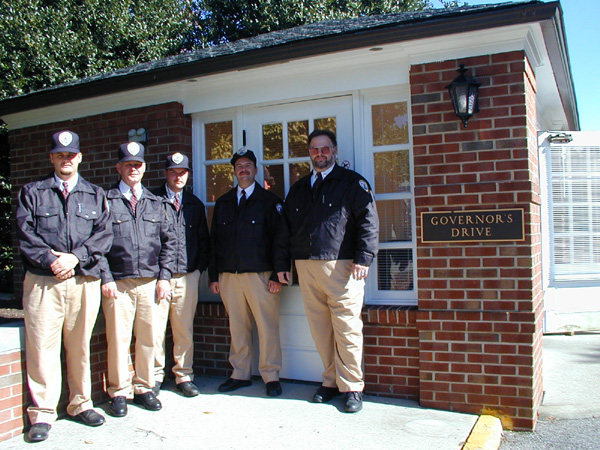 Recently, renovations were made to the guard station on the Governor's Drive. Boggs indicated that there had been no updates to this station for the past three years. "We put in new lighting — inside and out," she said. "We also painted the area, installed a new door and put up mini-blinds."

Boggs also utilized the Surplus Property Program in acquiring furniture for the station.

At the guard stations on Piedmont Road and Greenbrier Street, the locations were cleaned and better organized. Boggs said that the goal was to help improve the parking attendants' working environment. "They were very pleased with the work done to these guard stations," she said.

"The renovations to the guardhouse makes the place look more comfortable," said Parking Attendant Chris Cline. "It is a more pleasant atmosphere."

Parking Attendant Jim Fisher agrees and adds that the changes have initiated feedback even from state employees who visit the guardhouse. "We've had a lot of favorable comments on our new look as well as the renovations to the guard house," he said.

Back to the Top
New Statewide Contract Awarded to Arcmate for Litter Grabbers

A new statewide contract has been awarded to Arcmate Manufacturing Corp. of Escondido, California, for litter grabbers.

According to Senior Buyer Betty Francisco, this contract was developed as a result of a special request from Chris Cartwright, the coordinator of the Make-It-Shine Program, sponsored by the Division of Natural Resources. "He indicated in an e-mail to Karen Byrd (Director of the Acquisitions and Contract Administration Section) that he was being inundated with requests for litter grabbers," Francisco said. The 'grabbers' are long handled poles with rubber grips at the end to 'grab' litter as it is being collected. These heavy-duty grabbers with pistol grips come in a variety of sizes from 30" to 36".

The state had been paying between $15 to $30 for each grabber to assist the individuals responsible for performing this task. Francisco said she began developing the specifications for a possible statewide contract but first wanted to survey the agencies to ensure a sufficient need was present and to estimate the number of tools required to fulfill the requirements of state agencies. The results were in and the agencies' voices were heard; thus, a new statewide contract was issued and the savings have been realized.

"The state went from spending up to $30 for each tool to implementing this new statewide cont

ract on which the grabbers range from $8.48 to $11.18. The savings to the state of West Virginia is expected to be significant over the life of the contract," Francisco said.


DNR Utilizes roomMaster 2000 Software for Park Online Reservation System

In a collected effort, the Division of Natural Resources, Parks and Tourism and the State Treasurer's Office recently unveiled a new state park online reservation system.

Twin Falls State Park is the first state park to feature this online option. All other state parks will implement the system by the end of the year. "Tourism studies indicate that our parks are one of the major draws to the state," said Gov. Bob Wise. "Staying at a West Virginia state park lodge will become easier as this new state-of-the-art reservation system becomes available."

This reservations software, roomMaster 2000, was developed by InnQuest and is used by more than 2,400 properties. This software will allow state parks to simplify the reservation process by offering a solution that merges phone, credit card systems and the Internet. Guests will have the ability to go online at www.wvstateparks.com and make their reservations.

State Treasurer John Perdue said he supports DNR's initiative and is proud of the role his office has played in other aspects of electronic government. The Treasurer's Office provides a secure electronic payment network by which residents did $6.3 million worth of state government business from July 1 to September 15, most of it in tuition payments by West Virginia and Marshall University students. Those wanting to make a traditional reservation by phone will still have the option of calling the individual park or 1-800-CALL-WVA.


Saying Goodbye to Two Special People

In recent weeks, two special people who demonstrated dedication and cooperation within state government have passed away. Juvenile Services' Lorrie Yeager and ABCC's Pat Holtsclaw departed. They will be sadly missed, but many fond memories will keep their spirit alive. Our sympathies go out to their friends, families and colleagues.

Back to the Top WISE...Tips for the Thrifty

Famous Named Versus Store Brands

More supermarket shoppers are choosing in-store brands and bypassing big name products.

A decade ago, people thought famous brands were better and symbolized the good life. Stores trumpeted name-brand products. Now supermarkets are pushing their own brands, some of which are outpacing the big names. Walmart's Ol' Roy dog food, for example, is currently the world's leading dog food.

Sales of store-brand goods have increased by 8.6 percent in the past two years, according to Fortune.


Agency Process Checklists
Guidance Provided to State Agency Purchasers in Processing Transactions

At the 2003 Agency and Vendor Purchasing Conference & Product Expo, a workshop, "Just the Basics," was conducted to address various issues relating to general purchasing practices. One topic discussed was the checklists for agency purchasers for a variety of purchasing transactions, including requests for quotations, emergency purchases, requests for proposals, expressions of interest and several others. A copy of the checklists were included in the handout materials provided at the purchasing conference.

The purpose of these checklists is to assist representatives of state agencies who are charged with the task of handling the purchase of products and services on behalf of their agencies.

"This is somewhat of a 'how-to guide' for agency purchasers when they are preparing various transactions to be submitted to the Purchasing Division for processing," said Purchasing Director Dave Tincher. "Instead of simply returning paperwork to the agencies for missing documentation, we decided to put down in writing what we need and other stipulations to be considered, such as the various approvals that may be required."

A statewide memorandum was recently distributed to all agency procurement officers with the process checklists attached. It is the responsibility of the procurement officers to share this information with their staff to ensure that the appropriate guidance is offered.

The checklists are also available on the Purchasing Division's Intranet site at http://intranet.state.wv.us/admin/purchase.

In addition, the division's Intranet site is an excellent resource for other purchasing-related information, such as the Best Value Purchasing training video, the West Virginia Purchasing Bulletin, downloadable forms, online TEAM class registration, the Purchasing Division Policies and Procedures Handbook, frequently asked questions, emergency purchasing procedures, West Virginia Zip Codes, Directory of Services, Federal Debarment and Suspension Lists, Statewide Contract List and other valuable information on programs and services that are offered by the Purchasing Division.

Back to the Top

Surplus Property Prepares for its Second Annual Federal Surplus Property Auction

The West Virginia State Agency for Surplus Property is conducting its second annual Federal Surplus Property Auction at 10 a.m. on November 1, 2003, at its 2700 Charles Avenue, Dunbar location.

More than 470 lots of property will be sold, with an original acquisition cost of $2.5 million. Some of the items for sale include trucks, trailers, engines, generators, pumps, woodworking equipment, shop equipment, exercise equipment, clothing, diving equipment and household/office furniture.

Last year was the first time that Surplus Property conducted a sale of federal surplus property. Because the federal program is overseen by the U.S. General Services Administration, Surplus Property has to abide by different terms and conditions than what is required for the state auctions held most often each month during fair-weathered times of the year.

Ken Frye, Surplus Property Manager, explains that most states sell federal property online using the federal government's website. However, he added that in West Virginia, he wanted to conduct a local auction in order to give our state residents an opportunity to purchase federal surplus property. "Last year, we had over 1,000 pieces of property combined into 351 lots. This year, we have even more, with over 450 lots of property for sale. From the feedback received last year from those in attendance, everyone was extremely appreciative that we were making this effort to bring federal property to them at low, discounted auction prices," he said.

Statewide Contracts Under Jones' File Moved to Francisco


As the dedicated buyer for the Department of Health and Human Resources (DHHR), Senior Buyer Pam Jones' commodity file has been modified, primarily as it relates to the statewide contracts.

The statewide contracts which she previously monitored are now being handled by Senior Buyer Betty Francisco. Jones will continue to process all DHHR requisitions, agreements and direct purchase orders.

These contracts include many of which are now included on the new WVARF04 contract (presort mail services, soap and wiping cloths), in addition to contracts for brooms, condiment kits, disposable food services, floor machines, housekeeping materials, laundry materials, lawn maintenance equipment, temporary employment services and safety equipment, etc.

Questions or comments regarding these statewide contracts should be directed to Betty Francisco at 558-0468 or by e-mail at bfrancisco@ gwmail.state.wv.us.


CURRENT STATEWIDE CONTRACT UPDATE

Information and dates (as of October 15, 2003) included in this Current Statewide Contract Update are subject to change. If you need additional information, please contact the appropriate state buyer.

Contracts to be Bid or Under Evaluation Contract: MV
Description: Motor Vehicles
File: 23
Bid Opening: 10/02/03
Under Evaluation: Yes Contract: PC
Description: Police Cruisers
File: 23
Bid Opening: 10/07/03
Under Evaluation: Yes Contracts to be Renewed Contract: JITLECT
Description: Multi-Media Courseware Development
File: 21
Vendor: MPL Corp.
Expiration Date: 11/14/04 Contract: SYSFURN
Description: Modular Systems Furniture
File: 42
Vendor: Various
Expiration Date: 08/04 * Note that each vendor has its own expiration date; however, all expire in 08/04. All vendors on the existing contract renewed this contract with the exception of MacSys.

iContracts Extended

Contract: IP
Description: Information Processing Equipment
File: 21
Comments: Extended until 12/31/03 Contract: IPTEMP
Description: Information Processing Temporary Services
File: 21
Comments: 06/30/04 Contract: DIGCOP
Description: Digital Copiers
File: 21
Comments: Extended until 12/14/03 Contract: CRENTAL
Description: Car Rental Services
File: 23
Comments: Extended until Further Notice Contracts Cancelled As noted in last month's issue of The Buyers Network, several statewide contracts were consolidated into the new WVARF04 statewide contract, which is being maintained by the West Virginia Association of Rehabilitation Facilities. The commodities under this contract (which replaces the individual statewide contracts previously issued) include key punch services, envelopes, stakes, wiping cloths, liquid spills, bottled water, microfilm services, bulk mail handling, liquid soap, dispensers and condiment kits. Contracts to be Reviewed NOVEMBER File 22: CABLE
Coaxial Cable (A) File 31: X-RAY
X-Ray Film and Supplies File 31: AUDIT
Single Audit Services File 33: ALUM
Aluminum Coil and Flat Sheets File 42: OFFICE
Office Supplies DECEMBER File 22: SANPAP
Sanitary Paper Supplies File 42: CLRM
Classroom Furniture File 42: FLRCOV
Carpets and Rugs File 42: SOAP
Liquid Soaps and Dispensers File 42: SAFETY
Safety Equipment Purchasing Division Staff
For questions concerning these contracts listed, please contact the appropriate buyer: File 21
Charlyn Miller
(558-0067) File 22
Pam Jones
(558-0468) File 23
Chuck Bowman
(558-2157) File 31
Evan Williams
(558-2596) File 33
John Johnston
(558-0492) File 41
Ron Price
(558-2316) File 42
Betty Francisco
(558-0468)

Back to the Top

Questions?...Just Ask!

Are you unsure of certain purchasing procedures? ... Do you have a question regarding travel requests? ... Would you want to know what surplus property is available? ... If you need information concerning any function within the Purchasing Division, complete this form:


Back to the Top Thank you for viewing our November 2003 Issue of The Buyers Network