The Buyers Network is Published Monthly by the Purchasing Division of the West
Virginia Department of Administration to Promote Better Value in Public Purchasing
---
Welcome to the July 2003 Issue of the The Buyers Network!
---
Articles in this Issue:
Fleet Management Office Conducts Training on Policies and Procedures
The Buyers Network Mailing List Update
Director's Comments: Training Vital to Success
The Travel Bag: News and Tips from the Travel Management Office
Advice Offered to State Agencies on Elevator Service Needs
Changes to Vendor Forms to Gather Minority and Small Business Data
Reaching Out to New Businessess
Surplus Property Public Auction Notice
MONEYWISE...Tips for the Thrifty
New Statewide Contract for Paint and Supplies Offers Grade Levels
Vendor Spotlight...Meet Some of Our Valuable Business Partners!
A Reminder to State Agency Purchaser
Agencies to Submit Physical Inventory Certification to the Administration Unit
What's State Government Buying?
Current Statewide Contract Update
---
Fleet Management Office Conducts Training on Policies and Procedures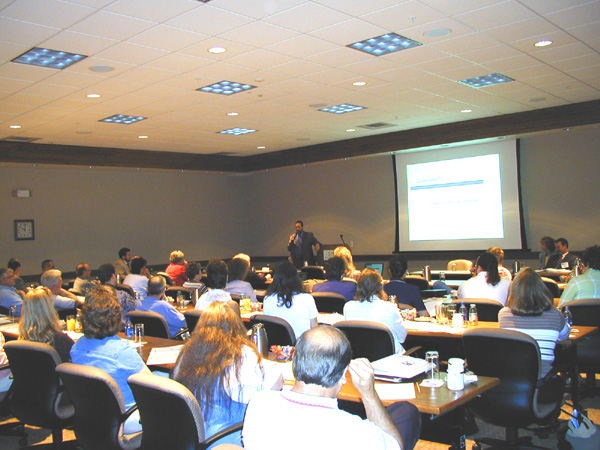 Due to changes in procedures and the reduction of state-owned vehicles in accordance to the Governor's Executive Order 1-03, the Fleet Management Office conducted a one-day conference at Stonewall State Resort and Conference Center in June for fleet coordinators and other agency representative who are associated with this program.
Purchasing Director Dave Tincher kicked off the program with a discussion relating to the recent reduction of the state's fleet.
Fleet Manager Janice Boggs provided an overview of the central fleet program, with detailed information on its mission, statutory authority, responsibilities, the process, training and the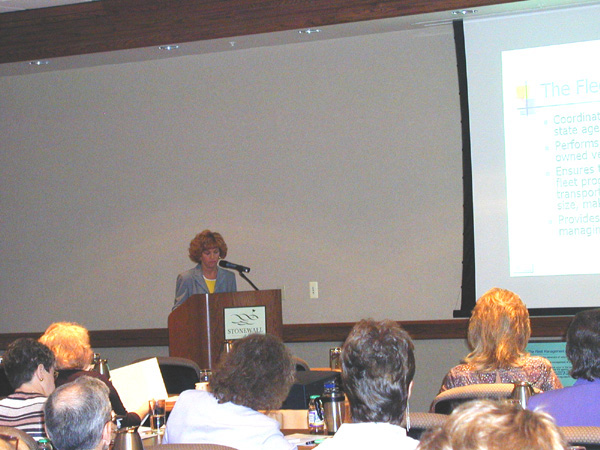 retirement of state vehicles.
She also explained the role and responsibilities of the agency fleet coordinators and those state employees who are offered the privilege to drive state vehicles.
The lease terms and conditions outline important information for drivers of state vehicles, such as obeying all motor vehicle laws and regulations, the prohibition of alcohol, drugs, smoking and cellular telephone use in state vehicles, etc.
Manager Ken Frye presented information on Surplus Property Unit's role in the fleet management program, in regard to the receipt of new vehicles at his agency's location in Dunbar. He also discussed the retirement of state vehicles.
Dan Appleby, Regional Director of Business Development for Government and Utilities for PHH Arval, represented the vendor who services the statewide contract for fleet management services. He provided valuable information on the services his company offers to the Fleet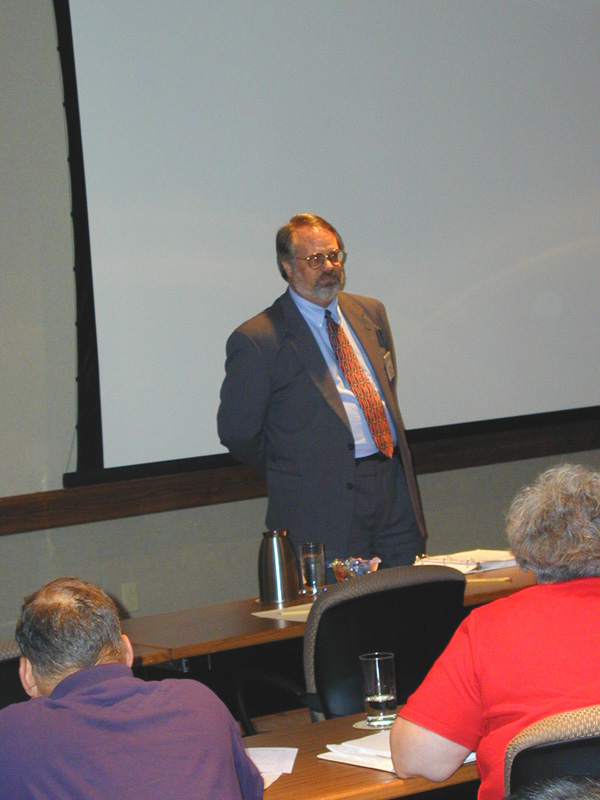 Management and to individual fleet coordinators at the agency level.

Chuck Mozingo, Assistant Claims Manager for the Board of Risk and Insurance Management, discussed issues relating to insurance coverage and accident procedures.

Tincher closed the conference with an interactive discussion on future issues and questions concerning the state's fleet of vehicles. Valuable feedback was received at the conference during this session.

In addition, an evaluation form for this training was electronically distributed to those in attendance. Thus far, the response has been overwhelmingly positive.

"We organized this training conference very quickly; however, the information offered and, more importantly, the open exchange of ideas to continually improve this program was truly a success," Tincher said. He plans to provide similar training for the agency fleet coordinators periodically.

The Buyers Network Mailing List Update

If you haven't updated your mailing information for The Buyers Network with the Purchasing Division yet, act quickly!

If you wish to remain on our mailing list, you must notify us, with any changes to your address, no later than August 15, 2003. Please contact Debbie Harrison by e-mail at dharriso@gwmail.state.wv.us; by telephone at (304) 558-2315; by fax at (304) 558-6026; or by mail to 1029 Washington Street, East; P.O. Box 50130; Charleston, WV 25305.

Please remember that an electronic version of this publication is available at the Purchasing Division's website at www.state.wv.us/admin/purchase/BN/bnlist.htm.

You must reply by this date in order to continue to receive your monthly copy of this publication. Thank you for your cooperation.


The Director's Comments:
Training Vital to Success

By Dave Tincher
State Purchasing Director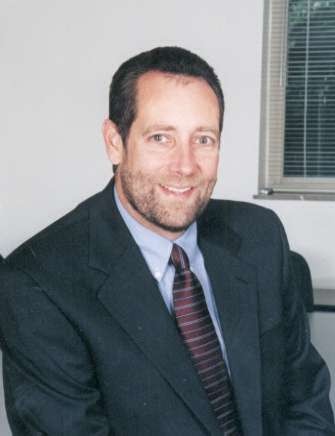 Class…workshops…seminars… conferences! It seems like every time you pick up a copy of The Buyers Network, we are telling you about some sort of training being conducted.
Why are we focusing so much on training? There are many reasons; however, one of the most prevalent is that we are in a changing government. Procedures and policies are being reviewed and, as a result, occasionally changed. Not only are they being reviewed, but in some cases they are being drastically modified, such as with the Fleet Management Program. This year is an excellent example, with the reduction efforts that have been experienced in accordance with the Governor's Executive Order 1-03.
It is crucial to keep those employees at the agency level informed of chan-ges occurring within their realm of responsibility. Often, a memorandum will suffice, providing details and instruc-tions of action to be taken. In other cases, face-to-face interactive discussion is necessary.
Not only is the information shared important, but the opportunity to speak with other representatives of other agencies has proved valuable. At our 2003 Agency and Vendor Purchasing Conference, state procurement officers were able to discuss a variety of issues with other agency purchasers as well as representatives from our vendor community and purchasing representatives from the state of Ohio.
The Purchasing Division hopes to coordinate various training programs addressing areas under our jurisdic-tion in the future. This effort will enable our staff to work closely with you and your staff to generate more cost-efficient ideas and to provide more service to your agency operations.

Advice Offered to State Agencies on Elevator Service Needs
Purchasing Director Dave Tincher recently issued a memorandum stating that Harmon Elevator Company has been deemed to be a non-responsible vendor. Accordingly, he directed state agency purchasers to take the following action:
Cancel all outstanding contracts, purchase orders and other obligations immediately. Should you need to attain elevator maintenance services, please abide by the state purchasing procedures as outlined in the Purchasing Division Policies and Procedures Handbook.

Pay any valid outstanding debt to this company.

Once this situation is resolved, additional instructions will be provided to all agency procurement officers.

If you have any questions, please contact Buyer Ron Price at (304) 558-0492.

Back to the Top
The Travel Bag: News and Tips from the STate Travel Managment Office Travel Management Website

The MasterCard Guide to Benefits and a link to the United Bank Travel Card Online Access is now available on the Travel Management Office's website at www.state.wv.us/admin/purchase/travel.

Airlines Decrease Travel Perks

A larger portion of airline and hotel perks will be going to people who do not buy the cheapest tickets they can find. British Airways says those flying in cheap seats will earn just a quarter of the frequent-flier miles they used to earn. Delta says fliers with discount fares get only half the credit toward elite status that they did before.

The Hilton will give no points toward free rooms or upgrades if you book on a non-Hilton website. For the travel industry, it's a chance to correct a mistake made years ago, rewarding fliers for miles flown rather than dollar spent.

After 37 years of service, Edi Barker of the Bureau of Employment Programs retired, effective June 30.

Edi was a familiar face to state agency purchasers. Not only was her personality pleasurable, but her performance was exemplary. When the Purchasing Division created its Agency Procurement Officer of the Year in 1998, Edi was our first recipient. The Purchasing Division joins all state government in wishing Edi a happy retirement!

QUESTION

What happens if an error is found in a bid submitted?

ANSWER

If an error is discovered, the burden of proof and timely action for request of relief is the vendor's responsibility. The request for relief must be made in writing by the vendor to the agency within five (5) working days from the bid opening date. Erroneous bids may be rejected after the bid opening if all the following reasons are met: (1) An error was made, and; (2) The error materially affected the bid, and; (3) Rejection of the bid would not cause a hardship on the state agency involv-ed other than losing an opportunity to receive commodities and services at a reduced cost; and, (4) Enforcement of the part of the bid in error would be unconscionable. In order to reject a bid, the public file must contain documented evidence that all of the above conditions exist.

The vendor must identify the error(s), and provide documentation to substantiate the claim that the error(s) materially affected the bid and enforcement of the part of the bid in error would be unconscionable. The unit price prevails if there is an error in the extension.

We want your questions! … Submit your questions via e-mail to Diane Holley at dholley@gwmail.state.wv.us.


Vendor Registration and Disclosure Statement
Changes to Vendor Forms to Gather Minority and Small Business Data

The Purchasing Division recently made a change to the Vendor Registration and Disclosure Statement forms, the WV-1 and WV-1A.

The revised forms are available electronically at the following websites:

w

Division's Internet website (http://www. state.wv.us/admin/purchase) and,

w

Division's Intranet site (http://intranet. state.wv.us/admin/purchase)

In addition, the forms are available through the Correctional Industries' central stockroom.

An addition to the form was the collection of information relating to the designation of a small business status. The form added a question which requested the applicant to indicate if it is a small business as defined by the Code of Federal Regulations, Title 13, Part 121, as appended.

This code contains detailed industry definitions and related procedures offering the character-istics of the business' control, operation and/or ownership.

The applicant may designate from the following listing:
Disabled Small Business Ownership
Minority Small Business Ownership
Small Business Ownershi
p
Veteran Small Business Ownership
Woman Small Business Ownership
The Purchasing Division is gathering this information for data collection efforts only. Presently, there are no state laws or regulations which provide any preferences or special circumstances for small businesses.
In an attempt to attract businesses to participate in the state's competitive bid process, the Purchasing Division actively seeks opportunities to reach out to potential vendors throughout the state.
Recently, New Business Development Manager Scott Padon attended a luncheon offered by the Chamber of Commerce of the Mid Ohio Valley in Parkersburg.
Padon offered a presentation on conducting business with the state of West Virginia. He focused on targeting what potential vendors need to know, including the registration requirements and the bid process.
If you are aware of other opportunities at which the Purchasing Division may address vendors in your community, please contact Scott Padon at (304) 558-3488.
MONEYWISE...Tips from the Thrifty
Compare Your Money Habits
It's not polite to ask people questions concerning their money, but you can get a pretty good idea of how you compare to the average. This inside information is from Bernice Kanner in her book, Are You Normal About Money? (Bloomberg Press).
According to her research, the following findings were noted:
$ The average wallet has $104.

$ Thirteen percent (13%) of us believe money can buy happiness (slightly more men than women believe this.)

$ Two-fifths of Americans believe that income levels influence how their children will turn out.

$ Although it's considered rude to ask, 59.7 percent of us will tell the truth about the price we paid for something.

Surplus Property Public Auction

Mark your calendar now... for the next Surplus Property public auction.

The next public auction scheduled by the West Virginia State Agency for Surplus Property is Saturday, July 12.

Contact Surplus Property at 766-2626 for more details or visit its website at www.state.wv.us/admin/purchase/surplus.


What's State Government Buying? This information is compiled from the West Virginia Purchasing Bulletin. The purpose is to provide an awareness of the variety of products and services being procured in state government. Only a small sample of solicitations are listed.
w Department of Agriculture

Request to provide three tractor trailers and a refrigerated truck for a donated foods program.

w Division of Forestry

Request for a modular designed weather station.

w Division of Tourism

Request for a full line of advertising services.

w All State Agencies

Request for an open-end statewide contract to provide lubricants, oil and grease.

w All State Agencies
Request for an open-end contract to provide computer inkjet and laser toner cartridges.

Back to the Top
New Statewide Contract for Paint and Supplies Offers Grade Levels

Senior Buyer Betty Francisco recently announced the award of the new statewide contract for paint and supplies to Pittsburgh Paints.

At the request of agency users, when preparing for the new contact, Francisco changed the specifications to include better quality of paint. "In some instances, there are three grades of products available," she said. The grades include good, better and premium.

Another change to the contract is the ability for state agency purchasers to acquire smaller quantities of paint (under $100) from a local source to eliminate freight.

Prices include freight for orders over $100. Many agencies had complained in the past that the freight charge was often more expensive than the actual product ordered.

"The contract also covers a wider variety of products, including graffiti remover, to meet the needs of our state agencies," Francisco said.

The statewide contract is mandatory for paint and supplies in excess of $100. Orders of less value may still be purchased through Pittsburgh Paints or local sources.

Francisco warns agency purchasers of the prohibition against stringing, which is when an agency issues a series of requisitions or purchase orders to circumvent the established limit. Stringing is a violation of purchasing policy. Questions on purchasing issues related to this contract should be directed to Betty Francisco at (304) 558-0468.

Back to the Top




A Reminder to State Agency Purchasers

Just when you think fiscal year-end details are history, we have a few more instructions to share with our state agency purchasers.

According to Jo Ann Dunlap, Administration Unit Manager of the Purchasing Division timeline for 2003 fiscal year-end transactions, purchase orders with a July 1, 2003 start date will be held by the Purchasing Division until the funds associated with the contract can be encumbered on WVFIMS for fiscal year 2004.

The scheduled date for encumbrance of these funds is July 1, 2003.

VENDOR SPOTLIGHT...Meet Some of Our Valuable Business Partners!

Each month, The Buyers Network familiarizes our readers with businesses who have attended our past vendor purchasing conferences. We appreciated their participation in these training events.

Introducing Chester Engineers of Martinsburg, WV

Chester Engineers of Martinsburg, West Virginia, provides municipal engineering services.

Larry Johnson, Manager of Chester Engineers has had positive experiences in dealing with state government. He indicated that he has found his agency contacts to be willing to assist and "better than most in returning telephone calls." His firm deals primarily with the Department of Environmental Protection and the Department of Health and Human Services.

He attended the 2003 Agency and Vendor Conference and Product Exposition in April. "I was beneficial to meet the people who could explain the process and serve as contacts for marketing our services," he said.

For more details on Chester Engineers, contact Larry Johnson at (304) 267-9759 or by email at johnsonL@usfilter.com.

Back to the Top Deadline Set for July 15th
Agencies to Submit Physical Inventory Certification to the Administration Unit

Every July 15, state agencies are required to submit a certification to the Purchasing Division certifying that all of the agency's fixed assets with an acquisition value of $1,000 or more have been entered into the West Virginia Information Management System (WVFIMS) Fixed Assets System.

Administration Unit Manager Jo Ann Dunlap, who oversees the statewide fixed asset program, said that agencies are also required to perform a physical inventory of its reportable fixed assets once every three years.

The agency inventory management coordinator must note on the certification each year the date of the last physical inventory for that agency. The requirements for this certification are in accordance with the West Virginia Code, §5A-3-35.

Each agency designates an agency inventory management coordinator, who is responsible for ensuring that the appropriate certifications and physical inven-tories are completed. State law also requires each agency to select an individual to serve in this capacity (West Virginia Code, §5A-3-34).

To assist these individuals in serving as agency inventory management coordinators, a valu-able tool is offered, called the "Inventory Management and WVFIMS Fixed Asset Training Manual." This document is available electronically at the Purchasing Division's website at http://www.state.wv.us/admin/purchase/AdminUnit/default.htm.

"Some agencies continue to dispose of equipment improperly," said Purchasing Director Dave Tincher in a memorandum to all division directors on June 4, 2003. "I would like to remind state agencies that all obsolete equip-ment, regardless of cost, must be disposed of to the Surplus Property Unit of the Purchasing Division. Agency inventory coordinators have the responsibility to inform all employees within their agency of the proper disposition procedures."

Should you have questions or comments relating to inventory procedures or the proper disposition of equipment, please contact Jo Ann Dunlap, Administration Unit Manager, at 558-0059 or via e-mail at jdunlap@gwmail.state.wv.us (for inventory procedures) or Ken Frye, Surplus Property Manager, at 766-2626 or via e-mail at kfrye@ gwmail.state.wv.us (for property disposition procedures).

Back to the Top
CURRENT STATEWIDE CONTRACT UPDATE

Information and dates (as of June 15, 2003) included in this Current Statewide Contract Update are subject to change. If you need additional information, please contact the appropriate state buyer.

Contracts Awarded

Contract: A/E FILTER
Description: Filters: Oil, Air and Fuel
File: 23
Vendor: Vehicle Maintenance Program, Inc.
Effective Date: 05/19/03

Contract: TAGS
Description: Identification Tags
File: 42
Vendor: Correctional Industries
Effective Date: 07/01/03

Contract: PAINT
Description: Paint and Supplies
File: 42
Vendor: Pittsburgh Paints
Effective Date: 05/01/03

Contracts to be Bid or Under Evaluation

Contract: SAT
Description: Satellite Transponder Time
File: 21
Bid Opening: 05/07/03
Under Evaluation: Yes

Contract: SUPFD
Description: Supplemental Foods
File: 42
Bid Opening: 06/03/03
Under Evaluation: To Open

Contracts to be Renewed

Contract: FLRMAC
Description: Floor Machines
File: 22
Vendor: Wholesale Vacuum Connection
Expiration Date: 05/14/04 Contract: A/E BATT
Description: Battery: Auto and Equipment
File: 33
Vendor: Taylor and Blackburn
Expiration Date: 05/31/04 Contracts Extended Contract: IP
Description: Information Processing Equipment
File: 21
Comments: Extended until Further Notice Contract: CRENTAL
Description: Car Rental Services
File: 23
Comments: Extended until Further Notice Contract: IPTEMP
Description: Information Processing Temporary Services
File: 21
Comments: Extended until 09/30/03 Contracts to be Reviewed JULY File 21: DATA
Key Punch Services

File 22: BROOM
Push Brooms

File 22: ALCOHOL
Ethyl Alcohol

File 22: TEMP
Temporary Services

File 33: N-TIRES
Tires: Automobile and Equipment

File 33: PC
Police Cruisers

AUGUST

File 21: MSSELECT
Microsoft Products

File 21: JITLECT
Multimedia Courseware Development

File 22: RECMGT
Records Management Services

File 22: FLOORPAD
Floor Buffing Pads

File 31: DIAPER
Diapers and Pads

File 42: BTWATER
Bottled Water

Purchasing Division Staff
For questions concerning these contracts listed, please contact the appropriate buyer:

File 21
Charlyn Miller
(558-0067)

File 22
Pam Jones
(558-0468)

File 23
Chuck Bowman
(558-2157)

File 31
Evan Williams
(558-2596)

File 33
John Johnston
(558-0492)

File 41
Ron Price
(558-2316)

File 42
Betty Francisco
(558-0468)

Back to the Top

Questions?...Just Ask!

Are you unsure of certain purchasing procedures? ... Do you have a question regarding travel requests? ... Would you want to know what surplus property is available? ... If you need information concerning any function within the Purchasing Division, complete this form:


Back to the Top Thank You for Viewing our July 2003 Issue of The Buyers Network