The Buyers Network is Published Monthly by the Purchasing Division of the West
Virginia Department of Administration to Promote Better Value in Public Purchasing
---
Welcome to the October 2002 Issue of the The Buyers Network!
---
Articles in this Issue:
2002 Agency Purchasing Conference
Agency Participants Gain Valuable INformation on Wide Variety of Purchasing-Related Topic
Director's Comments:
THe Process of Sole Source Procurements Reviewed
MONEYWISE...Tips for the Thrifty
Willadean Fisher Honored as Employee of the Month
2002 Agency Purchasing Conference HIGHLIGHTS
America Recycles Day Encourages State Agencies to "Close the Loop"
The RETURN of Purchasing Jeopardy Welcomed by Conference Game Show Enthusiasts
2002 Award Recipients: Purchasing Stars Shined at Conference
VENDOR SPOTLIGHT...Meet Some of Our Valuable Business Partners!
Current Statewide Contract Update
---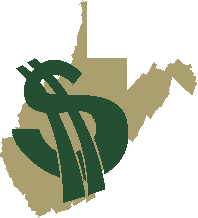 2002 Agency Purchasing Conference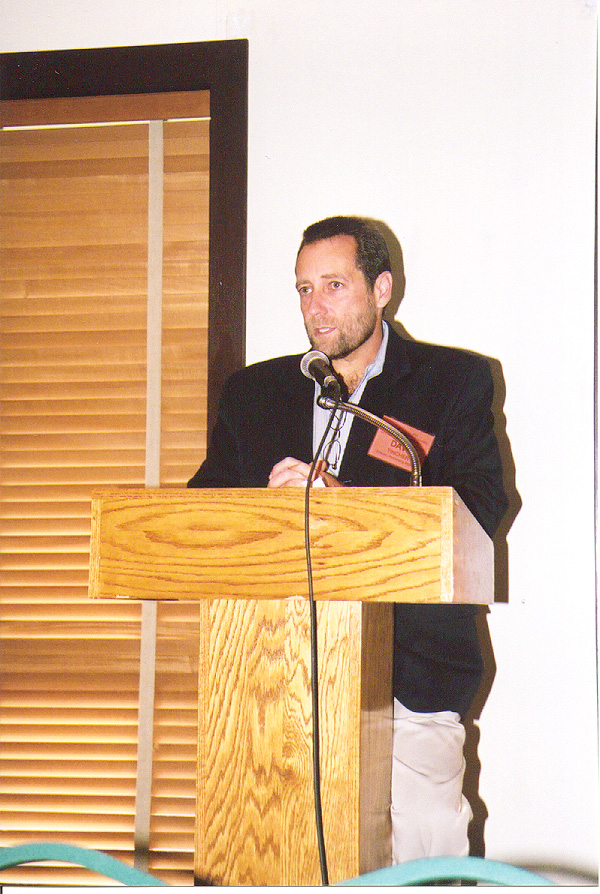 Agency Pariticpants Gain Valuable Information on Wide Variety of Purchasing-Related Topics
Two thumbs up!...Those were the sentiments of the agency purchasers who attended the 2002 Agency Purchasing Conference on September 24-27 at Canaan Valley State Resort and Conference Center.
More than 250 agency purchasing representatives attended this three-day conference, which included primarily small workshop sessions. Four concurrent sessions were offered, from which the participants could preselect the workshops most pertinent to their job.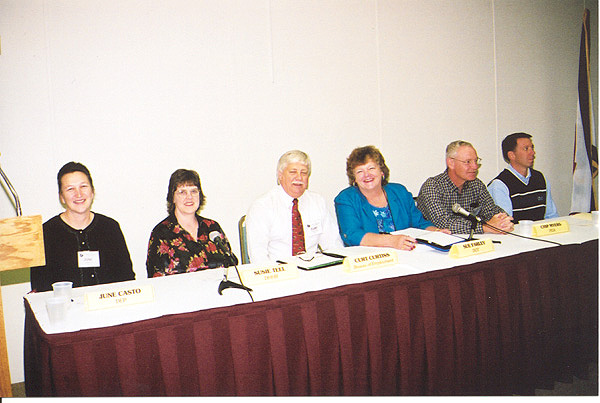 Of the 19 workshop topics, several related directly to the division's most recent initiatives, such as the Requisition Tracking System, E-procurement, Vendor Performance, and Process Checklists.
Ample networking opportunities were available with the Purchasing staff, agency presenters and among other state agency purchasers.
"This conference targeted more directly the procurement function," said Purchasing Director. "From my conversations with the participants, it appears that the information on our new initiatives was not only informative, but welcomed by our customers."

The Director's Comments
The Process of Sole Source Procurements Reviewed
By Dave Tincher
State Purchasing Director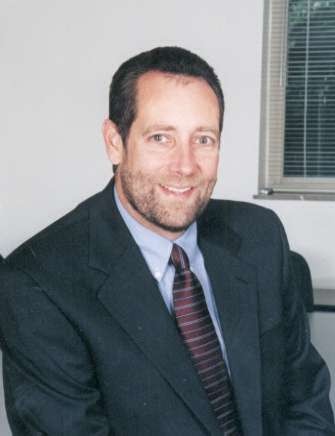 Over the past few years, the activities of the Purchasing Division have been reviewed by the Legislative Performance and Post Auditors. Both groups have been very thorough and have suggested changes in some of our procedures, which have strengthened the state's purchasing function.
These reviews have caused us to internally review some of our practices from the perspective of outside auditors. Using this perspective has been a healthy way to challenge and improve certain areas.
One of the areas we have been reviewing is the processing of sole source requests. We have noticed that many of the requests received do not have acceptable explanation and justification to prove that the sole source request is fully supported and justified.
The West Virginia Code, §5A-3-11 requires the Purchasing Director to seek competitive bids, where possible. Legislative Rule 148CSR1 allows a sole source purchase if any of the following conditions exist:
(a) The item cannot be obtained through ordinary purchasing procedures;

(b) The item is of a unique nature and not available from any other source; or

(c) The item is available from a State spending unit or other institution with preference under the West Virginia Code, provided the price, availability and quality are comparable to those in the open market.
Please note that these requirements are applicable to any non-competitive purchase requests.

I appreciate your cooperation in this matter. If you have any questions, please contact our Acquisition and Contract Administration buying staff.

MONEYWISE...Tips for the Thrifty Give the Ax to the Hacks Identity thieves looking to steal your financial information aren't just snooping in your trash anymore. Some thieves have moved into computer hacking, worming their way into your home computer where they can access your accounts and wreak havoc with your finances. You are most at risk if you use a broadband line to access the Internet, but even a dial-up modem can be hacked.

If you don't have a firewall installed on your home computer, you are not alone. A recent survey of American business executives found that less than half, some 47 percent, had a home-computer security system in place. Experts say even the firewall that comes with newer operating systems, like Windows XP, may not stop a determined and experienced hacker.

While no security system on the market today is 100 percent effective, you can buy software that will deter hackers and leave you less vulnerable. Look for security programs that not only detect suspicious codes, but also assess your computer's routine and then watch for any activity that is out of the ordinary. This behavioral approach to home security is less likely to send you false alarm messages, yet still keep you alert to the growing threat of cyberthieves.

- Adapted from personal-budget-planning-saving-money.com

Back to the Top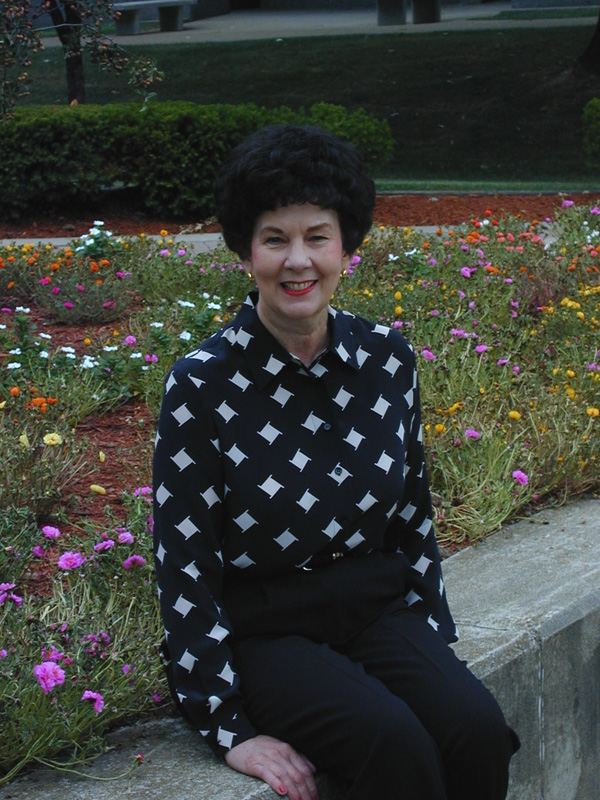 Willadean Fisher Honored as Employee of the Month
Congratulations to Willadean Fisher, Purchasing Assistant, for being select-ed as the Department of Administration's Employee of the Month for October!
Back to the Top

2002 Agency Purchasing Conference
HIGHLIGHTS
Let's take a quick look at the 2002 Agency Purchasing Conference! Below are a few photographs of some of the highlights of the conference.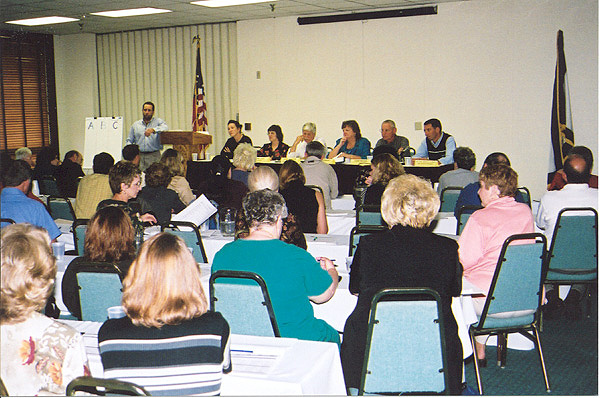 Purchasing Director Dave Tincher moderated a class on Agency Delegated Purchasing. Our panelists included June Casto (DEP), Susie Teel (DHHR), Curt Curtiss (BEP), Sue Farley (DOT), Chip Myers (PEIA) and Lt. Col. Steve Tucker (State Police).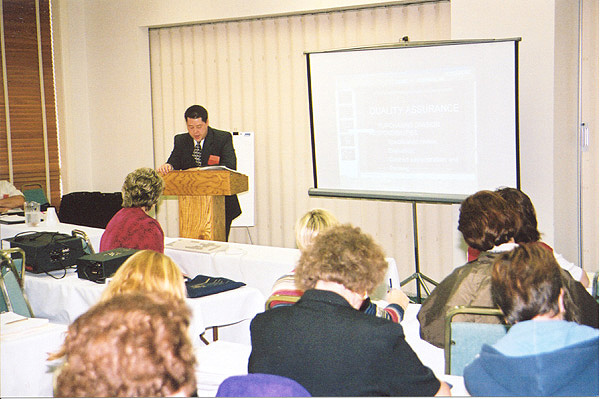 Chuck Bowman, Purchasing's newest senior buyer, shared general information in the How to Get Started workshop.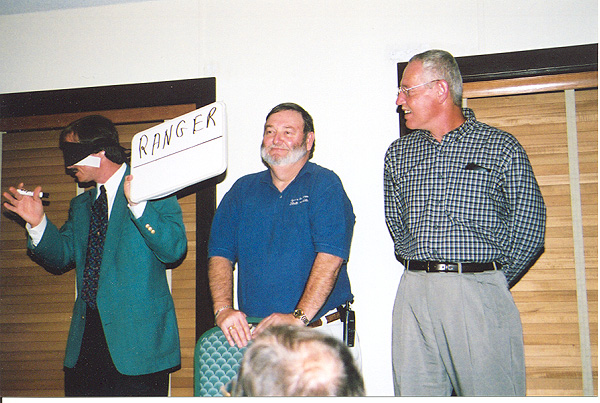 Mentalist/Magician Keith Matheny were assisted by Mike Hutchinson (Auditor's Office) and Chip Myers (PEIA) at the conference banquet.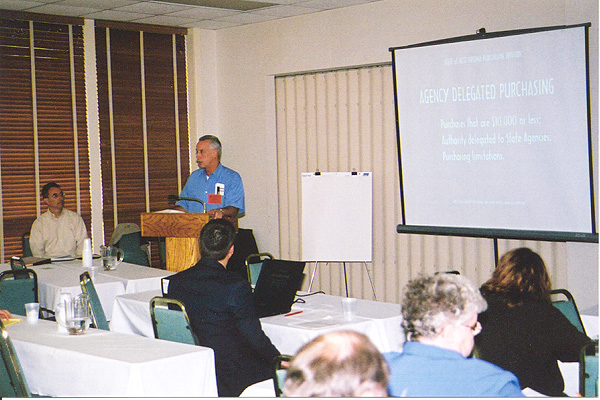 Senior Buyer John Johnston explained the 'basics' in the How to Get Started workshop session for agency newcomers.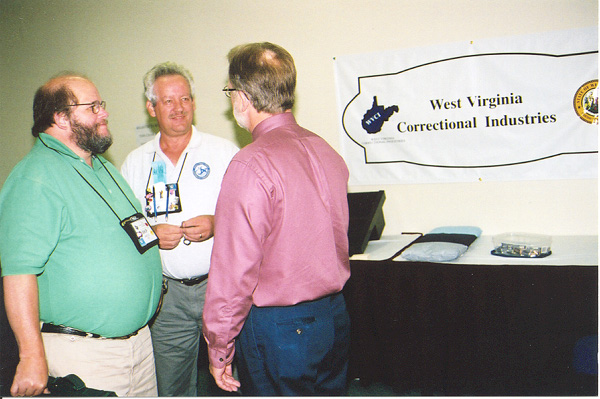 Correctional Industries assisted the Purchasing Division by offering a demonstration of their products and services. WVARF offered similar assistance. Pictured (l-r) are Skip Amole (DEP), Roger Burdette (DOH), and Guy Perry (Correctional Industries)
Back to the Top

America Recycles Day Encourages State Agencies to "Close the Loop"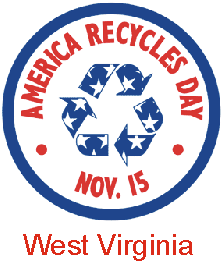 Mark your calendar early for next month...On Friday, November 15, West Virginia will participate in the fifth annual America Recycles Day (ARD) at the State Capitol.

ARD draws attention to the importance of buying recycled content products in order to "close the recycling loop" by challenging individuals to make a pledge to increase their recycling and their purchasing of recycled content products.

By getting the "buy recycled" message out to as many individuals, businesses and organizations around the state as possible we hope to make this years theme, "Make Every Day America Recycles Day", more of a reality.

As an incentive for West Virginians and all Americans to buy more recycled content products, and to attend local America Recycles Day events, prizes are being offered at both the state and national level.

The Recycling Coalition of West Virginia, Inc. is sponsoring a statewide contest awarding one lucky winner a patio table and chairs made of recycled content and national prizes include five aluminum "Trek" 24 speed bicycles.

As a purchasing agent you posses the power to send a powerful message to manufacturers through your purchasing choices. When you buy recycled you assure manufacturers that a consistent long term demand exists for recycled products.

Following are some myths which may have kept you from purchasing recycled in the past:

Myth #1 Recycled content products are hard to find.

This is no longer true. Ask your suppliers to offer more recycled content products or indicate in their catalogues which products contain recycled content. Read labels on paper and plastic items and look for safe bets, like steel, aluminum and glass.

Myth #2 Recycled content products aren't as good as virgin material products.

Recycled content products now often share the same performance character-istics as their virgin equivalent. They often look no different and offer the same level of reliability and functionality as non recycled products.

Myth #3 Recycled content products cost more.

More and more recycled content products are priced competitively. In fact, some may be less expensive. Take time to investigate prices.

Myth #4 Recycled content products are inferior in quality.

Not true. Recycled content products have the same quality, reliability and dependability as their non recycled counterparts.

You can learn more about recycling purchase options and talk to manufacturers, state agencies and individuals about ways you can increase your recycling purchases by attending the America Recycles Day event.

For more information about ARD, prizes, local events and how you can participate, visit www.state.wv.us/swmb, and click on West Virginia America Recycles Day or visit www.americarecyclesday.org.

VENDOR SPOTLIGHT...Meet Our Business Partners!

Each month, The Buyers Network familiarizes our readers with businesses who have attended our past vendor purchasing conferences. We appreciated their participation in these training events.

Introducing Wilson Rug and Carpet Center of Weston, WVI

Wilson's Rug Cleaners and Carpet Center of Weston, WV, offers all floor covering needs, including carpet, vinyl, tile, wood and ceramic.

Larry Wilson, General Manager of the company, said he has had good experiences in dealing with state government. The state agencies he primarily has served include the Division of Highways and the Department of Health and Human Services. He has also served many of the county school boards. He described his attendance at the vendor conference as a learning experience.

For more details on Wilson's Rug Cleaners and Carpet Center, contact Mr. Wilson at (304) 269-1233 or via electronic mail at LWilson806@aol.com.

Back to the Top
2002 AWARD RECIPIENTS
Purchasing Stars Shine at Conference

Tradition continued with the announcement of the 2002 Agency Purchasing Awards at the conference banquet on September 25.

The Purchasing Division received numerous nominations from state agencies for the Agency Procurement Officer of the Year and the Partner in Purchasing. Detailed below are our 2002 honored recipients:

AGENCY PROCUREMENT OFFICER OF THE YEAR


[This program recognizes individuals in the procurement field who have demonstrated high levels of performance and professionalism.]

RATHA BOGGESS


State Treasurer's Office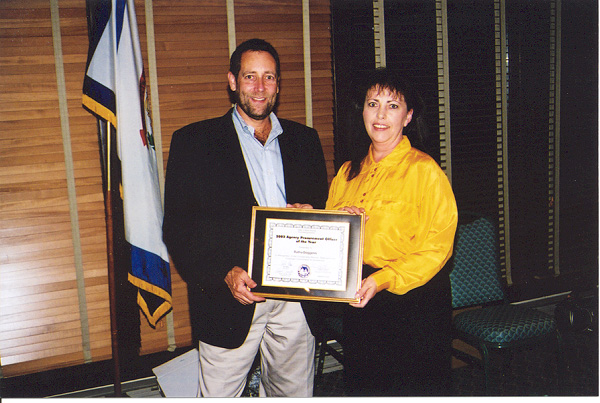 Ratha Boggess, Purchasing Admini-strator for the State Treasurer's Office, has served the state for 11 years, seven of which in the procurement field.
Her qualities are apparent in her performance. She demonstrates skill, tact and dedication. She welcomes challenges by taking on additional responsibilities in her office.
Ratha trained members of her staff on purchasing processes and continues to enhance her own professional development by attending purchasing conferences and attending other training courses.
PARTNER IN PURCHASING
[This program recognizes individuals who have exceeded expectations in working with the various programs administered by the Purchasing Division, including Capitol Parking, Fleet Management, Fixed Assets, Surplus Property, TEAM and Travel Management.]
Due to the equally beneficial contributions made by the following recipients, the Purchas-ing Division selected two individuals this year to share this honor: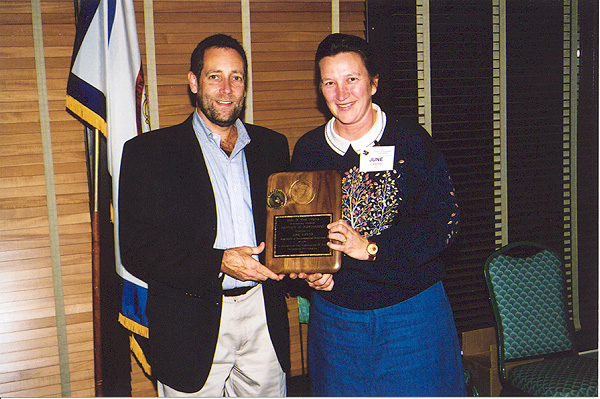 JUNE CASTO
Department of Environmental Protection
June Casto, Assistant Chief of the Office of Administration for Department of Environmental Protection, demonstrates effectiveness, cooperation and enthusiasm in performing her job, which includes overseeing her agency's TEAM, fixed assets, fleet, surplus property and purchasing functions.
She has been described as masterful in knowing her business and being able to understand what DEP needs and how to respond to those needs.
June works closely with the program offices of DEP as well as with the Purchasing Division. She possesses an ethical standard that is above and beyond that required by law.
SUSIE TEEL
Partner in Purchasing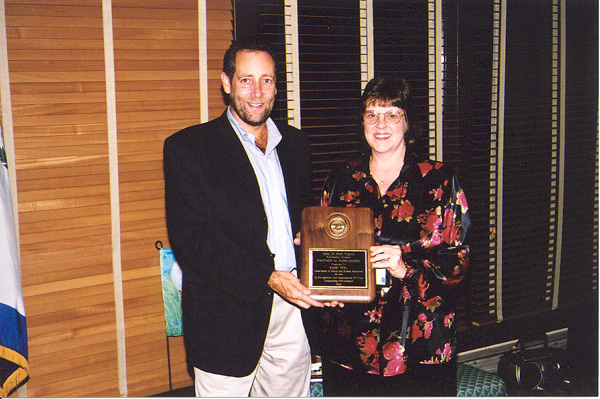 Susie Teel, Administrative Services Manager for the Department of Health and Human Resources, has been labeled as the hardest working, most dependable trainer in state government. She has trained more users of the TEAM automated purchasing system than any other trainer at the agency level.

She is knowledgeable of the TEAM terms and concepts, and relays this information to her students in an understandable manner. She developed her own customized training handbook, based on the TEAM materials, ensuring that her students have the reference tools they need.

Susie is a team player and works well with the Purchasing Division's Automation Unit in achieving the objectives of the system.

All of these individuals have made valuable contributions to the Purchasing Division, their respective agencies and to state government, by demonstrating such characteristics as dependability, quality and customer service. Ratha, June and Susie serve as role models to other state employees for many reasons, but most importantly, their cooperative spirit.

Congratulations to all of the Purchasing Division's shining stars!

Back to the Top

In last month's Vendor Spotlight, we highlight Glotfelty Enterprise, which specializes in tires and services to state agencies. We failed to mention that this company offers its services not only from its Petersburg location but also from Bridgeport and Elkins in West Virginia and from Cumberland and Oakland in Maryland.

Glotfelty Enterprise services the statewide contract for new tires (Goodyear Tire). Special thanks to Terry Wyatt of the Department of Transportation, who utilizes Glotfelty's services and expressed high satisfaction, for bringing additional information to the attention of our readers.

The State Auditor's Office announced a change in the fax number used for vendors to submit fax bids. Their new number is: (304) 558-4156

Back to the Top

Current Statewide Contract Update Information and dates (as of September 15, 2002) included in this Current Statewide Contract Update are subject to change. If you need additional information, please contact the appropriate state buyer.

Contracts to be Awarded

Contract: LAUNDRY
Description: Laundry Materials
File: 22
Vendor: Ecolab
Effective Date: 09/01/02

Contract: LS
Description: Laboratory Glassware/Chemicals
File: 31
Vendor: VWR Scientific
Effective Date: 09/01/02

Contract: DC BATT
Description: Dry Cell Batteries
File: 33
Vendor: WV Electric
Effective Date: 09/01/02

Contract: MV
Description: Motor Vehicles
File: 33
Vendor: Hurricane Chevrolet, St. Marys Ford, Jack Garrett Ford
Effective Date: 09/15/02

Contracts to be Bid or Under Evaluation

Contract: IPTEMP
Description: Temporary Personnel - Information Processing
File: 21
Bid Opening: 05/08/02
Under Evaluation: Yes Contract: ELECHDW
Description: Electric Cable and Hardware
File: 22
Bid Opening: 09/04/02
Under Evaluation: Yes Contract: TCARD
Description: Travel Management Services
File: 31
Bid Opening: 08/27/02
Under Evaluation: Yes Contract: PC
Description: Police Cruisers
File: 33
Bid Opening: 09/18/02
Under Evaluation: Yes

Contract:

OFFICE
Description: Office Supplies
File: 42
Bid Opening: 06/18/02
Under Evaluation: Yes

Contract:

SYSFURN
Description: Modular Systems Furniture
File: 42
Bid Opening: 07/11/02
Under Evaluation: Yes

Contracts to be Renewed

Contract: WIPING
Description: Wiping Cloths
File: 21
Vendor: WVARF
Expiration Date: 09/01/02

Contract:

ABSORB
Description: Liquid Spills
File: 21
Vendor: WVARF
Expiration Date: 07/01/02

Contract:

ALCOHOL
Description: Ethyl Alcohol
File: 21
Vendor: Aaper Alcohol
Expiration Date: 10/16/02

Contracts Deleted

Contract:

RE-OIL
Description: Re-Refined Oil
File: 33
Comments: Contract No Longer Needed Contracts to be Reviewed OCTOBER File 21: IP
Information Processing File 21: IMAGE
Document Imaging File 22: LAWN
Lawn Maintenance Equipment File 33: C-PIPE
Corrugated Pipe

NOVEMBER

File 21: CABLE
Coaxial Cable (A) File 22: HOUSE
Housekeeping Materials File 22: PRESORT
Bulk Mailing Services File 22: C-RENTAL
Car Rental Services File 31: AUDIT
Car Rental Services File 33: A/E FILTER
Filters: Fuel, Oil and Air File 33: ALUM
Aluminum Coil and Flat Sheets File 42: PAINT
Paint and Paint Supplies Purchasing Division Staff
For questions concerning these contracts listed, please contact the appropriate buyer: File 21
Charlyn Miller
(558-0067)

File 22
Pam Jones
(558-0468)

File 23
Chuck Bowman
(558-2157)

File 31
Evan Williams
(558-2596)

File 33
John Johnston
(558-0492)

File 41
Ron Price
(558-2316)

File 42
Betty Francisco
(558-0468)



Back to the Top Questions?...Just Ask! Are you unsure of certain purchasing procedures? ... Do you have a question regarding travel requests? ... Would you want to know what surplus property is available? ... If you need information concerning any function within the Purchasing Division, complete this form:
Name:

Organization:

E-Mail Address:

Telephone:

Need Information About:
Back to the Top

Thank You for Viewing our

October 2002 Issue of The Buyers Network