The Buyers Network is Published Monthly by the Purchasing Division of the West
Virginia Department of Administration to Promote Better Value in Public Purchasing
---
Welcome to the July 2002 Issue of the The Buyers Network!
---
Articles in this Issue:
Teaming to Win Conference
Purchasing Division Attracts New Businesses to State Competition
Vendors Gives High Marks on Vendor Conference Initiative
Director's Comments:
State Agency Meetings to Continue Due to Requests
MONEYWISE...Tips for the Thrifty
Marketing Videos Taped for New Business Interest
Surplus Property Conducs Auctions Offering State Residents Big Bargains
Purchasing Division Abides by NIGP Code of Ethics in Professionalism
News About West Virginia Purchasing Bulletin
Vendor Conference Proves to be a Success by Business Participants
National Travel Conducts Seminars
The Negotiator...Do You Have What It Takes?
VENDOR SPOTLIGHT...Meet Our West Virginia Businesses!
Suggestions for the New Purchasing Handbook Encouraged
Current Statewide Contract Update
---
Teaming to Win Conference
Purchasing Division Attracts New Business to State Competition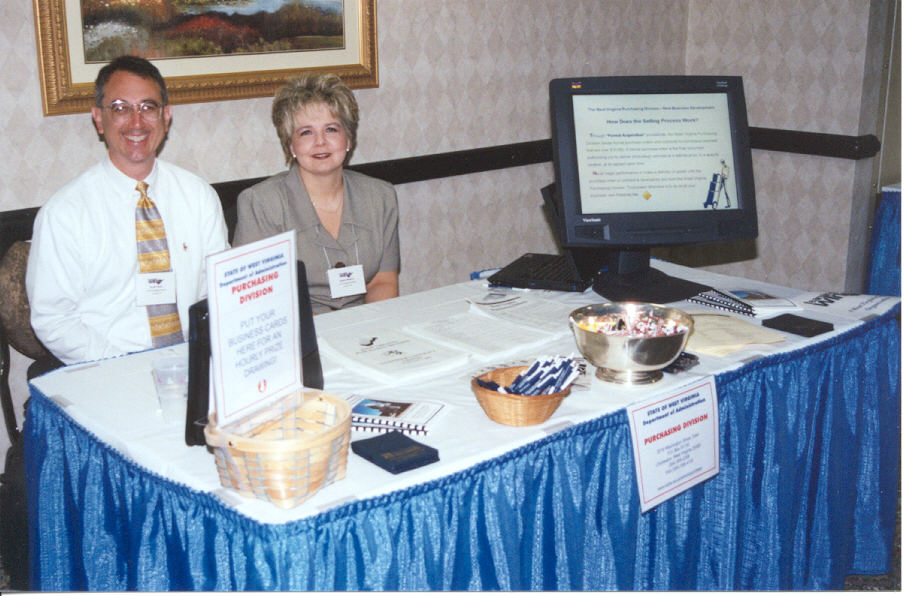 The Purchasing Division recently participated in the Teaming to Win conference in the northern part of the state to generate interest in the state's competitive bidding process.
Purchasing Director Dave Tincher conducted one-on-one counseling sessions with vendors who wanted to learn more about how they may better market their goods and services to state government. Purchasing Division employees, Diane Holley, Scott Padon and Debbie Watkins, met many potential bidders at the division's booth which offered a variety of informational materials, including the Marketing Your Business to the State of West Virginia Vendor Guide, the Vendor Registration and Disclosure Statement Form, the list of procurement officers for state government, commodity assignments and much more.
"Participating in these types of events offers us an opportunity to promote the benefits of selling to state agencies," Tincher said. "It is obvious that the interest is present. We are dedicated to continue our efforts in reaching out to our vendor community, by offering the necessary informational resources that will assist and encourage them to participate in the competitive bidding process within state government."

Vendors Give High Marks on Vendor Conference Initiatives
West Virginia business representatives joined vendors from several different states at the 4th Annual Vendor Purchasing Conference. Representatives from companies in Ohio, Pennsylvania, Virginia, Illinois, Washington D.C., Maryland and others states traveled to Canaan Valley State Resort and Conference Center on May 15-17 to learn more about the state's purchasing process.
An evaluation sheet was included in the conference packets and the analysis indicates an overwhelmingly positive response. For more details, see article "Vendor Conference Proves to be a Success by Business Participants"!
Back to the Top

The Director's Comments
State Agency Meetings to Continue Due to Requests
By Dave Tincher
State Purchasing Director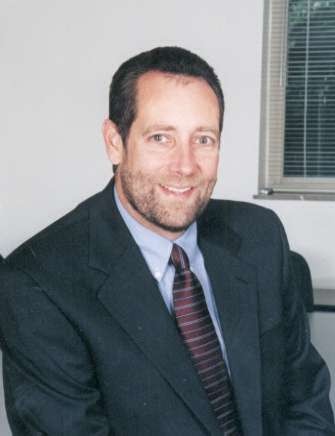 In the recent past, the Purchasing Division conducted meetings on a regular basis with agencies that procured a substantial volume of goods and services on behalf of the state of West Virginia. The primary purpose of these meetings was to improve the purchasing process and enhance communication between the Purchasing Division and the respective agency.
Issues of concern by the agency were discussed and, in many cases, potential problems were curtailed or resolved. Innovative ideas also were generated during these meetings.
Because of demands during the legislative session and personnel changes within the Acquisition and Contract Administration Section, the meetings were temporarily postponed. However, because of the positive response received by the agency representatives, I am pleased to resume the agency meetings on your terms…the frequency is up to you!
The Purchasing Division is interested in visiting your agency on a one-time or regular basis. Our entire staff is available, any or all of us will come at your request. Simply contact Debbie Watkins at (304) 558-3568 to set up a date and time.
From our past experiences, these meetings are extremely beneficial in maintaining the open lines of communication that are vital in our working relationship. It is efforts such as these meetings that enable us to continue to enhance the procurement initiative in the state of West Virginia.
I look forward to visiting your agency soon!

Marketing Videos Taped for New Business Interest
At the 4th Annual Vendor Purchasing Conference at Canaan Valley State Resort in May, two workshop presentations were videotaped to assist in the Purchasing Division's new business development initiative.
"How to Get Started" and "The Basic Process Continues" presentations were taped to be used as a training tool for businesses that are new to the state purchasing process.
Scott Padon, New Business Development Manager for the Purchasing Division, attends meetings and workshops throughout the state to assist business representatives in learning more about opportunities available in marketing to state government.
These two workshops offer a basic overview of the required steps necessary before the bidding process ("How to Get Started") and the bid, evaluation and award process ("The Basic Process Continues").
Vendors who are new to the state purchasing process may contact Scott Padon via e-mail at spadon@ gwmail.state.wv.us or by telephone at (304) 558-3488. He will work closely with the vendor in explaining many facets of the state purchasing process.
A vendor guide, "Marketing to the State of West Virginia," is also published to provide information on how to do business with our state government. This guide may be found electronically at the Purchasing Division's website at www.state. wv.us/admin/purchase/vrc.
Back to the Top
MONEYWISE...Tips for the Thrifty
Value Funds, the Old Reliables
After six years of unglamorous performance, value funds are making a comeback. While the Nasdaq showed a significant decline between March 10 and the year end, value funds were rising significantly, more than growth funds.
Many portfolios are tilted toward growth funds, and a little rebalance is appropriate. Regardless of what the market does, value funds move at their own pace, which provides a safety net when the market is falling.
Back to the Top

Surplus Property Conducts Auctions Offering State Residents Big Bargains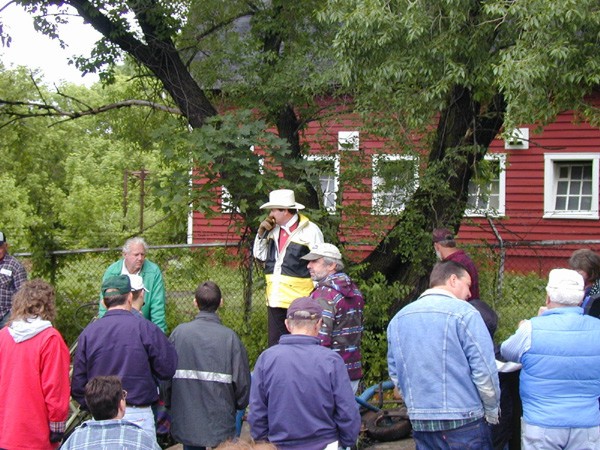 The West Virginia State Agency for Surplus Property (WVSASP) has been busy conducting two auctions of a different nature. One auction was located in the eastern portion of the state in Romney and the other consisted of federal property, a first of this type of sale in the agency's history.
On May 18, several members of the WVSASP staff traveled to Romney to prepare for a state property auction. Property from surrounding state facilities were accumulated at the WV School for the Deaf and Blind in Romney for the sale. "This was a tough job, as our four employees had to unload and line up five tractor-trailer loads of property for the auction. Although the weather was cold and damp, the sale went well and several of our customers had positive comments about bringing the sale to them," said WVSASP Manager Ken Frye. Approximately 60 bidders were registered for the sale.
In addition to this sale, WVSASP ventured in an area that they have never gone before…conducting a sale of federal surplus property. Because the federal program is overseen by the U.S. General Services Administration, WVSASP has never attempted to plan for such a sale, which has different terms and conditions than state sales.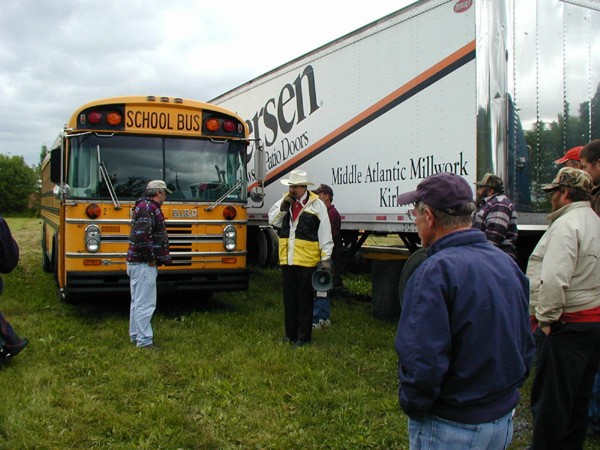 Federal Warehouse Supervisor Danny Layton and his staff prepared for the federal sale of property that was held on June 1. Approximately 1,000 individual pieces of federal property were combined into 351 lots. Frye indicated that this property had an inventory value of over $2 million and was about one third of its entire federal inventory. "This was the first sale of this type that has ever been conducted by this agency," Frye said. "It was very successful. Nearly 240 individuals were registered."

Frye added that due to the success, he plans to make this sale an annual event at its facility in Dunbar. "Most states sell federal property online using the federal government's website. We conducted a local auction because we wanted to give our West Virginia customers an opportunity to purchase federal surplus property and they were very appreciative of our efforts."

NOTICE

The Surplus Property Federal Warehouse will be closed for federal inventory during the week of July 8. We apologize for any inconvenience this may cause; however, this task is required annulally by the U.S. General Services Administration.

Back to the Top


Purchasing Division Abides by NIGP Code of Ethics in Professionalism

CODE OF ETHICS
The Institute believes, and it is a condition of membership, that the following ethical principles should govern the conduct of every person employed by any public sector procurement or materials management organization.
1. Seeks or accepts a position as head or employee only when fully in accord with the professional principles applicable thereto, and when confident of possessing the qualifications to serve under those principles to the advantage of the employing organization.

2. Believes in the dignity and worth of services rendered by the organization and the social responsibilities assumed as a trusted public servant.

3. Is governed by the highest ideals of honor and integrity in all public and personal relationships, in order to merit the respect and inspire the confidence of the organization and the public being served.

4. Believes that personal aggrandizement or personal profit obtained through misuse of public or personal relationships is dishonest and not tolerable.

5. Identifies and eliminates participation of any individual in operational situations where a conflict of interest may be involved.

6. Believes that members of the Institute and its staff should at no time or under any circumstances, accept directly or indirectly, gifts, gratuities or other things of value from suppliers.

7. Keeps the governmental organization informed, through appropriate channels, of problems and progress of applicable operations, but personally remains in the background by emphasizing the importance of the facts.

8. Resists encroachment on control of personnel in order to preserve integrity as a professional manager. Handles all personnel matters on a merit basis. Political, religious, racial, gender and age considerations carry no weight in personnel administration in the agency being directed or served.

9. Seeks or dispenses no personal favors. Handles each administrative problem objectively and empathetically on the basis of principles and justice without discrimination.

10. Subscribes to and supports the professional aims and objectives of the National Institute of Governmental Purchasing, Inc.
Back to the Top

REMINDER....
News About the West Virginia Purchasing Bulletin
Just a reminder that beginning July 1, 2002, the West Virginia Purchasing Bulletin will be mailed bi-weekly to paid, registered vendors; however, an electronic weekly issue may be viewed on the Purchasing Division's website at www. state.wv.us/admin/purchase.
Since October 1, 2001, the Purchasing Division has printed and mailed the West Virginia Purchasing Bulletin to all paid registered vendors, approximately 6,500, on a weekly basis. At that time, the Purchasing Division indicated to vendors that the weekly paper copies would be available only for a short time, due to the high cost of printing and postage. Secured access on the website requires the vendor's computer-generated number and the check number from which the registration or subscription renewal was paid.
Agency purchasers with access to the state's Intranet may view the weekly issue of the Purchasing Bulletin at http://intranet.state.wv.us/admin/purchase.
Back to the Top

The Results are In!...
Vendor Conference Proves to be a Success by Business Participants
Practice DOES make perfect … or so it appears when it comes to offering training conferences for the Purchasing Division.
For the fourth year, vendors convened to not only learn more about how to do business with West Virginia's state government, but equally important, to network with state purchasing officials and among other vendors.
For the first year, the vendor conference was open to all vendors; however, in-state vendors had the opportunity to pre-register two weeks prior to "open registration.". In the past, only West Virginia vendors were invited to the conference.
"The conference was an obvious success, with vendors coming to me and my staff praising our efforts," said Purchasing Director Dave Tincher.
According to evaluation results, 100 percent of the respondents rated the overall conference with good or excellent. The organization of the conference also received high ratings, with 84% percent giving the rating of excellent with the remaining offering a good rating.
Ten different workshops were offered, in addition to the one-on-one consultation sessions. Nearly all of the workshops received 100% ratings of good or excellent.
The one-on-one consultation sessions received a 96% rating of good or excellent.
The majority of the vendors indicated that they heard about the conference through a purchasing representative. We would like to extend our gratitude to YOU for helping us promote this worthwhile training event.
VENDOR FEEDBACK
Here is what our participants said about this training event:
Once again, this has been an excellent conference. Thanks!
Excellent information for me as a new vendor.
This conference was excellent! I appreciate the Purchasing Division's efforts in hosting this conference. Good job!
Very good. Please invite us to your next conference.
Again, I was impressed with the state employees represented here. Thank you for being so kind and helpful.
Thank you. I was thinking of canceling and am VERY glad I did not. This conference has raised my spirits.
Absolutely a great opportunity for myself and my company. Thanks for a great job and a great conference.
National Travel Conducts Seminars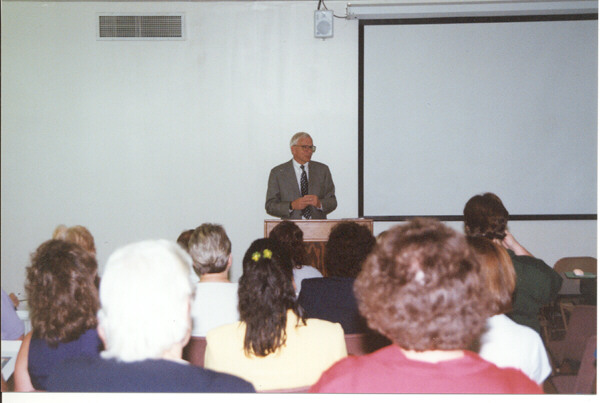 National Travel, Inc., in conjunction with the State Travel Management Office, conducted seminars for agency travel coordinators, focusing on online reservations, website features, discounts and private fares, and electronic ticketing. Pictured is Ted Lawson of National Travel. Back to the Top


The Negotiator....
Do You Have What It Takes?

There are times in one's life where you will have to negotiate something, be it a business deal or deciding who will pick up the kids from soccer practice. If you follow these negotiation tips, you will find that your negotiations will be more efficient and less stressful.

· Be Creative.
Brainstorm, listen to outlandish proposals and open unusual possibilities. This will expand agreement opportunities.

· Be Fair.
If people feel you are being fair with them, they are more likely to make real commitments and less likely to walk away. Commitment cannot occur unless everyone feels the process was fair.

· Listen Actively.
If you spend all of your listening time planning how to respond to members of the other party, then, when they stop talking, you do not know what they have said. When your response makes it clear that you have really been listening, they too may be more willing to listen.

Negotiations skills are important to your development as a procurement officer and as a co-worker.


VENDOR SPOTLIGHT...
Meet Our West Virginia Businesses!

Each month, The Buyers Network familiarizes our readers with state businesses who have attended our past vendor purchasing conferences. We appreciated their participation in these training events.

Introducing Access Systems of Charleston, WV

Maureen O'Toole, Sales Manager, of Access Systems offers document imaging, telecommunications, office systems furniture, and filing systems.

O'Toole indicated that her experience in dealing with state government has been positive. She attended this year's vendor conference for the first time and was very pleased with the marketing opportunities. She has dealt closely with the departments of Administration, Tax and Revenue and Transportation. "The conference offered a wealth of information and an opportunity to socialize and develop relationships," she said.

For more details on the services offered by Access Systems, contact Maureen O'Toole at (304) 340-4288 or via electronic mail at motoole@accesswv.com..

Back to the Top




Suggestions for the New Purchasing Handbook Encouraged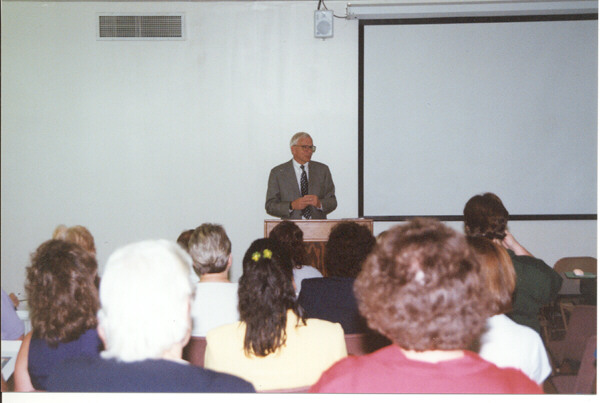 Please remember that the Purchasing Division is planning to revise its Purchasing Division Policies and Procedures Handbook this month. If you have any suggestions or comments regarding this resource guide, please contact Diane Holley at (304) 558-0661 or via electronic mail at dholley@gwmail.state.wv.us. Back to the Top

Current Statewide Contract Update Information and dates (as of June 15, 2002) included in this Current Statewide Contract Update are subject to change. If you need additional information, please contact the appropriate state buyer.

Contracts to be Awarded

Contract: EQMAINT
Description: Equipment Maintenance
File: 31
Vendor: Specialty Underwriters
Effective Date: 05/01/02 Contract: FUEL
Description: Fuels: Motor and Heating
File: 33
Vendor: Various Vendors
Effective Date: 07/01/02

Contracts to be Bid or Under Evaluation

Contract: IPTEMP
Description: Temporary Personnel - Information Processing
File: 21
Bid Opening: 05/08/02
Under Evaluation: Yes Contract: OFFICE
Description: Office Supplies
File: 42
Bid Opening: 06/18/02
Under Evaluation: Yes

Contracts to be Renewed

Contract: WATERT
Description: Water Treatment
File: 22
Vendor: Water Works and Chemicals Industrial Supply
Expiration Date: 07/15/02

Contract:

DWASH
Description: Dishwashing Materials
File: 22
Vendor: Ecolabs
Expiration Date: 08/15/02 Contract: BARSOAP
Description: Bar Soap
File: 22
Vendor: American Amenities; Amerian Producers Supply; ISCS; Winans
Expiration Date: 08/01/02

Contract:

TAGS
Description: Identification Tags
File: 42
Vendor: WV Prison Industries
Expiration Date: 07/01/02

Contracts to be Considered

Contract:

TCONES
Description: Traffic Cones and Flags
File: 22
Comments: Expires 08/31/02; Buyer indicates that this contract will become a DOH contract after expiration. Contracts to be Reviewed JULY File 22: TEMPS
Temporary Services File 22: BROOM
Push Brooms File 22: BUCKETS
Buckets File 22: ALCOHOL
Ethyl Alcohol File 33: N-TIRES
New Tires File 33: PC
Police Cruisers File 33: MV
Motor Vehicles

AUGUST

File 21: CONV
Document Conversion Services File 22: RECMGT
Records Management File 22: HDTOOLS
Hand Tools File 22: FLOORPAD
Floor Buffing Pads File 31: DIAPER
Diapers and Pads File 42: BWATER
Bottled Water


Purchasing Division Staff
For questions concerning these contracts listed, please contact the appropriate buyer:

File 21
Charlyn Miller
(558-0067)

File 22
Pam Jones
(558-0468)

File 23
Chuck Bowman
(558-2157)

File 31
Evan Williams
(558-2596)

File 33
John Johnston
(558-0492)

File 41
Ron Price
(558-2316)

File 42
Betty Francisco
(558-0468)



Back to the Top Questions?...Just Ask! Are you unsure of certain purchasing procedures? ... Do you have a question regarding travel requests? ... Would you want to know what surplus property is available? ... If you need information concerning any function within the Purchasing Division, complete this form:
Name:

Organization:

E-Mail Address:

Telephone:

Need Information About:
Back to the Top Thank You for Viewing our July 2002 Issue of The Buyers Network