The Buyers Network is Published Monthly by the Purchasing Division of the West
Virginia Department of Administration to Promote Better Value in Public Purchasing
---
Welcome to the January 2002 Issue of the The Buyers Network!
---
Articles in this Issue:
Agency Purchasers Applaud the Organization and Information Offered at the Training Conference
Director's Comments:
Researching Alternatives to the Status Quo
Automation Unit Sets Training Schedule for TEAM Inquiry Classes
MONEYWISE...Tips for the Thrifty
An Internal Buyers Guide Ensures Consistency Among Buying Staff
New Initiative Monitors the Timeliness and Success of Statewide Contracts
Capitol Shuttle Schedule Changes During Legislative Session
State Capitol Parking Attendants Join the Purchasing Division
Plans for the 2002 Vendor Purchasing Conference Begin
Four-Hour Agency Parking Passes Distributed
Senior Buyer Jim Jackson Accepts Position with DHHR
Purchasing Card Training Responsibility Transferred to State Administration Staff
Mileage Rate Rises for State Business Use
Online Ordering Now Available for SWC
BEP's Tater Bess Retires from State Government
Current Statewide Contract Update
---
Another Successful Conference!...
Agency Purchasers Applaud the Organization and
Information Offered at the Training Conference

With more than 300 participants and speakers attending the 2001 Agency Purchasing Conference in October at Canaan Valley State Resort and Conference Center, the overall consensus was that this training initiative succeeded in offering valuable information, networking opportunities and an outlet for asking questions or finding solutions to potential or current problems.

Participants were encouraged to complete an evaluation form at the conclusion of the conference and, with approximately 35 percent return rate, the responses showed that 97 percent rated the overall opinion of the conference as either "excellent" or "good."

Areas to be evaluated included the conference registration process, the length of the training, the guest speaker, organization and overall opinion. Two other areas, lodging reservations and accommodations, focused on the facility that hosted the conference.

In addition to conference planning and logistics, each workshop session was evaluated and the results were shared with the presenters. Overall, the participants were pleased with the knowledge and presentation of the workshops.

"The feedback we receive from these evaluation forms provide a basis for making positive changes to our training conferences," said Purchasing Director Dave Tincher. "We continue to strive for improvement in the manner in which we share information about our programs, policies and procedures."

The Purchasing Division would like to thank agency representatives who attended this conference and its staff and guest presenters who conducted workshop sessions. "Our conferences are definitely a group effort in maintaining the level of success that our participants have come to expect. We take this expectation very serious and continue to look at ways to improve upon our successes," he added.


CONFERENCE FEEDBACK
What Did YOU Think?


This was my first purchasing conference. I learned a lot. Thank you for your efforts in putting this together.

This conference was well organized. Presenters were very knowledgeable and willing to answer questions.

As usual, the conference was well done. Good planning was evident.

My overall opinion of the 2001 Purchasing Conference was by far the best one I have attended. The classes I attended were exactly on target for the answers I needed.

I gained so much information from this conference. I feel since I am new at purchasing that this information will be of a great help to me.

Researching Alternatives to the Status Quo

By Dave Tincher
State Purchasing Director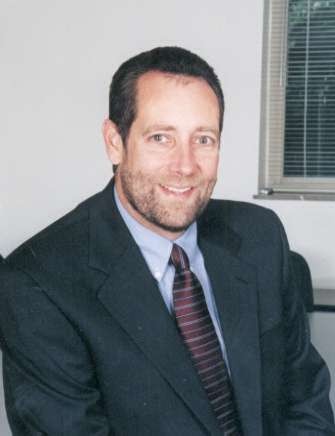 Status quo is being replaced with justification and documentation within the Purchasing Division. What has been done for the past two decades is not sufficient reasoning for why we continue the practice.

In this issue of The Buyers Network, we announce several new programs. Our contract management program evaluates the success of our statewide contracts after the award. At the time a contract expires, rather than utilizing renewal options only because they are available, we will look closely at the contract and the vendor and solicit feedback from the agency users to determine if the contract has successfully met its expectations.

Our conference planning is another area where status quo is no longer an issue. For this reason, we continue to ask our participants what they liked and disliked so that positive changes may be made in the future.

Another example demonstrated in this issue of our newsletter is the Internal Buyers Guide. Rest assured that we not only issue procedures to agency procurement officers...we also set standards for our own staff to ensure consistency and efficiency within the Purchasing Division.

Our agency purchasers are encour-aged to provide us with feedback so that we may continue to make positive improvements.

Automation Unit Sets Training Schedule for TEAM Inquiry Classes

The Automation Unit of the Purchasing Division will be offering TEAM General Inquiry training during calendar year 2002. There are three main objectives to be achieved in this training course:
w

learn how to look up vendors and determine their "hold" status;

w

learn how to check the status of requisitions; and,

w

become skillful at tracking purchase orders electronically.
The three-hour classes are provided at no charge to state agencies. The 2002 dates are as follows:
Thursday, January 17
(1 p.m. - 4 p.m.)

Thursday, February 14
(1 p.m.- 4 p.m.)
Thursday, April 18
(9 a.m.- 12 noon)
Wednesday, May 29
(9 a.m. - 12 noon)
Thursday, August 15
(9 a.m. - 12 noon)
Thursday, October 17
(9 a.m. - 12 noon)
Thursday, November 14
(1 p.m. - 4 p.m.)
All classes will be held in the Purchasing Division Training Room (Room 103), 2019 Washington Street East, Charleston, West Virginia.
Please note that if Kanawha County Schools are closed or delayed due to inclement weather, TEAM classes will be cancelled entirely for that day.
To register for these classes, contact Chester Popham at (304) 558-7839 or via e-mail at cpopham@gwmail.state.wv.us.

MONEYWISE...Tips for the Thrifty
Easing Financial Fears During Uneasy Times
The stock market's dropping, terrorism looms in the minds and companies are laying off workers. These troubled times would worry anyone, but there are ways to act prudently in our unease:
Don't panic and sell off your stocks. You'll take a big hit if you try to cash in stocks during a downturn in the market. Some people even buy stocks during a downturn in the market. You can get great deals on stocks that will pay off when the market recovers.
Get on a budget. Try to improve the management of your finances.
Getting rid of debt should be a priority. Debt is a drain on your daily cash preserve.
Ask help from credit counselors. The services can talk with your creditors and get them to hold off reporting you to credit agencies.

Internal Buyers Guide Ensures Consistency Among Buying Staff
Consistency is vital in the purchasing process. Regardless of the individual responsible for the actual review and approval of the document, the steps taken should be the same, with a high level of accountability.
To ensure that the steps are consistent, the Purchasing Division has created an Internal Procedures Guide for Buyers, which our staff will use in performing their tasks. By creating such a guide, Purchasing Director Dave Tincher acknowledges that each of the buyers will now have the same tool to use when processing requisitions received from state agencies. "This guide details our internal controls that must be followed. The goal of this guide was to provide a written checklist that would assist the buyer in processing the numerous amount of documents received daily," Tincher said. "We are just following the old premise that 'you have to have the tools to get the job done right'."
The Internal Procedures Guide consist of nine sections, including general information, vendor registration, requisition receipt and processing, bid receipt procedures, bid opening procedures, award process, protest procedures and change orders.
This guide will not be released to agency purchasers because it deals directly with the steps that are necessary once the requisition is received in the Purchasing Division. However, Tincher encourages all state procurement officers to develop a similar guide for use within their agencies.
"Putting the steps required to perform a particular task in writing has many benefits," Tincher said. "It documents detailed information for reference purposes as well as for training a new employee or cross-training existing employees."

New Initiative Monitors the Timeliness
and Success of Statewide Contracts
An award is made and a purchase order issued...everything is done. Unfortunately, that's not the case. Contract management needs to be performed to ensure that the products and/or services are being rendered accurately and timely, and that all parties in this contract are satisfied.
The External Relations Unit within the Purchasing Division has created a process by which statewide contracts issued by the Purchasing Division will be monitored, with input from the agency, vendor and responsible buyer.
"The contract management program we have implemented focuses on communication," said Karen Byrd, External Relations manager. Six months into a contract, inquiries are made of the vendor as to which agencies are using the contract. Questionnaires are distributed to the respective agencies to gain feedback as to how well the contract is working, if there are any potential or present problems, and if there are any changes that are necessary. "The responses to these questionnaires set the agenda for a meeting with representatives from the agencies and the vendor, along with the Purchasing Division buyer, to discuss the contract and look at ways for improvement," Byrd added.
Within the first few months of implementation, the statewide contracts for travel management, can liners, and automotive and equipment batteries have been reviewed using the new contract management program. Byrd stated that for some statewide contracts, a meeting may not be necessary, especially if the vendor is not located near the Charleston area and no negative feedback has been received.
Byrd adds that 120 days before the contract expiration date, she will meet with the buyer to discuss renewal and rebid options. The minutes of the meeting that took place six months into the contract will be reviewed to determine if changes are needed. She indicates that by taking these steps to review the usage and performance of the vendor, the number of automatic renewals of contracts may decrease.
Positive responses have been offered thus far from the agencies and vendors involved in these meetings. "After our meeting, I feel that I have an avenue to which I can bring my problems when I have exhausted all of my resources," said Sheila Mullins of the Adjutant General's Office. "As with most other state procurement officers, I don't have the time that is necessary to create a one-on-one relationship with the statewide contract vendors. It's fantastic that we now have a liaison that can play that role for us."
Byrd said she realizes the tremendous workload of the agency and Purchasing Division procurement staff; however, she expressed the importance of ensuring that statewide contracts are as successful and economically feasible as possible. "Our goal is to improve the statewide contracts being issued on behalf of state agencies and to be of assistance to our vendor community," she added.
Capitol Shuttle Schedule Changes During Legislative Session
All-day shuttle service will resume between the State Capitol and the Laidley Field parking areas, effective January 7, 2002. This service will be continued through the 2002 Regular Legislative Session and conclude on April 1, 2002.
Service begins at 7:00 a.m. and ends at 6:15 p.m., Monday through Friday. The shuttle stops are listed below:
w Laidley Field (Parking Lot) w State Parking Building (Piedmont Road) w Building 6 Entrance (California Avenue) w State Capitol - East Wing Entrance (California Avenue) w State Capitol - Main Building Entrance (California Avenue) w Governor's Driveway (Greenbrier Street) w Division of Highways (Building 5, Piedmont Avenue)
Each stop is served approximately every ten (10) minutes. The shuttle does not operate from 11:00 a.m. to 11:20 a.m. or on weekends or any state holiday.
A shuttle that is easily accessible to the physically disadvantaged (including a wheelchair lift) is being utilized.
Visitors are urged to use the Laidley Field parking area during the Legislative Session. The shuttle service is provided free of charge.

State Capitol Parking Attendants Join the Purchasing Division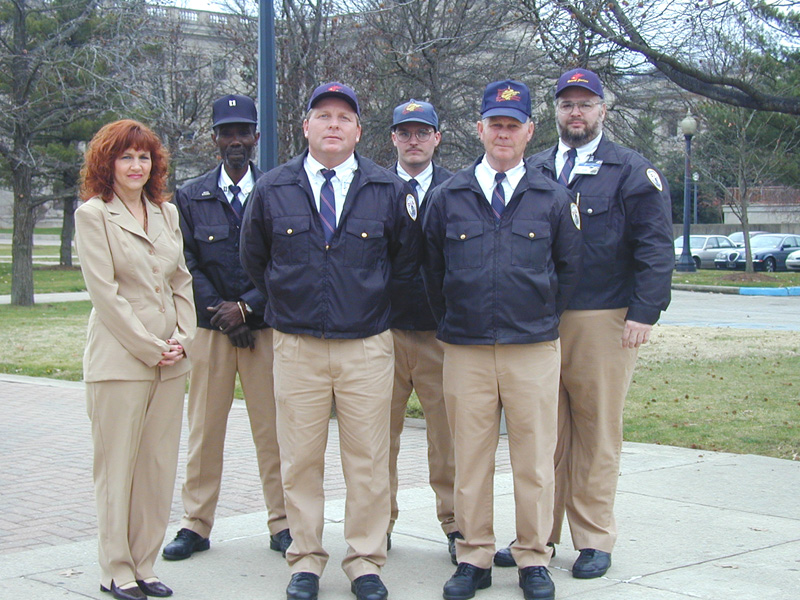 The Purchasing Division is pleased to introduce five new employees, who serve as parking attendants at the State Capitol.
These employees were recently transferred from the General Services Division to the Purchasing Division to centralize the parking function and responsibilities, and to better serve the needs of state employees, legislators and visitors at the State Capitol.
Our new employees in the Purchasing Division are Johnnie Booth, Christopher Cline, James Fisher, Bernard McClanahan and Ron Robinson.
"On behalf of the Purchasing Division, I welcome these employees with great enthusiasm. I look forward to enhancing our parking program by offering improved service to all individuals who park their vehicles at the State Capitol," said Purchasing Director Dave Tincher. "By expanding the manpower behind this endeaver, more positive changes may occur in a more expeditious manner."
Plans for the 2002 Vendor Purchasing Conference Begin
The Purchasing Division is beginning to plan its 2002 Vendor Purchasing Conference, which is set for May 15-17 at Canaan Valley State Resort and Conference Center.
In the past, our agency procurement officers have played a major role in this conference by serving on panel discussions and by assisting the Purchasing Division in its marketing efforts. Information will continue to be included in The Buyers Network. Please help us by spreading the word with the vendors that you deal with on a daily basis.
West Virginia vendors will have the first opportunity to register; however, non-resident vendors also will be able to attend this year. For more information, contact Diane Holley (558-0661) or Debbie Watkins (558-3568).
Four-Hour Agency Parking Passes Distributed
The Capitol Parking Unit recently distributed approximately 200 four-hour parking passes to various state agencies which have remote offices from the State Capitol, according to Janice Boggs, parking manager.
Based on the number of employees at the remote offices, the passes were offered to the parking coordinators who are responsible for further allocation to their agency employees. The passes allow employees to park up to four hours during a visit.
"There are a limited number of spaces which are used for short-term parking for employees from offices not located at the Capitol," Boggs said. "However, these passes are to be used for periodic visits, not every day usage. They will be especially helpful during the upcoming Legislative Session when employees may need to visit the Capitol more frequently."
When visiting the Capitol, employees with these passes are requested to stop at the guard house and identify the four-hour pass to the attendant. Questions regarding the passes should be directed to the agency parking coordinators.
Senior Buyer Jim Jackson Accepts Position with DHHR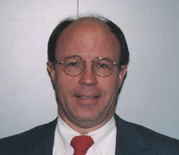 The Purchasing Division wishes Senior Buyer Jim Jackson best wishes as he pursues career opportunities with the Department of Health and Human Resources, effective January 2, 2002.

Jim has been with the Purchasing Division for 29 years. During this time, he has seen many changes in public procurement, including automating the purchasing function.

We appreciate his years of service with the Division!

Purchasing Card Training Responsibility
Transferred to State Administration Staff

A recent change in policy has occurred regarding the required Purchasing Card training. All future cardholders and current Purchasing Card coordinators are reminded that ALL future cardholder training must be provided by the Purchasing Card administration staff.

Coordinators had been delegated the authority and responsibility to perform the required training in the past to future cardholders of their agency, but it was discovered that the quality of the training received varied greatly.

To ensure that the content of the training is consistent and thorough, all cardholders are required to contact the Auditor's Office and schedule to receive the training. The training is offered in Charleston on a regular basis, and, with sufficient need, the training can be offered at various locations throughout the state.

All agency Purchasing Card coordinators should contact the State Auditor's Office at 558-2251 to determine the dates and locations of future training classes to be conducted.

Back to the Top


Mileage Rate Rises for State Business Use

Effective January 1, 2002, the state of West Virginia will join the Internal Revenue Service (IRS) in increasing the optional standard mileage rate for business use of an automobile from 34.5 cents per mile to 36.5 cents.

This rate is based on an annual study of fixed and variable costs of operating an automobile. The primary reason is the rise in gasoline prices during the past year. An independent contractor conducted the study on behalf of the IRS. For more details, please contact Catherine DeMarco, the state travel manager, at (304) 558-2613.

Back to the Top


Online Ordering Now Available for SWC

During the contract management meeting for the statewide contract for can liners, Robin Reed, General Manager of Unisource, indicated that state agencies may now place their orders electronically at their website. If interested, she suggested that they contact Unisource to set up their online account. For more details, contact Robin Reed at 1-800-344-6604, extention 11 or via electronic mail at ReedRo01@unisourcelink.com.




Tater Bess Retires from State Government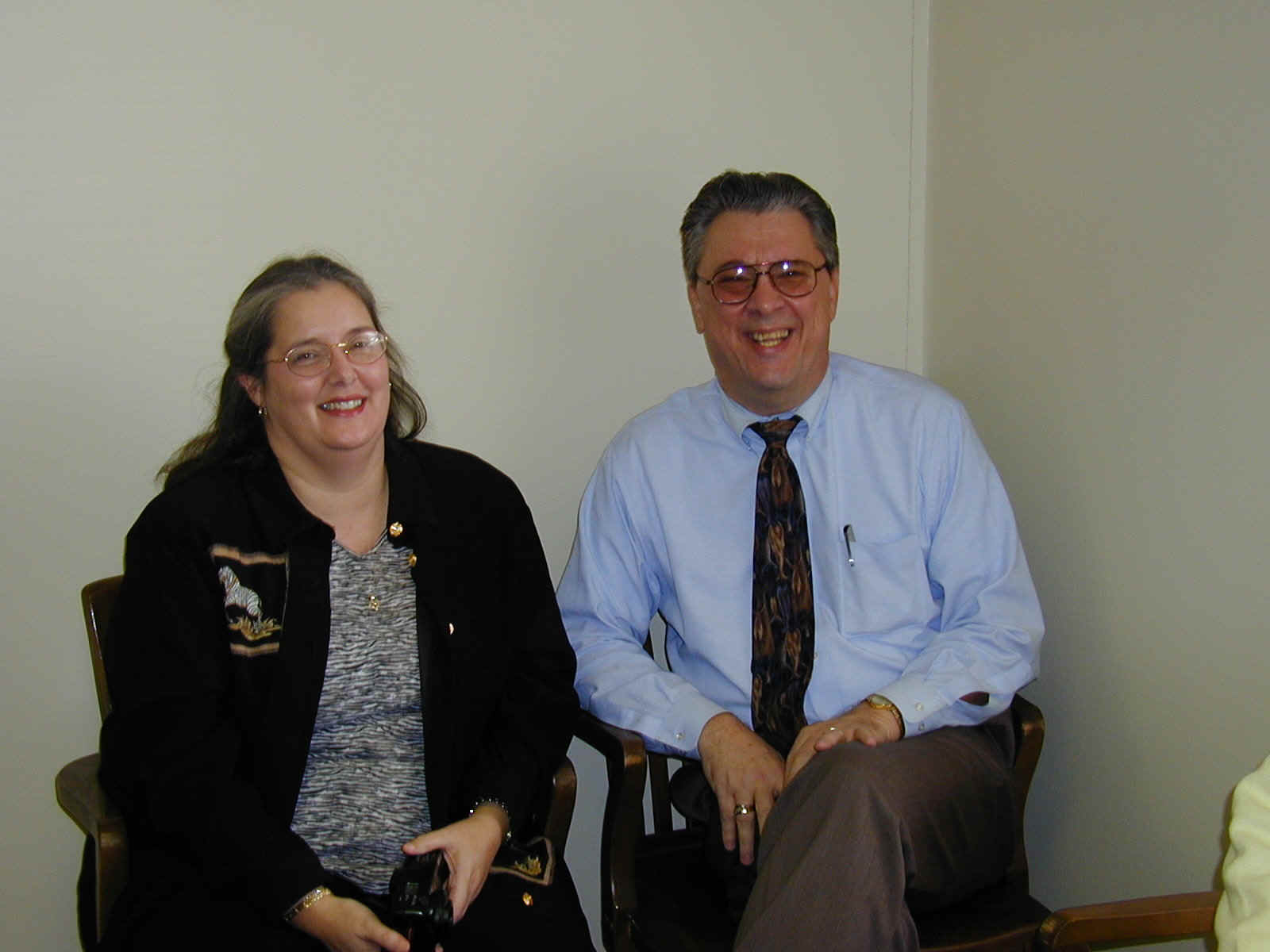 The retirement party on November 30 for Clarence "Tater" Bess, assistant director for the Bureau of Employment Programs (BEP), was bittersweet. Although Tater gave his full level of service to the state of West Virginia, he also shared his knowledge, wonderful sense of humor and his caring heart with many state agency purchasers.

For those latter qualities especially, it was difficult to say 'goodbye'. The Purchasing Division would like to extend its appreciation to Tater for the cooperation and assistance he offered throughout the years. Tater is pictured above with his wife, Jo. You will be missed!




Current Statewide Contract Update Information and dates (as of December 15, 2001) included in this Current Statewide Contract Update are subject to change. If you need additional information, please contact the appropriate state buyer. Contracts to be Awarded Contract: DIAPER
Description: Diapers and Pads
File: 31
Vendor: Seneca Medical
Effective Date: 12/01/01 Contracts to be Bid or Under Evaluation Contract: CABLE
Description: Coaxial Cable A
File: 21
Bid Opening: 09/14/01
Under Evaluation: Yes Contract: TCARD
Description: Travel Management Charge Card
File: 31
Bid Opening: 09/25/01
Under Evaluation: Yes Contract: LAWN
Description: Lawn Maintenance Equpiment
File: 22
Bid Opening: 12/12/01
Under Evaluation: Yes Contracts to be Renewed Contract: DIGCOP
Description: Digital Copiers
File: 21
Vendor: Various Vendors
Effective Date: 08/15/01 Contract: FLOORPAD
Description: Floor Buffing Pads
File: 22
Vendor: Liberty Distributors
Effective Date: 12/01/01 Contracts to be Reviewed

JANUARY

File 21: DATA
Key Punch Services File 22: CONKIT
Condiment Kits File 22: DFS
Disposable Food Services File 31: LGLOVES
Latex Gloves File 31: TRAVEL
Travel Management Services FEBRUARY File 22: FASTEN
Fasteners and Accessories File 22: FLRMAC
Floor Machines File 31: CATH
Catheters and Related Items File 31: OSTOMY
Ostomy Products and Accessories File 31: LS
Glassware/Chemical File 31: AUDIT
Single Audit Services File 33: A/E BATT
Automobile and Equipment Batteries File 42: SUPFD
Supplemental Food
Purchasing Division Staff For questions concerning these contracts listed, please contact the appropriate buyer: File 21
Charlyn Miller
(558-0067) File 22
Pam Jones
(558-0468) File 31
Evan Williams
(558-2596) File 33
John Johnston
(558-0492) File 41
Ron Price
(558-2316) File 42
Jim Jackson
(558-2402) Back to the Top

Questions?...Just Ask! Are you unsure of certain purchasing procedures? ... Do you have a question regarding travel requests? ... Would you want to know what surplus property is available? ... If you need information concerning any function within the Purchasing Division, complete this form:
Name:

Organization:

E-Mail Address:

Telephone:

Need Information About:
Back to the Top Thank You for Viewing our January 2002 Issue of The Buyers Network