The Buyers Network is Published Monthly by the Purchasing Division of the West
Virginia Department of Administration to Promote Better Value in Public Purchasing
---
Welcome to the August 2002 Issue of the The Buyers Network!
---
Articles in this Issue:
Registration Begins this Month for Annual Purchasing Event
2002 Agency Purchasing Conference
HB 3034 Requires Agencies to Submit Receiving Reports
Director's Comments:
E-Procurement Evaluation Progressing Smoothly
Learn How to Win the Paper Chase
UPDATE: Cooperative Purchasing Program
The Travel Bag...News and Tips from the State Travel Management Office
More Information on Receiving Reports Required by State Auditor's Office for Commodities Purchased
VENDOR SPOTLIGHT...Meet Our Business Partners!
Teamwork Used in Creating New Purchasing Procedures Handbook
Something to Make You Say...."Hmmm"
Rules Offered for Capitol Complex Alterations
MONEYWISE...Tips for the Thrifty
Driver Education Offered to State Employees Assigned State Vehicles
Direct Purchases Require Attention
Reports Created Detailing Expiring Agency Contracts
Eddie Henderson of DNR Retires
What's State Government Buying?
Current Statewide Contract Update
---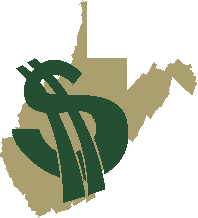 2002 Agency Purchasing Conference
Registration Begins This Month for Annual Purchasing Event
Plans for the 2002 Agency Purchasing Conference are being finalized, with registration expected to begin in early August. This year's training event will take place on September 24 through 27 at Canaan Valley State Resort and Conference Center in Davis, West Virginia.
Agency procurement officers will directly receive a conference registration packet with workshop sessions outlined. Other interested agency purchasing staff may register online at www.state.wv.us/admin/purchase or contact Debbie Watkins (558-3568; dwatkins@gwmail.state.wv.us) or Diane Holley (558-0661; dholley@gwmail.state.wv.us).
Nearly 20 topics will be addressed, including How to Get Started, the Basic Process Continues, the Requisition Tracking System, Vendor Performance and E-Procurement.
The registration fee is $150 per participant. Conference participants are required to make their own lodging arrangements by calling 1-800-622-4121.
"We are looking forward to offering our annual agency purchasing conference to educate and inform agency purchasing officials on state policies, procedures and programs," said Purchasing Director Dave Tincher. "The networking opportunities between our staff and the agency representatives at this event are invaluable."

HB 3034 Requires Agencies to Submit Receiving Reports
House Bill 3034 which passed during the 2002 Legislative Regular Session requires receiving reports to be filed with the State Auditor's Office for all commodities purchased by the state.
According to the State Auditor's Office, to comply with this bill, emergency amendments to 155 CSR 1, "Standards for Requisitions for Payment Issued by State Officers on the Auditor" were filed, which became effective July 1, 2002.
The Rule states that a receiving report shall be submitted to the State Auditor verifying the receipt of commodities by a state spending unit. This report is to be an internally-generated document, either written or prepared using electronic media, that identifies commodities received.
What is the definition of commodity? A commodity includes, but are not limited to, materials, equipment, supplies, printing and automated data processing hardware and software. For more details on these reports, see article, "More Information on Receiving Reports Required by State Auditor's Office for Commodities Purchased."
Back to the Top

The Director's Comments
E-Procurement Evaluation Progressing Smoothly
By Dave Tincher
State Purchasing Director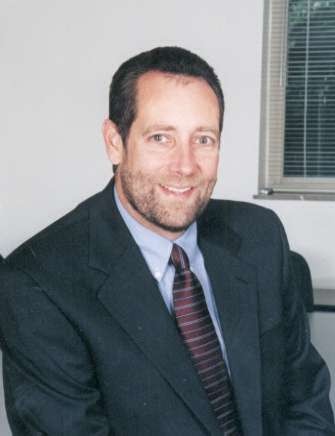 This is an exciting time for the Purchasing Division. Changes in tech-nology soon will be realized, with the introduction of electronic procurement. How will this change public purchasing in West Virginia? Dramatically.
A seven-member evaluation committee, comprised of Purchasing Division and agency representatives, are currently reviewing nine proposals that were received. A system of this nature is quite complex; however, the benefits of its implementation include:
· Web-based requisition entry;

· Web-based order tracking;

· Distribution of bid documents via the Internet;

· Online access to view contract information;

· Online vendor registration using a credit card;

· Imaging of bids and other non-automated documentation;

· Computer-based training modules and procedure manuals;

· Interoperability with WVFIMS.
It is our goal to select an electronic procurement system that is user-friendly and meets the technological needs of our state agencies and vendor community.
Within the evaluation process, several agencies will be contacted directly to provide feedback and to share information about the progress of this project. Articles will continue to be included in The Buyers Network.
If you have any questions regarding this new system, please feel free to express them with us. Our staff is eager to listen to your questions, ideas and suggestions.

UPDATE
Cooperative Purchasing Program
As of July 1, 2002, a total of 114 political subdivisions were actively participating in the Purchasing Division's Cooperative Purchasing Program.
This program enables such entities to utilize existing statewide contracts and benefit from these savings. For more details on this program, please visit our website at www.state.wv.us/admin/purchase/coop.
Back to the Top
Learn How to Win the Paper Chase
Out-of-place paperwork can take up time and money. According to Organi-zed Times, the road to organizational recovery begins with a few easy steps:
·

If you haven't used it in the last two years, get rid of it, unless it is a business- or tax-related document.

·

Consolidate your notes into a daily planner. As a follow-up system, use a file box, index cards or notebook.

·

Use a notebook with 12 pocketed dividers, one for each month, to organize your paperwork.

·

Set aside a specific day each month to do your paperwork.
Adapted from Myria.com

THE TRAVEL BAG...News and Tips from the State Travel Management Office

Personal Items on Airlines


According to the Business Travel News, the Transportation Security Administration issued a revised list of both permitted and banned items for travelers to carry on board an aircraft, as well as travel tips to help airline passengers minimize anticipated wait times at airports. The tips may be found at www.tsa.dot.gov. Items previously prohibited but now permitted in aircraft cabins include: walking canes and umbrellas; nail clippers with nail files; tweezers; safety razors; and diabetes-related supplies. However, all medication must have professionally printed labels identi-fying it or the manufacturer's name. Meanwhile, a number of sports-related items remain on the banned list, including golf clubs, baseball and cricket bats, and ski poles.

Airline Tossing Paper Tickets


According to the Charleston Gazette, American Airlines says it is getting rid of paper tickets over the next 18 months to cut costs and reduce waiting times.

The world's biggest airline pushed customers to switch to electronic tickets even sooner. On July 1, it started charging $20 for paper tickets to customers who qualify for an e-ticket.

Back to the Top


More Information on Receiving Reports Required
by State Auditor's Office for Commodities Purchased

Receiving reports, required by House Bill 3034, as explained on page one of this issue of The Buyers Network, basically provide documentation that the commodities purchased were, in fact, received.

State agencies are required to complete and submit these reports in a timely manner. The reports, which are to be prepared within 24 hours of receipt of the commodity, are to include the following information:

· Vendor name

· Description

· Quantity of commodities received

· Date of receipt

· If commodities are acceptable for payment, and;

· A signed acknowledgment of receipt by the employee receiving the commodity.

How important is it to complete these forms? According to the Rule, a requisition may not be issued for payment unless it is accompanied by the respective receiving report. In addition, the spending unit is liable for a debt improperly incurred or for a payment improperly made if the receiving report was not filed with the State Auditor in the timeframe specified above.

Below are applicable object codes* for the receiving reports:

Current Expenses
020 Office Expenses

021 Printing and Binding

033 Food Products

034 Clothing, Household and Recreational Supplies

037 Research, Educational and Medical Supplies

039 Manufacturing Supplies

040 Merchandise for Resale

045 Farm Expenses

054 Computer Supplies and Equipment Purchases

058 Miscellaneous Equipment Purchases
Repairs and Alterations
061 Office and Communication Equipment Repairs

062 Research, Educational and Medical Equipment Repairs

063 Building and Household Equipment Repairs

064 Routine Maintenance of Buildings

066 Farm and Construction Equipment Repairs

068 Other Repairs and Alterations
Assets
070 Office and Communication Equipment

071 Medical Equipment

072 Research and Education Equip.

073 Household Equipment and Furnishings

074 Building Equipment

075 Vehicles

076 Livestock, Farm and Construction Equipment

077 Books and Periodicals

078 Other Capital Equipment

121 Purchase of Materials and Supplies

143 Building Improvements

144 Reclamation of State-Owned Property

170 Computer Equipment

171 Computer Software
Other Disbursements
086 Tax Mapping
*This list is not meant to be a complete representation of all object codes that may require a receiving report
The State Auditor's Office will provide training upon request on procedures for filling receiving reports. For additional information or questions, please contact Lisa Comer of the Auditor's Office at (304) 558-2261, ext. 163.
Back to the Top
VENDOR SPOTLIGHT...Meet Our Business Partners!
Each month, The Buyers Network familiarizes our readers with businesses who have attended our past vendor purchasing conferences. We appreciated their participation in these training events.
Introducing Imagistics Internataional of Pittsburgh, PA
Imagistics International, Inc. of Pittsburgh, Pennsylvania, offers copiers, printers, fax machines and knowledge management/CRM software.
Alan Ware of Imagistics expressed his excitement in getting started in the West Virginia market. His dealings with the state have primarily focused with the larger users. He attended this year's vendor purchasing conference. "Being able to have the opportunity to meet everyone at one place was the greatest benefit of the conference," he said. "I can't even begin to tell you how valuable that was for our organization."
For more details on the services offered by Imagistics International, contact Alan Ware at (412) 963-6650 or via electronic mail at alan.ware@imagistics.com.
Back to the Top

Drafting Policy and Procedures
Teamwork Used in Creating New Purchasing Procedures Handbook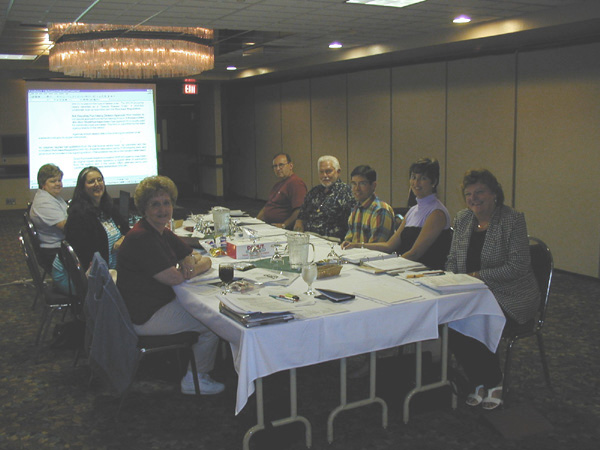 Representatives of the Purchasing Division and state agencies joined together to revised the Purchasing Handbook. The Purchasing Division appreciates the time and energy put into this project by the committee. Pictured (l-r) are Sandy Singleton, Jo Bess, Jo Ann Dunlap, Ron Price, Evan Williams, Philip Uy, Syble Atkins and Sue Farley. Not pictured is Diane Holley. Back to the Top


Something to Make You Say ... "Hmmm"

Didn't know you could buy flowers, get a movie ticket or pick up a map at your local ATM? Well, you can't just yet, but it's coming.

The rest of the world has been far ahead in the race to provide these kinds of services from automated teller machines.

ATMs in Singapore will even dispense driver's licenses as one of their 35 transactions. Spain allows citizens to pay their utilities via the machines, and rail commuters in India and China can buy their tickets.

In the United States, some banks will provide sports tickets and movie passes and 7-Eleven's new ATMs will allow check cashing and wire transfers. Amazing how technology is advancing!

Adapted from USA Weekend

MONEYWISE...Tips for the Thrifty

Record Late Fees Noted

More than 58 percent of credit card customers paid a late fee during the past year, according to CardWeb.com, which tracks the credit card industry. Late fees are the third largest revenue source for card companies after interest and payments from merchants.

Most companies have moved to a three-tiered fee structure that increases late fees for larger balances: $35 for balances greater than $1,200, $29 for balances of $150 to $1,200, and $12 for balances of less than $150.

The average grace period is 21.2 days, down from 29.7 days in 1990. That is the amount of time between the end of the billing cycle and the due date.

Back to the Top

The Capitol Building Commission has been established by the Legislature to review and approve, modify or reject any substantial physical or aesthetic changes that alter the Capitol Building or surrounding complex, according to a memorandum from Commissioner Nancy Herholdt of the Culture and History.

The approval of the commission is mandatory before a contract may be issued for work which constitutes a substantial physical change, or before changes are started if the work is not performed under a contract.

Pursuant to West Virginia Code §4-8-5, any contracts or purchase orders relating to renovations to any building within the Capitol Complex shall not be bid or executed until approval has been obtained by the Capitol Building Commission. Questions may be directed to Nancy Herholdt at 558-0220, ext. 112 (nancy.herholdt@wvculture.org).

Back to the Top


The Do's and Don'ts of Driving a State Vehicle
Driver Education Offered to State Employees Assigned State Vehicles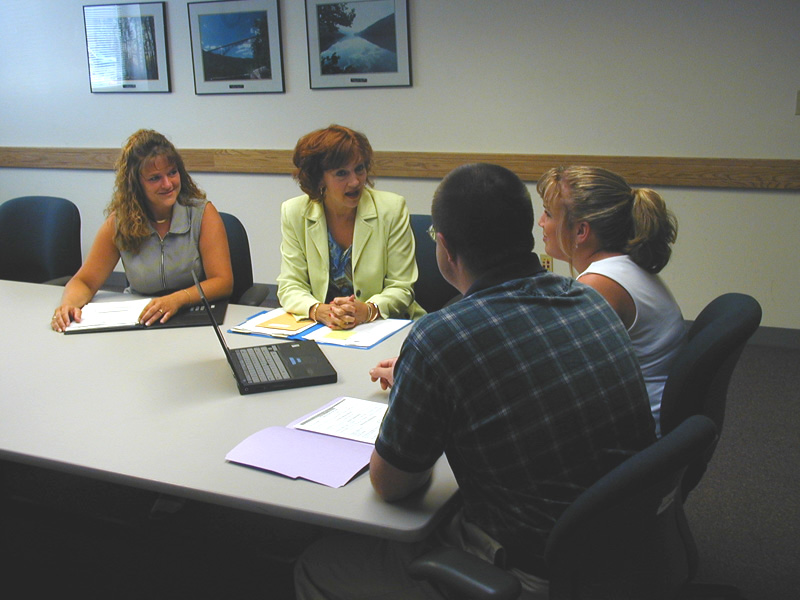 The Fleet Management Office conducts a new assignment training with each state employee who is assigned a state-owned vehicle to ensure that the terms and conditions of driving the leased vehicle are explained. This training usually occurs when the driver picks up a new vehicle at the West Virginia State Agency for Surplus Property (WVSASP).
More than 1,500 vehicles are leased through the State Fleet Management Program to various participating agencies. There were 236 new vehicles ordered for the 2002 model year.
During this training, Fleet Manager Janice Boggs explains the responsibilities of her office and the responsibilities of the driver. In addition, the PHH vehicles maintenance management program, which handles fuel purchases; maintenance, repair and warranty services; and emergency and roadside assistance, is also detailed to the driver. The state-owned vehicle assignment and lease agreement are reviewed and signed by the driver.
"Employees who are responsible for state vehicles seem appreciative of having an explanation offered concerning their role in the assignment of a state-owned vehicle," said Fleet Manager Janice Boggs. "There are several do's and don't's that they need to be aware of before driving off in a state vehicle."
Some of the restrictions include no smoking in state vehicles, wearing safety belts at all times and carrying a current vehicle operator's license.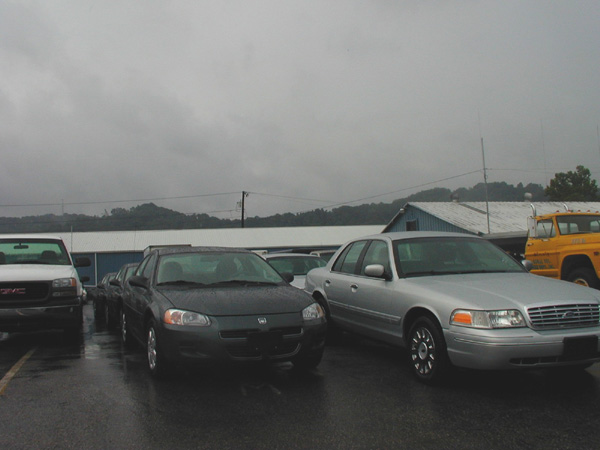 The process of acquiring new vehicles begins in September of each year. At this time, vehicle request forms are sent to agency fleet coordinators and a statewide contract is released for bid by the Purchasing Division. By October, the request forms are returned to the Fleet Management Office and reviewed with the coordinator. A new vehicle contract is usually awarded during this month.
By December, each department receives a confirmation of their vehicle orders and any discrepancies are resolved. By the first of the year, purchase orders are created for the vehicles to be ordered; however, depending upon the manufacturer, make and model of the vehicles, the delivery time of the vehicles range from February to July.
One vehicle must be retired to the WVSASP for each new vehicle received. If an agency wishes to add a vehicle to their fleet, justification is required and approval must be given by the Purchasing Director.

Direct Purchases Require Attention
Direct or sole-source purchases are those items which perform a certain function for which no other items are known to exist. These purchases require considerable attention.
Only two situations lend themselves to sole source purchasing. One is a patented, copyright or franchised product. The other is for a truly superior product which is not available from other sources.
Consider, for example, a proprietary situation where your agency owns equipment requiring the use of a certain brand and type of patented lubricant. Use of any other lubricant is only available from the franchised dealer who sells the lubricant at an escalated price. You have no other choice but to enter into a sole source-direct-purchase.
If you have doubts that a sole source situation exists, then you must use competitive bid procedures to test the marketplace. If only one bid is received you can be relatively assure that competition does not exist.
When requesting a direct purchase, prepare a written justification stating factually why no other items are known to exist. Direct purchases require considerable attention.
Give it the utmost thought.
Back to the Top
Eddie Henderson of DNR Retires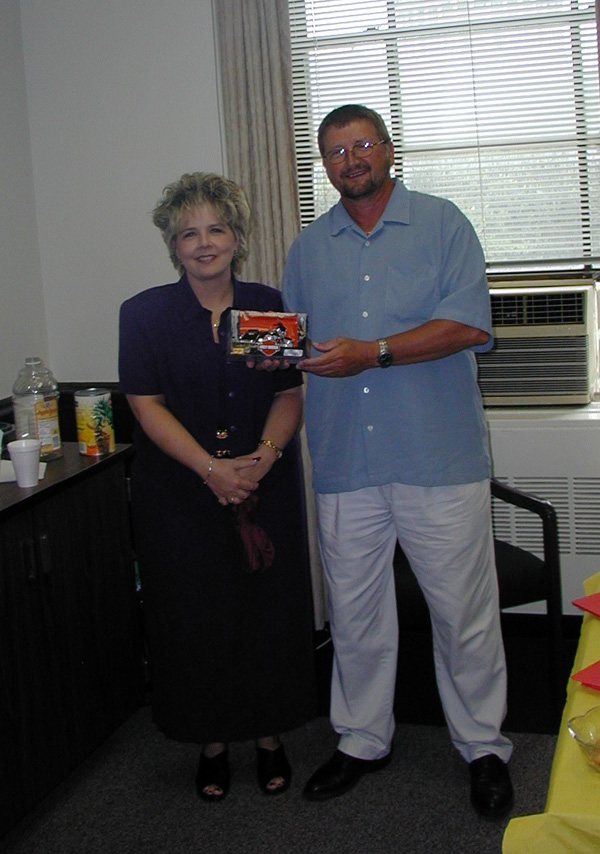 Debbie Watkins joined other representatives of the Purchasing Division in presenting Eddie Henderson, a long-time purchasing officer for the Division of Natural Resources, with a toy Harley Davison motorcycle...a past-time that Eddie plans to enjoy during his retirement. We wish Eddie the best!

Back to the Top




Reports Created Detailing Expiring Agency Contracts The Purchasing Division is pleased to announce the development of a new report to be issued on a monthly basis to state agencies, listing all open-end contracts which are due to expire within a 60-day period.

The 60-day advance reminder will provide agency procurement officers and their support staff with sufficient time in which to review contract information and submit the appropriate documentation to the Purchasing Division to renew or rebid open-end contracts.

Should you have any questions, please feel free to contact Karen Byrd at (304) 558-4317.

Back to the Top




What's State Government Buying?
This information is compiled from the West Virginia Purchasing Bulletin. The purpose is to provide an awareness of the variety of products and services being procured in state government. Only a small sample of solicitations are listed.

w Department of Agriculture
Request for services of a pilot(s) and airplane(s) to make aerial surveys.

w

All State Agencies
Request for laundry materials, dispensing equipment and technical services to all spending units and participating political subdivisions.

w

Consolidated Public Retirement Board
Request to provide third party administrator services for three investement fund options.

w

Lottery Commission
Request to provide production and uplink services for televised lottery drawings.
Back to the Top

Current Statewide Contract Update Information and dates (as of July 15, 2002) included in this Current Statewide Contract Update are subject to change. If you need additional information, please contact the appropriate state buyer.

Contracts to be Awarded

Contract: DFS
Description: Disposable Food Services
File: 22
Vendor: US Food Service of WV, Mid-American Chemical Supply Co.
Effective Date: 07/15/02

Contracts to be Bid or Under Evaluation

Contract: FASTEN
Description: Fasteners
File: 21
Bid Opening: 05/08/02
Under Evaluation: Yes Contract: OFFICE
Description: Office Supplies
File: 42
Bid Opening: 06/18/02
Under Evaluation: Yes Contract: SYSFURN
Description: Office Systems
File: 42
Bid Opening: 06/18/02
Under Evaluation: Yes Contract: BEDDING
Description: Mattresses, Box Springs and Pillows
File: 42
Bid Opening: 05/21/02
Under Evaluation: Yes

Contracts to be Renewed

Contract: DATA
Description: Key Punch Services
File: 21
Vendor: Jackson County Sheltered Workshop
Expiration Date: 06/01/02

Contract:

TRAVEL
Description: Travel Management Services
File: 31
Vendor: National Travel
Expiration Date: 05/01/02

Contracts Extended

Contract:

IPTEMP
Description: Temporary Services for Information Processing
File: 21
Extended Date: 09/30/02 Contracts to be Reviewed

AUGUST

File 21: CONV
Document Conversion Services File 22: RECMGT
Records Management File 22: HDTOOLS
Hand Tools File 22: FLOORPAD
Floor Buffing Pads File 31: DIAPER
Diapers and Pads File 42: BWATER
Bottled Water

SEPTEMBER

File 21: MFSVC
Microfilm Services File 22: ROOMS
Hotel Rooms


Purchasing Division Staff
For questions concerning these contracts listed, please contact the appropriate buyer:

File 21
Charlyn Miller
(558-0067)

File 22
Pam Jones
(558-0468)

File 23
Chuck Bowman
(558-2157)

File 31
Evan Williams
(558-2596)

File 33
John Johnston
(558-0492)

File 41
Ron Price
(558-2316)

File 42
Betty Francisco
(558-0468)



Back to the Top Questions?...Just Ask! Are you unsure of certain purchasing procedures? ... Do you have a question regarding travel requests? ... Would you want to know what surplus property is available? ... If you need information concerning any function within the Purchasing Division, complete this form:
Name:

Organization:

E-Mail Address:

Telephone:

Need Information About:
Back to the Top

Thank You for Viewing our

August 2002 Issue of The Buyers Network