The Buyers Network is Published Monthly by the Purchasing Division of the West
Virginia Department of Administration to Promote Better Value in Public Purchasing
---
Welcome to the September 2001 Issue of the The Buyers Network!
---
Articles in this Issue:
Surplus Property Employees Travel to Southern WV To Assist in Flood Relief Effort
Director's Comments:
It's Purchasing Conference Time Again! Registered Yet?
New Business Development Initiative Continues to Assist State Businesses
Correctional Industries' Print Shop Moves to Newly Renovated Facility
Registration Begins for the 2001 Agency Purchasing Conference
Purchasing Award Program Awaiting Nominations from State Agencies
2001 Agency Purchasing Conference
ITINERARY
Letters Issued from teh Purchasing Division to Unsuccessful Bidders
MONEYWISE...Tips for the Thrifty
Purchasing Division Open Until 5:00p.m.
Current Statewide Contract Update
---
Helping Our Neighbors...
Surplus Property Employees Travel to Southern
West Virginia to Assist in Flood Relief Effort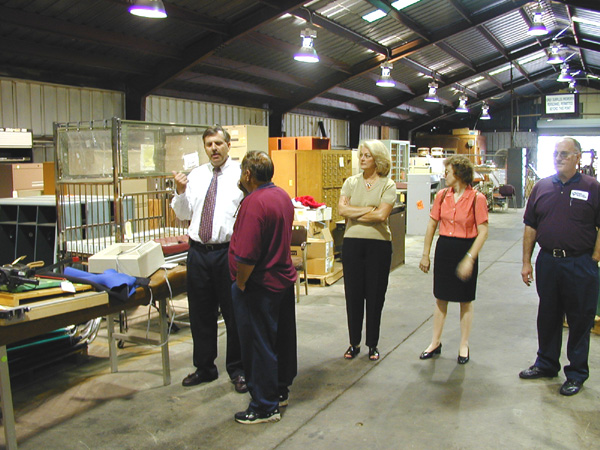 Many people in West Virginia will not quickly forget the raging floods of the summer of 2001 that changed the lives of hundreds of people in the southern portion of the state. Homes and businesses were destroyed, leaving a desperate hope as to where to start rebuilding what was taken from them.
Governor Bob Wise pledged to work diligently in assisting our fellow West Virginians, and urged all state agencies to take action in any way possible to ease the lives of those affected by the rising waters.
The West Virginia State Agencies for Surplus Property was called by Governor Wise to assist nearly 75 small businesses which were devastated by the flooding. Surplus Property Manager Ken Frye coordinated several truck loads of property to McDowell and Wyoming counties to provide assistance.
Several employees of this agency spent the entire week coordinating this effort, including Frye, Danny Layton, Jim Hudson, David Wolfe, Roger Roe, Larry Danberry and Anthony Cooper.
Prior to transporting this property to the affected areas, Cabinet Secretary of Administration Greg Burton, Deputy Secretary Dot Yeager, Executive Asistant Debbie Bradford, Purchasing Director Dave Tincher and Public Information Officer Diane Holley visited the Surplus Property facility to take a tour and to determine the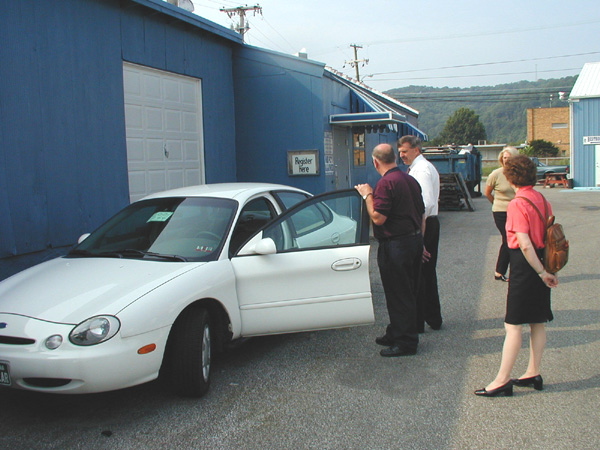 types of property that could be used in this relief initiative.

A special session was called by Governor Wise to address the millions of dollars in flood aid which was to be reallocated to the 24 counties that have been declared disaster areas. According to state statistics, the government's flood-related expenses exceeded $125 million.

"It is fortunate that the Surplus Property agency is alive and well in West Virginia and was able to react so quickly to assist in our southern counties," said Tincher. "These employees should be commended for their dedication and compassion during this trying time for so many of our state's residents."

It's Purchasing Conference Time Again! Registered Yet?

By Dave Tincher
State Purchasing Director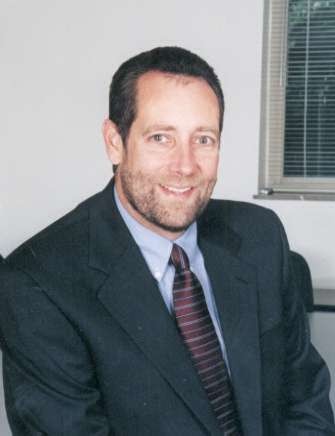 Each fall, the Purchasing Division conducts its annual Agency Purchasing Conference for all state agency procurement officers and their respective staff. We are excited for this year's training which will take place at Canaan Valley State Resort and Conference Center on October 15-18.

This year, we solicited the input of several agency representatives who have attended our conferences in the past to assist us in making positive changes.

Mary Blashford (School Building Authority), Jo Miller (DHHR), Steve Wroblewski (Tax & Revenue) and Chip Myers (PEIA) helped us evaluate nearly every aspect of the conference. We continued to ask the question, "What can we do better?"

Using their suggestions, in addition to comments offered from last year's conference evaluation, the Purchasing Division is anticipating another success.

Registration will begin the first of September. Because of the number of participants who attend this training, I encourage you to complete your registration form early to ensure that you are able to attend the classes you select.

I look forward to meeting new and familiar faces at our agency conference in October.


New Business Development Initiative
Continues to Assist State Businesses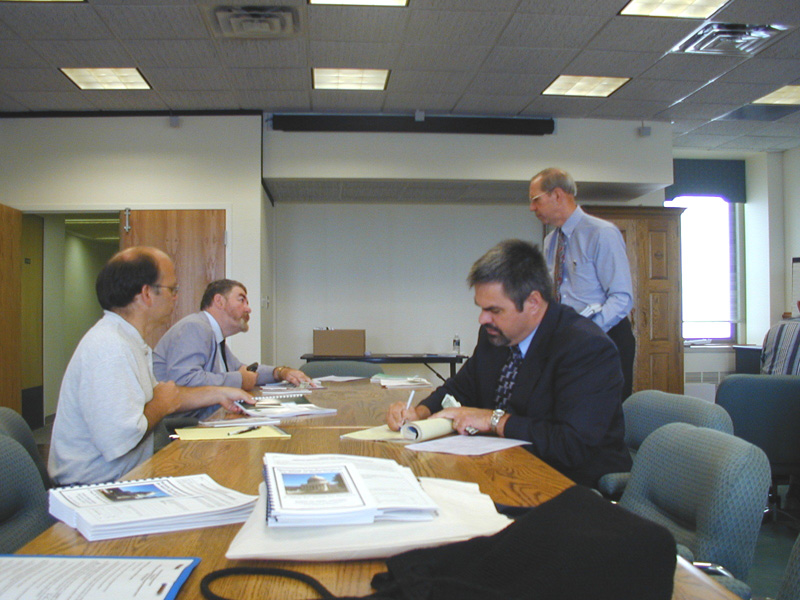 Many people dream of owning their own business, but have no idea where to start. Too often, small businesses end in failure because the owners were uninformed of many of the obstacles facing today's small businesses. However, the state of West Virginia has a solution.
Over a dozen West Virginia entrepreneurs attended a meeting at the Development Office on August 6. The purpose of this meeting, and others offered twice monthly, was to encourage individuals to not only start small businesses, but also to register as vendors with the state Purchasing Division.
Bob Henrich, the Development Office's Program Manager, made sure that those who attended were prepared through education. "The key to this whole process [of starting a business] is planning," explained Henrich.
During the meeting, Henrich, along with Kevin Twohig of the Small Business Development Center and Purchasing's New Business Development Manager Scott Padon, explained the process of how to get started as a new business.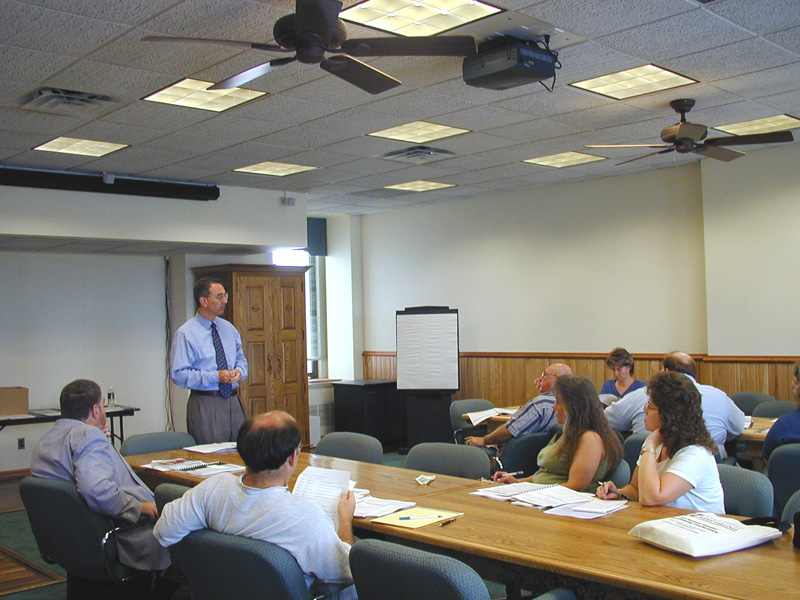 Twohig informed the attendees of the state licensing process, after which Padon explained the importance of becoming a registered vendor, learning the bid process and understanding the vendor's responsibilities when awarded a state contract.
The Purchasing Division recently began participating in these semi-monthly meetings. "I am pleased to have the opportunity to share this valuable information with representatives of developing or growing businesses," said Padon. The Development Office plans to continue these meetings to assist new state businesses.
Correctional Industries' Print Shop
Moves to Newly Renovated Facility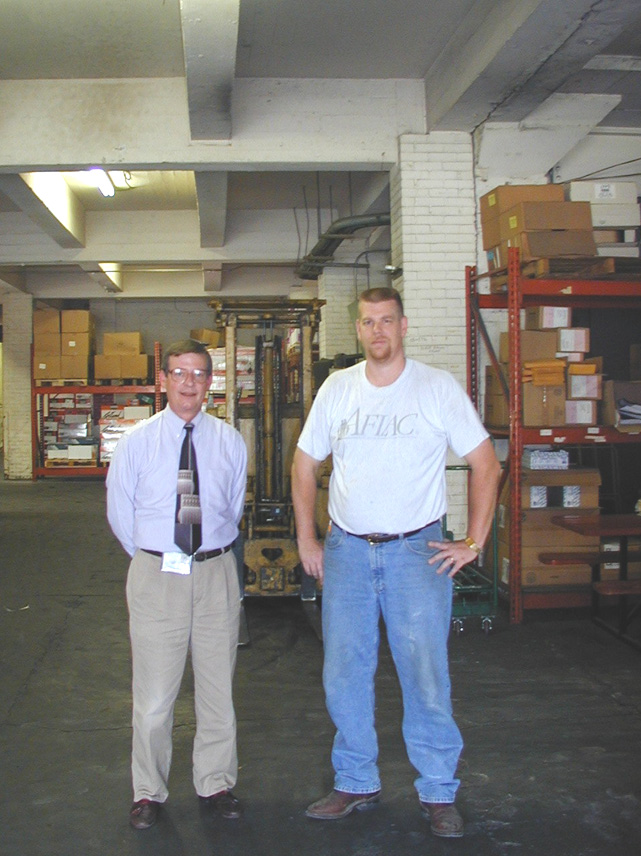 The Correctional Industries' print shop in Charleston has been relocated from its former Jefferson Street facility to its new building at 617 Leon Sullivan Way (formerly known as Broad Street).
"We had 23 regular working days to get everything done," explained George Hampton, Director of Correctional Industries. "We thought we could do it, but knew it would be close." The deadline to move into the new facility was August 31st.
Sounds like a simple task, right? With the deadline approaching, the new building needed to be renovated, which included installing telephone lines, gas lines and meters, network hook-ups, and central heating and cooling. In addition, the building needed to be in compliance with the Americans with Disabilities Act.
Once all of the logistics were completed with the new building, Hampton and his staff had to tackle the hardest part...physically moving the heavy equipment. To move the forklift to the new site, a flat bed truck had to be used. Fortunately, there was some relief, since the quick copy equipment had to be moved by the contracted vendor.
As hectic as the situation became, Bill Wimer, Depart-ment of Corrections' Con-struction Manager, and Steve Freed, Deputy Director of Correctional Industries, continued to be assured that the benefits would be overwhelming.
The new facility is at least three times the size of the old Jefferson Street location, which means more storage space, according to Hampton. Supplies will not have to be stored separately from the printing operation, making the printing process more convenient. The new site has more parking for employees and customers. Staff from the Department of Environmental Protection and the Supreme Court will also be utilizing this building.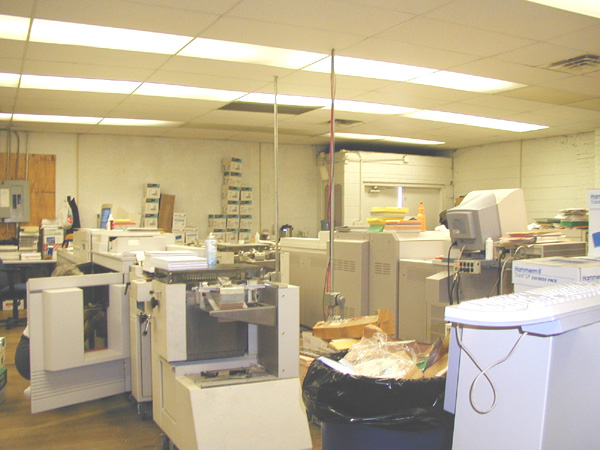 Distance is a factor, in that the new Leon Sullivan Way location is not within walking distance of the State Capitol Complex. For this reason, Correctional Industries is making more changes than just the location. "We're going to upgrade the software," said Hampton. "This way, print jobs can be sent electronically to the new location, which will alleviate driving to our facility." At least two drop boxes will be located at the Capitol Complex for requests for printing. One location will be at the Purchasing Division (Building 15) and the other at the Commissioner of Corrections' office (Building 4).
Hampton emphasized that one agency could not have handled the move exclusively. He explained that the Department of Administration was extremely helpful in this endeavor. Along with the Department of Corrections, assistance was offered from the General Services Division and Information Services and Communications Division to make the Correctional Industries' move run smoothly. "It was definitely a group effort," said Hampton.
October 15-18, 2001
Registration Begins for the 2001 Agency Purchasing Conference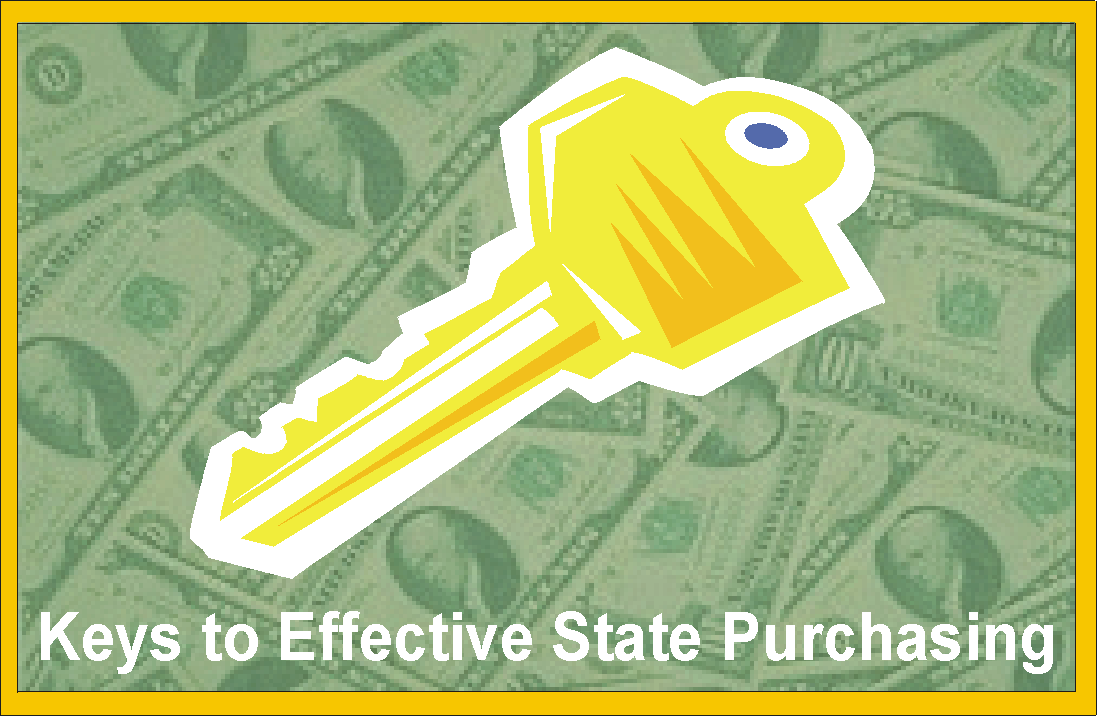 On your mark, get set….GO! It's time to register for the 2001 Agency Purchasing Conference, which is set for October 15th through 18th at Canaan Valley State Resort and Conference Center.

With a theme of Keys to Effective State Purchasing, this conference is sure to open the doors to many opportunities for information. "We are very excited about this year's conference," said Purchasing Director Dave Tincher. "When organizing the schedule, we wanted to look at ways to improve upon what we feel has always been a spectacular training event."

In order to make positive changes, conference coordinators Diane Holley and Debbie Watkins went to the individuals who are the experts …the Purchasing Division staff and agency representatives who have been participating in the conference for many years. Several good ideas and suggestions were raised during these open discussions.

As a result, the conference itinerary includes a wider selection of topics with classes that will be more interactive. The topics range from A to Z (see the conference itinerary on the next page).

A new addition is the one-on-one consultation sessions, which will be scheduled on the last day of the conference. The 15-minute meetings can be scheduled with any of our Purchasing Division staff or guest presenters. This is an excellent time to discuss particular questions or to offer a suggestion or comment regarding a specific issue. Registration for these meetings may be made at the conference registration desk on a first-come, first-serve basis.

What would an agency purchas-ing conference be without a game show workshop? For those who have attended our conference in the past, game show workshops have included Purchasing Jeopardy, Agency Feud and Who Wants to be a Millionaire. This year's educational workshop, Purchasing Squares, is guaranteed to be a success.

How can you register for the conference? It's simple, but space is limited, so register early. You may register on the Internet at our website (www.state.wv.us/admin/purchase) or by contacting our conference coordinators, Debbie Watkins (558-3568) or Diane Holley (558-0661), for a registration form.


Purchasing Award Programs Awaiting
Nominations from State Agencies

For the past six years, the Purchasing Division has been pleased to sponsor an award program to honor one outstanding state agency purchaser for the year. The Procurement Officer of the Year program highlights the performance of one individual who has served beyond expectations to make state government purchasing more efficient and responsive.

Last year, a new awards program, Partner in Purchasing, was introduced to recognize an individual who demonstrated exemplary work in the other programs which are administered by the Purchasing Division (including fleet management, fixed assets, Surplus Property, travel management, and TEAM).

Registration forms for this year's nominees were distributed to all state procurement officers, with a deadline of September 14, 2001. Announcements of the winners for both awards will be made at the 2001 Agency Purchasing Conference banquet on October 16.

Established guideline criteria has been outlined. Some of the areas which will be considered include tenure, performance, communication, internal training, professional development, cost-saving ideas, cooperation with Purchasing Division staff, and maintaining a positive image.

For additional information or for a copy of the registration forms, please contact Diane Holley at 558-0661 or via electronic mail at dholley@gwmail.state.wv.us.

2001 Agency Purchasing Conference
ITINERARY

Monday, October 15, 2001
Conference Registration
12:00 noon - 4:00 pm

Conference Golf Tournament and Putt-Putt Tournament
12:00 noon - 5:00 p.m.

Tuesday, October 16, 2001
Conference Registration
7:30 am - 9:00 am

Conference Breakfast
7:00 am - 8:45 am

Conference Commencement
9:00 am - 9:30 am

Concurrent Workshops
9:30 am - 10:30 am
RFP Standard Format
Customer Relations
Purchasing Legal Issues
Step One: Vendor Registration

Concurrent Workshops
10:45 am - 11:45 am
RFP Evaluation/Award
Introduction to Purchasing
Making Wise Small Dollar Decisions
Sheltered Workshops' Products and Services

Lunch
11:45 am - 1:00 pm

Concurrent Workshops
1:00 pm - 2:00 pm
Tech Talk
Checks and Balances
The Value of the P-Card
You Name It...Surplus Property Has It!

Concurrent Workshops
2:15 pm - 3:15 pm
Got Questions?
Info@Purchasing.com
Statewide Contracts: Biggest Bang for the Buck
Correctional Industries' Products and Services

Conference Banquet
6:30 pm - 8:30 pm

Wednesday, October 17, 2001
Concurrent Workshops
8:30 am - 9:30 am
Fixed Assets: Tag...You're It!
Customer Relations
The Value of the P-Card
You Name It...Surplus Property Has It!

Concurrent Workshops
9:45 am - 10:45 am
RFP Standard Format
Introduction to Purchasing
Making Wise Small Dollar Decisions
State Vehicles for Lease

General Session: Purchasing Squares Game Show
11:00 am - 12:00 noon

Group Luncheon
12:00 noon - 1:15 pm

Concurrent Workshops
1:15 pm - 2:15 pm
RFP Evaluation/Award
Checks and Balances
Purchasing Legal Issues
State Vehicles for Lease

Concurrent Workshops
2:30 pm - 3:30 pm
Tech Talk
State Travel: Planes, Trains and Automobiles
Statewide Contracts: Biggest Bang for the Buck
In Need of Space?

Thursday, October 18, 2001
One-on-One Consultation Sessions
8:45 am - 11:00 am

Letters Issued from the Purchasing Division to Unsuccessful Bidders

For vendors who participate in the competitive bidding process, the thought of gaining state business is very exciting. Therefore, after submitting a bid, vendors are anxious to learn if they were successful. Ah, the wait…

In the past, the Purchasing Division would notify the successful vendor that his or her bid was the most responsive and responsible, and that a purchase order or contract would be issued.

The unsuccessful vendor did not receive any correspondence and, in the lack of such, assumed that his or her bid was not successful or contacted the Purchasing Division to simply ask of the status.

Recently, the Purchasing Division began issuing letters to vendors who were unsuccessful for the particular contract for which they bid.

"In the best interest of all parties, we believed it was appropriate and necessary to offer some sort of notification to those businesses who were not successful in the bidding process at that time," according to Purchasing Director Dave Tincher. "We want to encourage these vendors to, as the saying goes, try, try and try again. We want their business and they can only become successful if they continue to participate in the bidding process."


MONEYWISE...Tips for the Thrifty

Who Spent, Who Saved?

Is it true that Americans aren't putting anything away for a rainy day? If you are speaking of those with incomes in the top 20 percent of earners, it is.

Last year, they spent everything they made, 2.1 percent more than they made, took profit on stock investments, and spent that too. This 20 percent of earner accounted for 46 percent of all consumer spending in 2000.

People whose cash savings were more valued, those in the bottom 40 percent, actually increased savings from 4 percent in 1999 to 7 percent in 2000, according to a recent Federal Reserve paper.

Purchasing Division Open Until 5:00 p.m.

The Purchasing Division is now open until 5:00 p.m. on normal business days.

Governor Bob Wise recently instructed all state agencies to enhance their service to the public. "These extended hours are just one step forward in providing the best customer service we can," said Governor Wise.


Current Statewide Contract Update

Information and dates (as of August 16, 2001) included in this Current Statewide Contract Update are subject to change. If you need additional information, please contact the appropriate state buyer.

Contracts Awarded

Contract:

MSOFT
Description: Enterprise Microsoft
File: 21
Vendor: En-Pointe
Effective Date: 08/01/01

Contract:

ROUTER (NEW)
Description: Cisco Systems Router and Maintenance
File: 21
Vendor: Verizon
Effective Date: 08/01/01

Contract:

BARSOAP
Description: Bar Soap
File: 22
Vendor: American Amenities, American Producers Supply, ICS, and D. Winans
Effective Date: 08/01/01

Contract:

WIPING
Description: Wiping Cloths
File: 22
Vendor: Jackson County Sheltered Workshop
Effective Date: 09/01/01

Contracts to be Bid or Under Evaluation

Contract:

SAT
Description: Satellite Transponder Time
File: 21
Bid Opening: 08/01/01
Under Evaluation: Yes

Contract:

TCARD
Description: Travel Management Charge Card
File: 31
Bid Opening: 09/25/01
Under Evaluation: To Open

Contract:

R-SHEET
Description: Reflective Sheeting
File: 33
Bid Opening: 08/0101
Under Evaluation: 08/01/01

Contract

: CEREAL
Description: Cereal, Breakfast Foods
File: 42
Bid Opening: 06/01/01
Under Evaluation: Yes

Contracts to be Renewed

Contract:

LAUNDRY
Description: Laundry Materials
File: 22
Vendor: Ecolab
Effective Date: 09/01/01

Contract:

ELECHDW
Description: Electric Cable and Hardware
File: 22
Vendor: Noland Co.
Effective Date: 10/01/01

Contract:

ENVLOP
Description: Envelopes
File: 42
Vendor: Chapman Printing
Effective Date: 07/01/01

Contracts to be Extended

Contract:

IPTEMP
Description: Temporary IP Services
File: 21
Vendors: Various
Extension Date: 09/01/01

Contracts to be Cancelled

Contract:

EDMS
Description: Electronic Document Management System
File: 21
Vendor: Mantech, Ratheon, RM Vredenburg, Ablesoft

* Each project to be bid individually in the open market.

Contracts to be Reviewed

SEPTEMBER

File 21: MFSVC


Microfilm Services

File 22: ROOMS


Hotel Rooms

File 22: FLOORPAD


Floor Buffing Pads

File 31: DEBT


Debt Collection

File 33: C-PIPE


Corrugated Pipe

File 42: CARPET


Carpet and Rugs

File 42: SYSFURN


Modular Systems Furniture

OCTOBER

File 21: IP
Information Processing

File 21: IMAGE


Document Imaging

File 22: SAFETY


Safety Equipment

File 22: LAWN


Lawn Maintenance Equipment

File 22: RECMGT


Records Management

File 22: HDTOOLS


Hand Tools


Purchasing Division Staff

For questions concerning these contracts listed, please contact the appropriate buyer:

File 21
Charlyn Miller
(558-0067)

File 22
Pam Jones
(558-0468)

File 31
Evan Williams
(558-2596)

File 33
John Johnston
(558-0492)

File 41
Ron Price
(558-2316)

File 42
Jim Jackson
(558-2402)

Are you unsure of certain purchasing procedures? ... Do you need to know what printing services Consolidated Publishing Facility provides? ... Do you have a question regarding travel requests? ... Would you want to know what surplus property is available? ... If you need information concerning any function within the Purchasing Division, complete the form below:



Thank You for Viewing our September 2001 Issue of The Buyers Network