The Buyers Network is Published Monthly by the Purchasing Division of the West
Virginia Department of Administration to Promote Better Value in Public Purchasing
---
Welcome to the June 2001 Issue of the The Buyers Network!
---
Articles in this Issue:
Agency Feedback Appreciated on the Purchasing Division's Procedures Handbook
Director's Comments:
Agency Meetings Offer Productive Results
Federal Surplus Property Warehouse Lightens Up its Display of Available Merchandise
Participants Give "Two Thumbs Up" to teh 2001 Vendor Purchasing Conference
Purchasing Offers Staff Telephone Extension Listing
Monthly Training Sessions Established for Best Value Purchasing Techniques
Inventory Certification Required to be Submitted to Purchasing by July 15th
Is Your Calendar Market Yet?...for the Agency Purchasing Conference?
Local NIGP Chapter Offers Professional Development Seminar for Purchasers
MONEYWISE...Tips or the Thrifty
Current Statewide Contract Update
---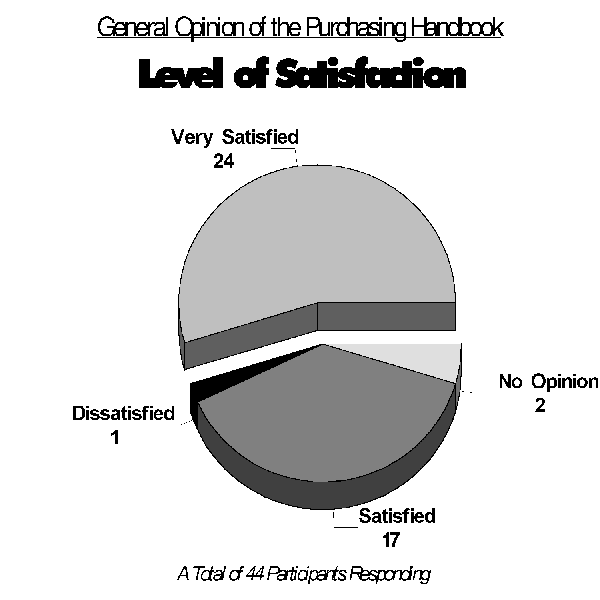 Agency Feedback Appreciated on the Purchasing Division's Procedures Handbook

A questionnaire was distributed to all state procurement officers through The Buyers Network and a separate mailing regarding the levels of satisfaction on the Purchasing Division's Policies and Procedures Handbook, which was completed in December of 2000. An online version is also available at the Purchasing Division's website at www.state.wv.us/admin/purchase/handbook.

With nearly 50 responses, the feedback indicated that 94 percent of the respondents rated their satisfaction level as either very satisfied or satisfied. Various attributes of the handbook were also evaluated, including if the respondents found the handbook helpful, accurate, complete, understandable, relative and user-friendly.

Approximately 33 percent of the respondents indicated that they have used the online version of the handbook.

The Purchasing Division continues to encourage state agencies to visit its website to view this online resource.

According to survey results, the features most liked by the respondents included the organization of the handbook, the index and tabs, the depth of the definitions and the completeness of this reference source. As one respondent stated, "Everything is there...altogether."

The Purchasing Division produced the handbook as a group effort, with assistance from Purchasing Division staff and agency representatives from DHHR, BEP, State Police, Administration and DNR.

"The positive feedback which we have received on our new procedures handbook should be attributed to this collaboration of effort of the Purchasing Division and agency professionals," Tincher said.

Agency Meetings Offer Productive Results

By Dave Tincher
State Purchasing Director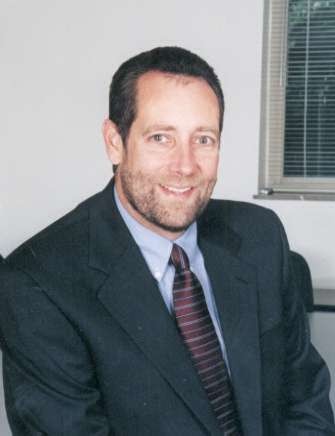 Beginning in March, Assistant Director Curt Curtiss and I began meeting face-to-face with agency representatives to discuss issues directly related to their operation. We have conducted initial meetings with ten agencies thus far.

An added benefit to these meetings is an opportunity for the Purchasing Division to share information on upcoming events occurring in our division or modifications to the state purchasing policies and procedures.

After each meeting, an electronic survey has been conducted to determine if the participating individuals find this forum beneficial. To date, 100 percent of agency representatives attending these meetings have rated their level of satisfaction as either very satisfied or satisfied.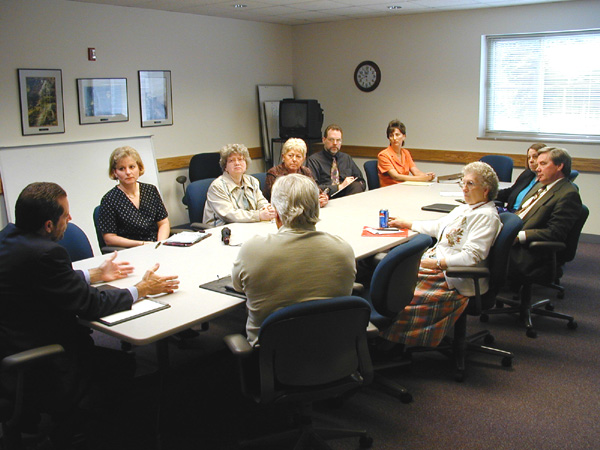 Similarly, 100 percent of the respondents have indicated that they found the meetings to be beneficial, with problems and concerns being addressed and, in many cases, resolved. The informal manner in which the meetings are conducted was applauded. Each of the agency representatives agreed that these meetings should continue.
"This meeting gave the Bureau a rare opportunity to see and hear the Purchasing Division's perspective on various issues and concerns," said Mark Miller of the Bureau of Employment Programs. "It also gave us the opportunity to make the Division aware of upcoming events and issues for the Bureau that will need the assistance and support of Purchasing."
June Casto of the Division of Environmental Protection was in agreement. "The open dialogue was great," she said. "It gave our agency the opportunity to voice any concerns we had as well as the Purchasing Division an opportunity to let us know what was going on with their agency. We also discussed a burning issue that we needed to resolve. After brainstorming ideas, we came to a conclusion."
I want to extend my appreciation to each of the agency representatives with whom we have met. From the Purchasing Division's perspective, the results have been extremely positive. Equally, the responses received from our electronic survey is very encouraging. Agency representatives appear to be experiencing benefits from opening the lines of communication.
Saturday, June 9
2700 Charles Avenue, Dunbar
Gates open at 9 a.m.; Sale begins at 10 a.m.
Call 766-2626 for details or visit its website at www.state.wv.us/admin/purchase/surplus.

Federal Surplus Property Warehouse Lightens
Up its Display of Available Merchandise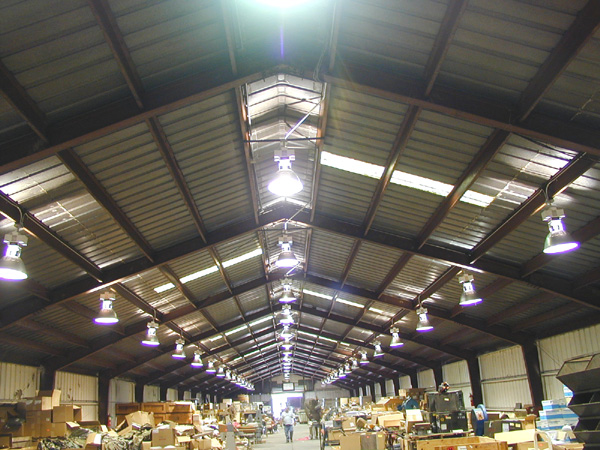 New lights were recently installed in the Federal Surplus Property Warehouse, resulting in a more pleasant and productive setting for eligible organizations to shop for their needed items, according to Surplus Property Manager Ken Frye.
"In the past, there were so many things that we attempted to enhance the federal warehouse," he said. "We painted the walls a lighter shade to brighten up the warehouse. We gradually added extra lights, which was an improvement, but did not create the effect that we wanted."
Frye indicated that he and his staff finally decided to get the job done right. "We brought in an engineer to determine what we needed and purchased the lights to adequately display our property in this building," he said. The dimensions of the federal warehouse are 60' x 260', with a 50' outside canopy.
Frye emphasis that his agency is self-supporting; however, any surplus revenue generated is put back into the program to better serve the customers. "The lighting in the federal warehouse is the latest capital reinvestment that we have completed at the West Virginia State Agency for Surplus Property," Frye said. "Our customers support us and in turn when we can afford to, we put the money back into the operation to make shopping more convenient, easy and comfortable for our customers."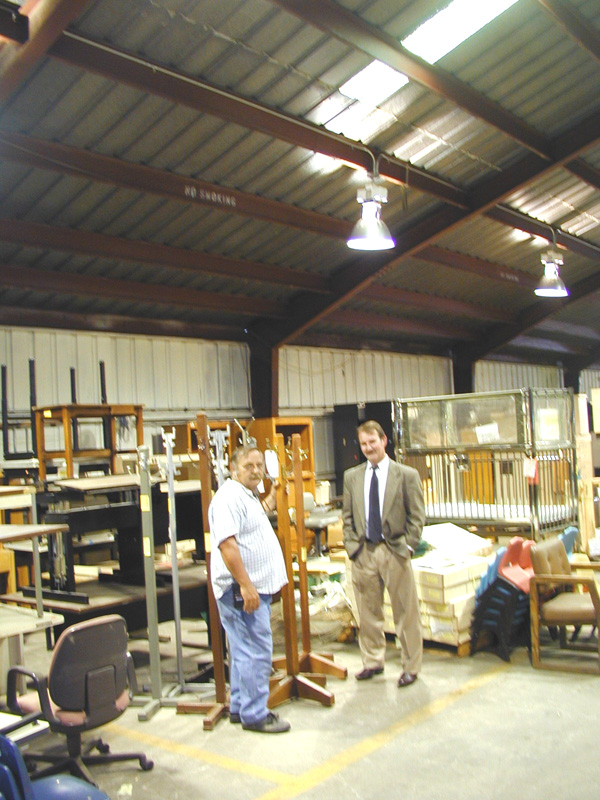 Other projects which have been completed in recent years include paving the outside areas, constructing the canopy to the outside of the federal warehouse to better protect the property, and installing new outside signs for the agency.
"Our customers have expressed their appreciation in the enhancements that we do for them and they show their gratitude by continuing to support our program," Frye adds.
The West Virginia State Agency for Surplus Property is open Monday through Friday, 8:30 a.m. to 4:30 p.m. Applications for Eligibility must be completed and approved prior to purchasing items; however, all public agencies and non-profit organizations are encouraged to visit and tour its state and federal warehouses as well as the 'showroom'.
For additional information, contact WVSASP at (304)766-2626 or visit its website at www.state.wv.us/admin/purchase/surplus.
Participants Give "Two Thumbs Up" for
the 2001 Vendor Purchasing Conference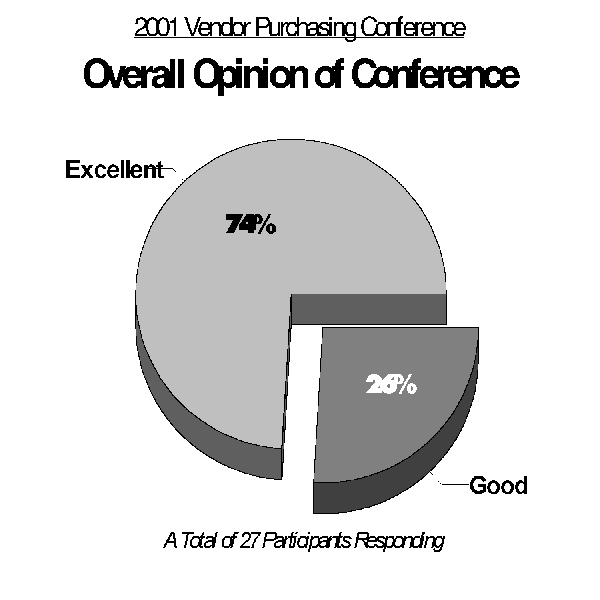 According to a recent conference evaluation analysis, 100 percent of the participants who attended the 2001 Vendor Purchasing Conference rated the overall conference either excellent or good. "This information is positive news for our staff, who put a tremendous amount of time and energy into preparing our training conferences," said Purchasing Director Dave Tincher.
Of the 63 conference participants, nearly 43 percent responded to the evaluation survey, which was included in their conference packet. In addition, the evaluation form was attached to a letter thanking the participants for their attendance.
The survey evaluated two areas, the conference planning aspect and the individual workshops. "In each and every area, the response rate was very high, which indicates that we are heading in the right direction in our training efforts," Tincher adds. "But this information does not mean that we should not continue to look for better ways to plan and present information at these events. As in the past, we will use this feedback to enhance our programs and services to our vendor community.
Purchasing Offers Staff Telephone Extension Listing
Need to call someone from the Purchasing Division? Listed below are the telephone and extension numbers for our staff which may be helpful for you to retain for future needs.
Adkins, Joan
558-2312 Ext. 250
Boggs, Janice
558-0086 Ext. 210
Curtiss, Curt
558-7838 Ext. 220
DeMarco, Catherine
558-2613 Ext. 208
Dunlap, Jo Ann
558-0059 Ext. 202
Fairchild, Amy
558-2336 Ext. 211
Fisher, Willadean
558-2594 Ext. 228
Gray, Shelia
558-2614 Ext. 209
Gunnoe, Barry
558-3486 Ext. 260
Hackworth, Matt
558-6025 Ext. 248
Holley, Diane
558-0661 Ext. 206
Jackson, Jim
558-0468 Ext. 217
Jarrett, Carol
558-2309 Ext. 223
Johnston, John
558-2402 Ext. 221
Jones, Pam
558-0067 Ext. 214
Joyce, Sandra
558-2566 Ext. 225
Miller, Charlyn
558-2596 Ext. 215
Miller, Dan
558-2314 Ext. 203
Padon, Scott
558-3488 Ext. 259
Price, Nancy
558-2315 Ext.204
Price, Ron
558-0492 Ext. 219
Smith, Sue
558-2544 Ext. 226
Tincher, Dave
558-2538 Ext. 213
Toler, Beverly
558-4785 Ext. 224
Tomalin, Kim
558-2311 Ext. 201
Watkins, Debbie
558-3568 Ext.212
Williams, Evan
558-2316 Ext. 218
Monthly Training Sessions Established
for Best Value Purchasing Techniques
In attempt to be more responsive to our customer's needs, the Purchasing Division has established regularly scheduled Best Value Purchasing Evaluation Training sessions which are available to all state agencies, according to Curt Curtiss, Director of Acquisitions and Contract Administration Section for the Purchasing Division. This training will focus on evaluating Request for Proposals, Expressions of Interest and Design Build projects.
All sessions will be conducted at 11:00 a.m. on the second and fourth Tuesday of each month in the Purchasing Division's Bid Opening Room, located at 2019 Washington Street, East, in Charleston.
The first session will be conducted at 11:00 a.m. on June 12, 2001. Registra-tion is required, by contacting Sue Smith in the Purchasing Division at 1-800-BIDS2WV, ext. 226, or locally at 558-2544 no later than June 8, 2001. The second session will be June 26th; registration for this session must be made by June 22.
"The Purchasing Division has been conducting this training on an "as-needed" basis for several years, but by offering this information on a regular monthly schedule, state agency personnel can better plan to train the individuals who may serve on an evaluation committee," said Purchasing Director Dave Tincher.
According to the Purchasing Division's Policies and Procedures Handbook, all evaluation committee members must receive RFP evaluation training prior to commencing the evaluation.
The purpose of this training is to ensure that the committee is knowledgeable of the proper evaluation procedures and the purchasing process.

Inventory Certification Required to be
Submitted to Purchasing by July 15th
Each year, state agencies are required by law to submit a certification to the Purchasing Division no later than July 15th verifying that they have entered all fixed assets with an acquisition value of $1,000 or more into the WVFIMS Fixed Asset System, according to Jo Ann Dunlap, Administration Unit Manager.
Another requirement is that state agencies must take a physical inventory of their reportable fixed assets once every three years.
Each agency should have an individual designated as the "inventory management coordinator" who is responsible for maintaining the agency's fixed assets and reporting.
Purchasing Director Dave Tincher distributed a letter on June 1, 2001, regarding the fixed assets requirements and the Inventory Management Certification Cover Sheet and Inventory Management Coordinator Designation Form which need to be completed by each agency and submitted to the Purchasing Division no later than July 15, 2001, as required by §5A-3-34 of the West Virginia Code.
"It is crucial that agencies retire their obsolete equipment in accordance with established policies and guidelines, rendering their inventory accurate and complete," Dunlap said. For additional information on state inventory policies and guidelines, please contact Jo Ann Dunlap at (304) 558-0059.

Is Your Calendar Marked Yet...
for the Agency Purchasing Conference?
If you have not already heard the news...the 2001 Agency Purchasing Conference has been scheduled for October 15-18 at Canaan Valley State Resort and Conference Center.
Although registration materials will not be prepared and distributed until late August, we suggest that you mark your calendars now to make sure that you keep these dates open for this educational conference.
Questions may be directed to our conference coordinators: Diane Holley (558-0661; dholley@gwmail.state.wv.us); or, Debbie Watkins (558-3568; dwatkins@gwmail.state.wv.us).
Local NIGP Chapter Offers Professional
Development Seminar for Purchasers
At its May 16th meeting, the West Virginia Chapter of the National Institute of Governmental Purchasing offered a special seminar featuring Dr. Jackie Rankin, a body language expert.
The presentation, titled Stress and the Image of Stress, addressed ways to get a handle on stress and to develop a more balanced life for yourself. The seminar taught strategies for distressing in a forthright manner, techniques that can be used anywhere.
Did you know that 65 to 95 percent of all effective communication is nonverbal? This fact governs all Rankin's writing about Body Language. In addition to conducting seminars, Rankin offers keynote speaking engagements and serves as a jury consultant.
Rankin answered some questions relating to body language which can serve beneficial in dealing with people at work or in our personal lives:
How can the study of body language help people?
"When we learn about ourselves, we are studying the most important person in our lives. As one studies oneself, realization comes how important we are. Self-appreciation develops a more positive express and movement."
If I learn that something about my own body language is not positive, how can it be changed?
"Since body language is unconscious, one has to realize consciously that some movement or expressions are not working advantageously. Consciously, positive body language has to be practiced many times before it becomes more effective an part of our nonverbal system.
What is meant by positive body language?
"Body language that wins in job interviews or in sales and negotiation, that's positive! Body language that turns people off, earns poor job performance reviews, or no sales, that's the body language that is termed losing."
For more information on the local chapter of NIGP, please contact Chapter President Charlyn Miller of the Purchasing Division at (304) 558-2596.

MONEYWISE...Tips for the Thrifty
Building a Rainy Day Fund
Financial prudence dictates that we stash away enough cash to cover three to six months living expenses in case something catastrophic comes our way, such as a job loss, an unexpected illness or unpredicted home expense. Get your 'rainy day fund' started by doing the following:
w

Aim low if you can't amass the recommended cash. If you are burdened with debt and your income is low, you can still set up a decent emergency fund, one that will cover at least one month of expenses.

w

Consolidate debt. Stop using the credit card. Make the minimum monthly payment to build up savings for one month of living expenses.

w

Steer clear of the stock market. Put your money where you can easily get your hands on it.
- Adapted from Kiplinger


Current Statewide Contract Update

Information and dates (as of May 15, 2001) included in this Current Statewide Contract Update are subject to change. If you need additional information, please contact the appropriate state buyer.

Contracts to be Awarded

Contract:

FLRMAC
Description: Floor Machines
File: 22
Vendor: Wholesale Vacuum Connection
Effective Date: 05/15/01

Contract:

PHOTO
Description: Photography Film and Supplies
File: 31
Vendor: Camera Boutique
Effective Date: 04/01/01

Contract:

GLOVES
Description: Latex Gloves
File: 31
Vendor: McKesson General
Effective Date: 05/01/01

Contracts to be Bid or Under Evaluation

Contract

: MSSW
Description: Microsoft Software
File: 21
Bid Opening: 03/14/01
Under Evaluation: Yes

Contract:

ROUTER
Description: Cisco Systems Routers and Maintenance
File: 21
Bid Opening: 04/19/01
Under Evaluation: Yes

Contract:

FOOD
Description: Canned Foods and Staple Groceries
File: 42
Bid Opening: 04/17/01
Under Evaluation: Yes

Contract:

A/E BATT
Description: Battery: Auto and Equipment
File: 33
Bid Opening: 05/22/01
Under Evaluation: Yes

Contract:

CEREAL
Description: Cerael Breakfast Foods
File: 33
Bid Opening: 06/01/01
Under Evaluation: To Open

Contracts to be Renewed

Contract:

WELD
Description: Welding Supplies
File: 33
Vendor: Mountain States Airgas
Effective Date: 04/01/01

Contract:

LIGHT
Description: Lighting; Bulbs
File: 42
Vendor: State Electric
Effective Date: 03/15/01

Contracts to be Reviewed

JUNE

File 22: ELECHDW


Electric Cable and Hardware

File 31: X-RAY
E-Ray Film and Supplies

File 33: DC BATT
Dry Cell Batteries

JULY

File 21: DISKETTE
Computer Diskettes

File 21: VOICEREC


Voice Recognition

File 22: ALCOHOL


Ethyl Alcohol

File 22: BROOM


Push Brooms

File 22: BUCKETS


Buckets

File 22: TEMP


Temporary Services

File 33: N-TIRES


Tires: Auto and Equipment

File 33: MV


Motor Vehicles

File 33: PC


Police Cruisers


Purchasing Division Staff

For questions concerning these contracts listed, please contact the appropriate buyer:

File 21
Charlyn Miller
(558-0067)

File 22
Pam Jones
(558-0468)

File 31
Evan Williams
(558-2596)

File 33
John Johnston
(558-0492)

File 41
Ron Price
(558-2316)

File 42
Jim Jackson
(558-2402)

Are you unsure of certain purchasing procedures? ... Do you need to know what printing services Consolidated Publishing Facility provides? ... Do you have a question regarding travel requests? ... Would you want to know what surplus property is available? ... If you need information concerning any function within the Purchasing Division, complete the form below:



Thank You for Viewing our June 2001 Issue of The Buyers Network