The Buyers Network is Published Monthly by the Purchasing Division of the West
Virginia Department of Administration to Promote Better Value in Public Purchasing
---
Welcome to the November 2001 Issue of the The Buyers Network!
---
Articles in this Issue:
Weekly Electronic Mail Message Distributed to Inform
Agency Procurement Officers on Status of Contracts
Over 300 Agency Procurement Officers Gather to Gain
Information on Policies and Procedures
Director's Comments:
Sharing Valuable Information Statewide and Nationally
Attorney General's Office Offers Pointers in Processing Contracts
Change in Location Annnounced for State Auditor's Bid Receipt
New Business Development Approach to Procurement Explained at Conference
Vendor Spotlight...Meet our West Virginia Vendors!
From A to Z, Information was Plentiful at the 2001 Agency Purchasing Conference
DNR's Beverly Carte and IS&C's Barbara Haddad Recognized for Outstanding Performance
Purchasing Division Employees Honored During Public Service Recognition Week
MONEYWISE...Tips for the Thrifty
Current Statewide Contract Update
---
Keeping You Informed Electronically
Weekly Electronic Mail Message Distributed to Inform
Agency Procurement Officers on Status of Contracts
A weekly electronic mail message is being distributed to all agency procurement officers detailing the current status of contracts that are being processed by the Purchasing Division, according to a recent memorandum dated October 12, 2001, from Purchasing Director Dave Tincher.
Information is being accumulated from Purchasing Buyers each Monday and consolidated into one report, which is electronically transmitted. This report includes the agency name, requisition number, buyer, status, description and specific notes regarding that transaction.
Tincher explains that the purpose of this weekly effort is to clarify the status of each requisition received by the Purchasing Division. "Depending upon the requisition, there are several steps in the process, and it would be helpful for agency procurement officers to know, without picking up a phone or visiting the Purchasing Division, at which point their particular requisition is being processed," Tincher said. He added that this report will also be helpful to higher agency officials who have a specific interest in a particular purchase.
Positive feedback has been received thus far from agency procurement officers. Some of the comments include, "What a great tool - innovative and informative. Good work!" and "This is a great idea! Something we've wanted forever. Thanks!"
The report will offer a great deal of information; however, some infor-mation will not be shared. The memorandum previously referenced explained that a new practice has been implemented in the Purchasing Division which prohibits the release of contract award information, such as the name of the potential vendor and the amount, until after an official award is complete.
An award is considered 'complete' only when the contract has been signed by the Purchasing Division, approved as to form by the Attorney General's office, encumbered and placed in the United States mail. The reason for not disclosing this information prior to a contract award is that information may be incorrect, premature, and/or erroneous, pos-sibly causing vendors to begin work or to protest.
For additional information on the weekly electronic contract status report, please contact your agency procurement officer. If you would like to be added to this weekly e-mail report, please visit the Purchasing Division's Intranet site at http://intranet.state.wv.us/admin/purchase and complete the electronic e-mail subscription form.

More Than 300 Agency Procurement Officers
Gain Information on Policies and Procedures
The 2001 Agency Purchasing Conference held on October 15-18 at Canaan Valley State Resort and Conference Center was a great success. With more than 300 participants and presenters, the opportunities for learning and networking were numerous.
Within this issue of The Buyers Network are highlights from the conference workshops, activities and the announcement of our recognition program recipients. The Purchasing Division extends its gratitude to the agency representatives who joined us for this three-day conference and to our staff and guest presenters who work together to continue to make this training event better each year. Turn to page 4 and 5 for more information and pictures from the 2001 Agency Purchasing Conference!
Sharing Valuable Information Statewide and Nationally

By Dave Tincher
State Purchasing Director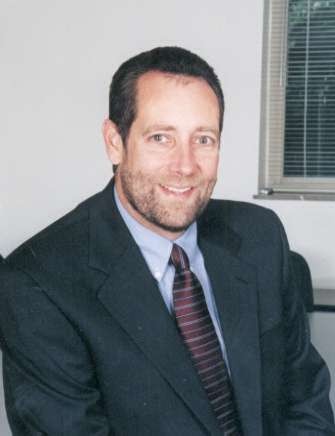 When overseeing a function, such as purchasing, for a state government entity, success cannot be attained without interactions statewide as well as nationally.

The West Virginia Purchasing Division eagerly takes advantage of all possibilities to share information and to learn from others so that positive continued improvements may be made to our programs and processes.

The West Virginia Purchasing Division is closely associated with two national purchasing organizations, the National Association of State Purchasing Officials (NASPO) and the National Institute of Governmental Purchasing (NIGP), for which Senior Buyer Charlyn Miller currently serves as president of the local West Virginia chapter.

Representatives from our office attend national conferences of these organizations to network with representatives from other states to learn more about their respective programs.

In addition, the state of South Carolina recently visited our state and met with me and other state government officials. A representative from the state of Pennsylvania contacted our office wanting to attend our recent purchasing conference. Unfortunately, Pennsylvania was offering its conference at the same time, but future plans were made to share information about how we conduct our conference.

Our External Relations Unit Manager Karen Byrd joined me and nearly 30 representatives from the West Virginia Government Finance Officers Association chapter to gain information on the Purchasing Division and our Cooperative Purchasing Program, in which political subdivisions may purchase commodities and services on our established statewide contracts.

Placing importance on sharing information with organizations and states on purchasing-related issues is not only helpful, but vital in addressing many crucial issues relative in the public purchasing world.

I encourage you to network with other state agency purchasing representatives, as many did during our recent conference. The information you gain and contacts made will most definitely make your job much easier and efficient!


Attorney General's Office Offers Pointers in Processing Contracts

During a workshop on "Legal Issues" at the Agency Purchasing Conference, Deputy Attorney General Dawn Warfield offered eight pointers relating to the requirements of her office. Below are the helpful hints she offered:
1) The Attorney General does not approve Blanket Release Orders under statewide contracts; therefore, they should not be sent to the Attorney General's (AG) Office nor does that office approve any agreements under $10,000, except for legal services or those with WV-96 problems.

2) The AG's Office has a one- to two- day turnaround for contracts, unless there is a specific problem. Agencies are encouraged not to 'walk-through' a contract unless it is truly an emergency (for example, expiring funds).

3) Do not contact the AG's Office and request a 'rush' approval of a contract. Request that the Purchasing Division put a "RUSH" flag on the contract when it is sent over, and it will be reviewed first.

4) Do not inform vendors to contact the AG's Office to check on the status of a purchase order. The status may be checked in TEAM.

5) The Attorney General nor Dawn Warfield should be contacted about a purchase order. For information, contact paralegals Phil Myles or Tara Lyle of the AG's Office, who both have signature authority.

6) Tag relevant documents in the file for the AG's Office review.

7) Practice patience. The AG's Office reviews numerous documents aside from contracts.

8) The AG's Office is working FOR the agency. With the job of approving "as to form," it is for the agency's protection to ensure that the contract complies with state law requirements. This office will not sacrifice a good deal for the sake of "form" and most conflicts can be worked out through negotiation.
US Airways Discontinue Jet Service to 10 Airports
The State Travel Management Office recently indicated that US Airways will discontinue jet service to 10 airports in the Southeast and Midwest, and will switch to a combination of smaller regional jets and turboprop aircraft, effective October 7, 2001. This change will affect some state government travelers who utilize its services.
Flights in and out of the following areas will be affected: Charleston, W.Va.; Roanoke, Va.; Akron-Canton, Ohio; Chattanooga, Tenn.; Columbia, S.C.; Knoxville, Tenn.; Grand Rapids, Mich.; Greenville-Spartanburg, S.C.; Huntsville, Ala.; and South Bend, Ind..

Change in Location Announced for State Auditor's Bid Receipt
The State Auditor's Bid Observer has changed location. Copies of all bids for the Auditor's Office must be delivered or mailed to:
State Auditor's Office
Bid Observer
Building 1, Room W-114
1900 Kanawha Boulevard East
Charleston, WV 25305-0230
It is the vendor's responsibility to deliver his or her bid to the appropriate office prior to the bid opening date and time.
Lockney and Associates, Inc. of Parkersburg, West Virginia
Lockney and Associates, Inc. of Parkersburg, West Virginia, offers marketing communications, such as advertising, public relations, promotions and direct mailings; trade show displays; and website design and management.
Its president, Gary Lockney, has offered marketing strategies and developed trade show exhibits for several state agencies. He explained that he utilizes telephone contracts with agencies and benefits greatly from the West Virginia Purchasing Bulletin.
Lockney attended this year's vendor purchasing conference and found the information beneficial. He is looking into pursuing larger dollar advertising contracts solicited through the Purchasing Division. For more information on Lockney and Associates, Inc., contact Gary Lockney at (304) 863-8888 or via e-mail at info@lockneyads.com.
New Business Development Approach
to Procurement Explained at Conference
With the numerous changes occurring in state government, one of the biggest transformations made in the Purchasing Division is the focus on making state government a more attractive market for business.
"New business development within the Purchasing Division is a proactive arm of the division to reach out to business, especially small businesses and West Virginia businesses, in order to increase business interaction with state government," said Scott Padon, New Business Development Manager.
He stressed that a major part of this effort is re-educating business decision-makers about conducting business with state government.
Padon explained that many misconceptions still exist within the business world that need to be corrected, such as "the seller must be a big business," and "payment to the seller is slow." Both of these statements have been proven false.
During the conference, Padon detailed the value of the Purchasing Card Program to small businesses and the customer approach the Division has taken, especially with first-time vendors, to assist in this process. "More participating businesses present more opportunities for you to acquire the goods and services needed by the agencies you represent," he added.
From A to Z, Information was Plentiful
at the 2001 Agency Purchasing Conference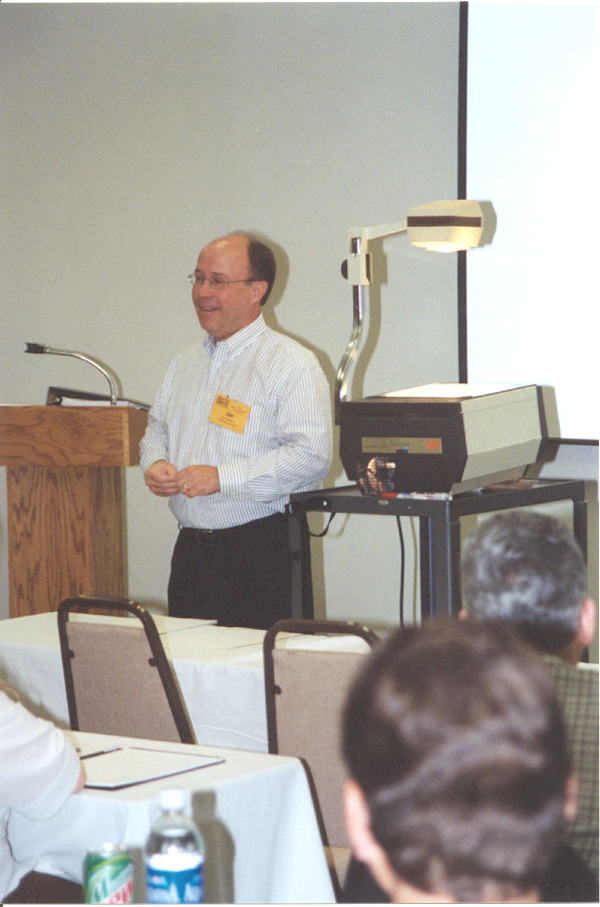 Whether you needed information on fixed assets, fleet management, Surplus Property, the Request for Proposal Process, encumbrance or a wide range of other topics, the Agency Purchasing Conference had it covered!
With 20 topics addressed, agency representatives had the opportunity to gain a variety of information concerning many purchasing-related issues.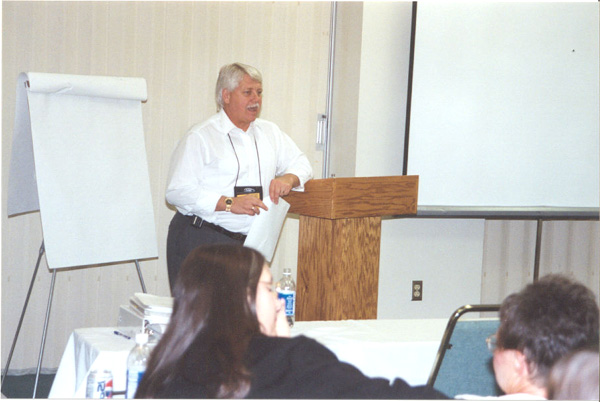 In order to address so many workshops, the Purchasing Division has relied on outside presenters from the State Auditor's Office, Attorney General's Office, IS&C, the Governor's Office of Technology, the Leasing Office, WVARF and Correctional Industries.
Without the preparation and dedication from these individuals and our own staff, this conference could not have attained the level of success it continues to reach.


Our Shining Stars in Purchasing!
Weekly Electronic Mail Message Distributed to Inform
Agency Procurement Officers on Status of Contracts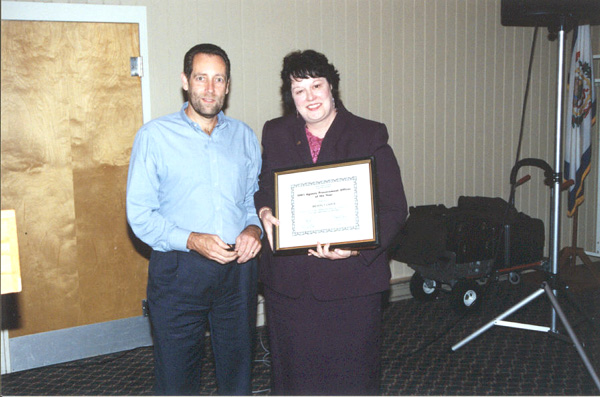 Tradition continued at the Agency Purchasing Conference with the announcement of the 2001 recipients of the Agency Procurement Officer of the Year and the Partner in Purchasing.
Beverly Carte of the Division of Natural Resources was selected as the Agency Procurement Officer of the Year. Working in public procurement for more than 25 years, Beverly has demonstrated a high ethical nature, and has excellent oral and written communication skills. She has completed national purchasing certification courses and always offers an extra effort in creating cost-saving ideas and enhancing her agency's internal procedures.
This year's Partner in Purchasing award went to Barbara Haddad of Information Services and Communications Division (IS&C), who truly is a partner in administering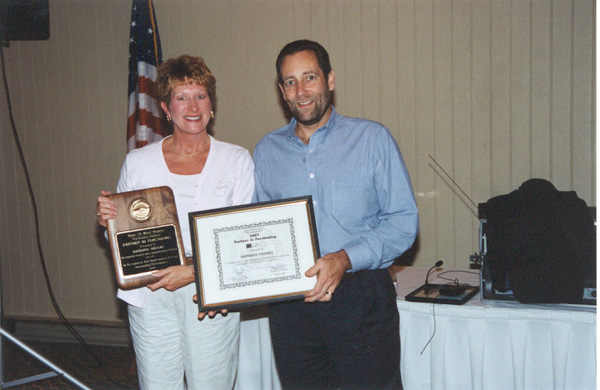 and maintaining the automated purchasing system.
Barbara works closely with Dan Miller, Purchasing's Automation Manager, in ensuring that the technical end of the TEAM system operates smoothly. Barbara is responsible for making sure the data entered into the TEAM system is secure.
The Purchasing Division extends its gratitude and appreciation to these two purchasing professionals!

2001 Agency Purchasing Conference!
CONFERENCE HIGHLIGHTS
The 2001 Agency Purchasing Conference welcomed more than 300 agency representatives from within state government on October 15-18 at Canaan Valley State Resort and Conference Center. This page includes a pictorial glance of the week's activitites!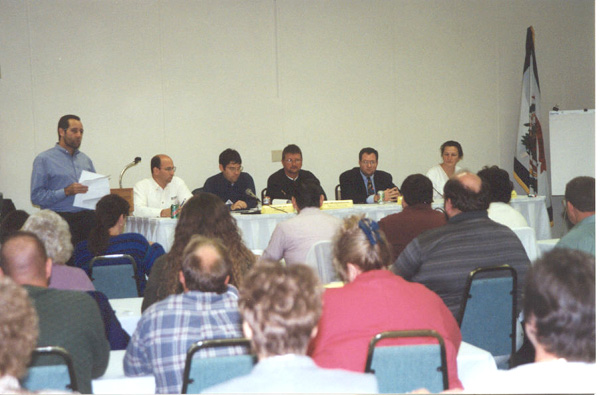 Agency representatives served as panelists for the "Making Wise Small Dollar Decisions" workshop. Questions were posed to the panelists to determine how their agency handles certain situations. Interaction between the panel and audience took place.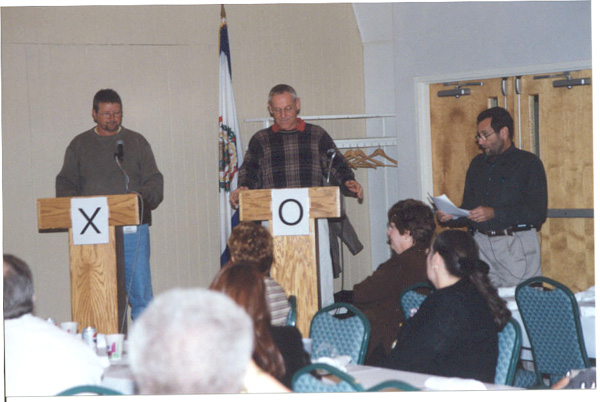 During the "Purchasing Squares" game show workshop, DNR's Eddie Henderson and PEIA's Chip Myers served as contestants. Although the game show was entertaining, participants indicated that this was a great way to learn and have fun, all at the same time!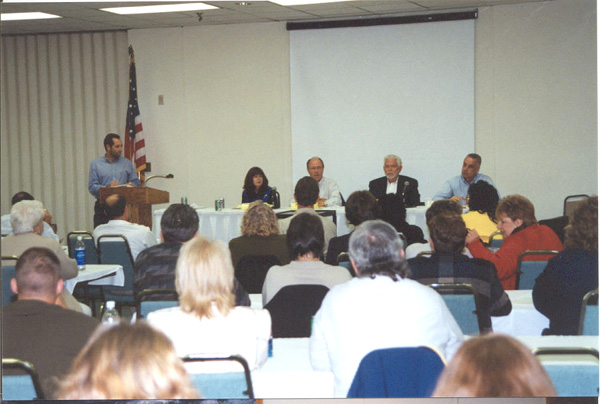 Purchasing Director Dave Tincher moderated another panel discussion addressing statewide contracts. Several of our buying staff served as panelists for this workshop. Audience participation was encouraged.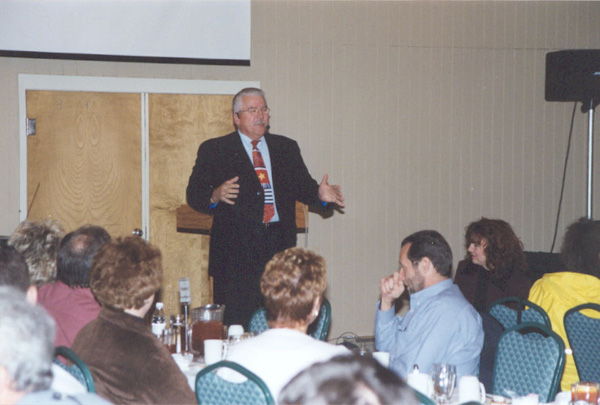 Dave Leedy from Ohio was the keynote speaker for the conference banquet. Focusing on the 'super hero' inside us all, he offered many inspirational stories and provided an entertaining evening for all of our participants after a long day of workshops.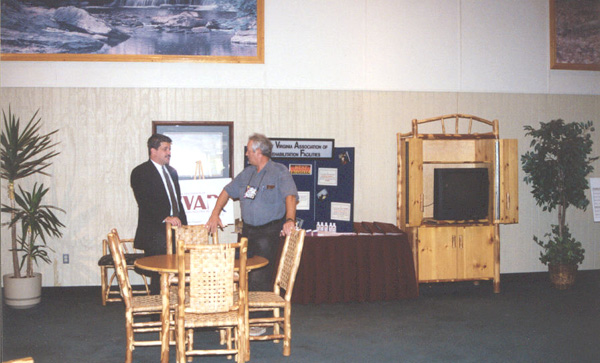 WVARF's Tim Morris set up a display during the conference. Guy Perry and Paul Gabel of Correctional Industries also exhibited a room full of furniture and other items for the participants to view while attending workshops. Both of these organizations offered a workshop session during the conference.
Purchasing Division Employees Honored
During Public Service Recognition Week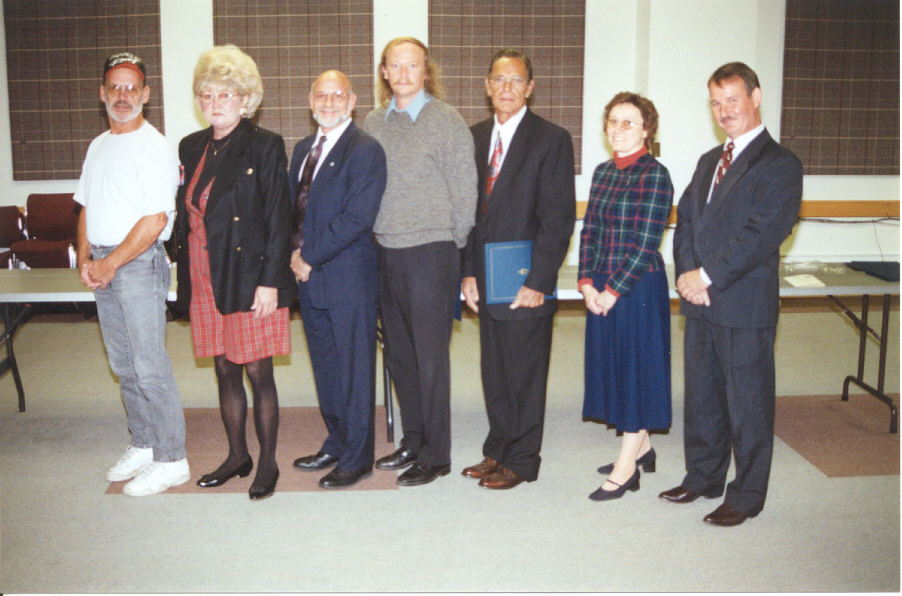 The Department of Administration conducted a special ceremony during Public Service Recognition Week to honor our tenured employees. The Purchasing Division employees who were recognized included Dick Estill and Gene Young (both of Surplus Property) for 20 years of service; and, Barry Gunnoe (Acquisition and Contract Administration Section) and Alice Thibodeaux (Surplus Property) for 25 years of service.

Several of our employees were recognized for superior attendance (using no sick leave during 2000): Ron Dukate, Willadean Fisher, Randy Hughes, and David Wolfe.

Our gratitude is extended to all of these employees for the hard work and dedication that they demonstrate on the job.

MONEYWISE...Tips for the Thrifty

Resist the Urge


Economists and business observers who are worried about the slumping economy want Americans to spend money to pep it up. Resist the urge and instead think about how you can start saving. Here are a few tips:

Say "NO" to Debt: Once you have paid off that credit card, loan or car, write out a monthly check to your savings account.

Saving Begins at Home: If you have put off refinancing a mortgage that is carrying an interest rate of more than 8 percent, call your lender today!

Power Down: Cut your water and power use by watering your lawn less often and shutting off lights and appliances you do not use.

Sell Something, Anything: Use garage sales to clear out and cash in on the clutter in your house and garage.

Remember the Things that Got Away: Instead of writing down everything you spend, keep track of things you do not buy. Tally what you saved, write yourself a check and deposit it in your savings account.


Current Statewide Contract Update

Information and dates (as of October 16, 2001) included in this Current Statewide Contract Update are subject to change. If you need additional information, please contact the appropriate state buyer.

Contracts to be Awarded

Contract: SAT
Description:

Satellite Transponder Time
File: 21
Vendor: Insight Telecommunications
Effective Date: 08/15/01

Contract:

BROOM
Description: Push Brooms
File: 22
Vendor: Winan Sanitary Supply
Effective Date: 10/15/01

Contracts to be Bid or Under Evaluation

Contract:

CABLE
Description: Coaxial Cable A
File: 21
Bid Opening: 09/14/01
Under Evaluation: To Open

Contract:

ALCOHOL
Description: Ethyl Alcohol
File: 22
Bid Opening: 09/19/01
Under Evaluation: Yes

Contract:

MV
Description: Motor Vehicles
File: 33
Bid Opening: 09/26/01
Under Evaluation: Yes

Contract:

PC
Description: Police Cruisers
File: 33
Bid Opening: 09/26/01
Under Evaluation: Yes

Contracts to be Renewed

Contract:

COPIER
Description: Copy Machines
File: 21
Vendor: American Office, Xerox, Arrons Products
Effective Date: 08/01/01

Contract:

BUCKETS
Description: Buckets
File: 22
Vendor: Grainger Industrial Supply, Industrial Soap Company, Winans Services
Effective Date: 10/15/01

Contract:

ROOMS
Description: Hotel Rooms
File: 22
Vendor: Holiday Inn - Civic Center
Effective Date: 12/01/01

Contract:

RECMGT
Description: Records Management Services
File: 22
Vendor: Archive Services, Inc.
Effective Date: 12/01/01

Contract:

HDTOOLS
Description: Hand Tools
File: 22
Vendor: Sears
Effective Date: 12/01/01

Contract:

N-TIRES
Description: Auto and Equipment
File: 22
Vendor: Goodyear
Effective Date: 10/15/01

Contracts to be Reviewed

NOVEMBER

File 21: AUD/TAP
Audio Cassette Tapes

File 21: VID-TAP


Videotapes and Accessories

File 22: HOUSE


Housekeeping Materials

File 22: PRESORT


Bulk Mail Handling

File 22: SANPAP


Sanitary Paper Supplies

File 22: CRENTAL


Car Rental Services

File 33: A/E FILTER


Oil, Air and Fuel Filters

File 33: ALUM


Aluminum Coil and Flat Sheets

File 42: PAINT


Paint and Paint Supplies

DECEMBER

File 22: SOAP
Liquid Soap and Dispenser

File 31: PHOTO


Photography Film and Supplies

File 33: R-TIRES


Retread Tires

File 33: WELD


Welding Supplies

File 42: RIB


Ribbons and Laser Toners

File 42: LIGHT


Lighting; Bulbs


Purchasing Division Staff

For questions concerning these contracts listed, please contact the appropriate buyer:

File 21
Charlyn Miller
(558-0067)

File 22
Pam Jones
(558-0468)

File 31
Evan Williams
(558-2596)

File 33
John Johnston
(558-0492)

File 41
Ron Price
(558-2316)

File 42
Jim Jackson
(558-2402)

Are you unsure of certain purchasing procedures? ... Do you need to know what printing services Consolidated Publishing Facility provides? ... Do you have a question regarding travel requests? ... Would you want to know what surplus property is available? ... If you need information concerning any function within the Purchasing Division, complete this form:



Thank You for Viewing our November 2001 Issue of The Buyers Network