The Buyers Network is Published Monthly by the Purchasing Division of the West
Virginia Department of Administration to Promote Better Value in Public Purchasing
---
Welcome to the March 2000 Issue of the The Buyers Network!
---
Articles in this Issue:
Surplus Property Unit Reaches Customers Using World Wide Web
Users Get Opportunity to Learn More About
Statewide IP Contract and to Meet Vendors
Director's Comments: Our Training Initiatives Prove to be Group Effort
The Travel Bag...Tips for the State Travel Management Office
VENDOR SPOTLIGHT...Meet our West Virginia Businesses!
Evaluation Mechanism Tested for High Dollar Purchase Orders
It's that Time of the Year Again...Preparing for Year End
Hospitality Form Now Available Online
MONEYWISE...Tips for the Thrifty
How to Negotiate with Difficult People
Tincher Represents State at NASPO Vendor Event
Purchasing Staff Telephone Extension Listing
Current Statewide Contract Update
---
www.state.wv.us/admin/purchase/surplus
Surplus Property Reaches Customers Using the World Wide Web
When is the next Surplus Property public auction? What are the requirements to purchase surplus property? Where are the warehouse facilities located?
All of the these questions and more can be answered at the West Virginia State Agency for Surplus Property's website which can be found at www.state. wv.us/admin/purchase/surplus. Surplus Property Manager Ken Frye is excited for existing and potential customers to start surfing his agency's cyberspace. "The Internet is a tool which our agency can use to reach a wide range of people," Frye said. "We are proud of our state and federal programs and are enthusiastic in our attempt to use this website to inform others of the program's benefits." Some of the highlights of this website include:
w

Information on public sales (auctions and sealed bids)

w

Past issues of Surplus Sense, the agency's quarterly newsletter

w The West Virginia Surplus Property Reference Manual

w Application for Eligibility

w Organization Information

w Location of Surplus Warehouses

w Terms and Conditions
The site also offers users the capability to ask a question electronically. Responses will be provided via electronic mail in an expedient manner.
The agency has plans for future expansion to this site and would like feedback from users as to the type of information they would like to see included. "We hope that through comments and suggestions from our users that we can continue to improve this valuable resource for information," he said.
Users Get Opportunity to Learn More About Statewide
IP Contract and to Meet Vendors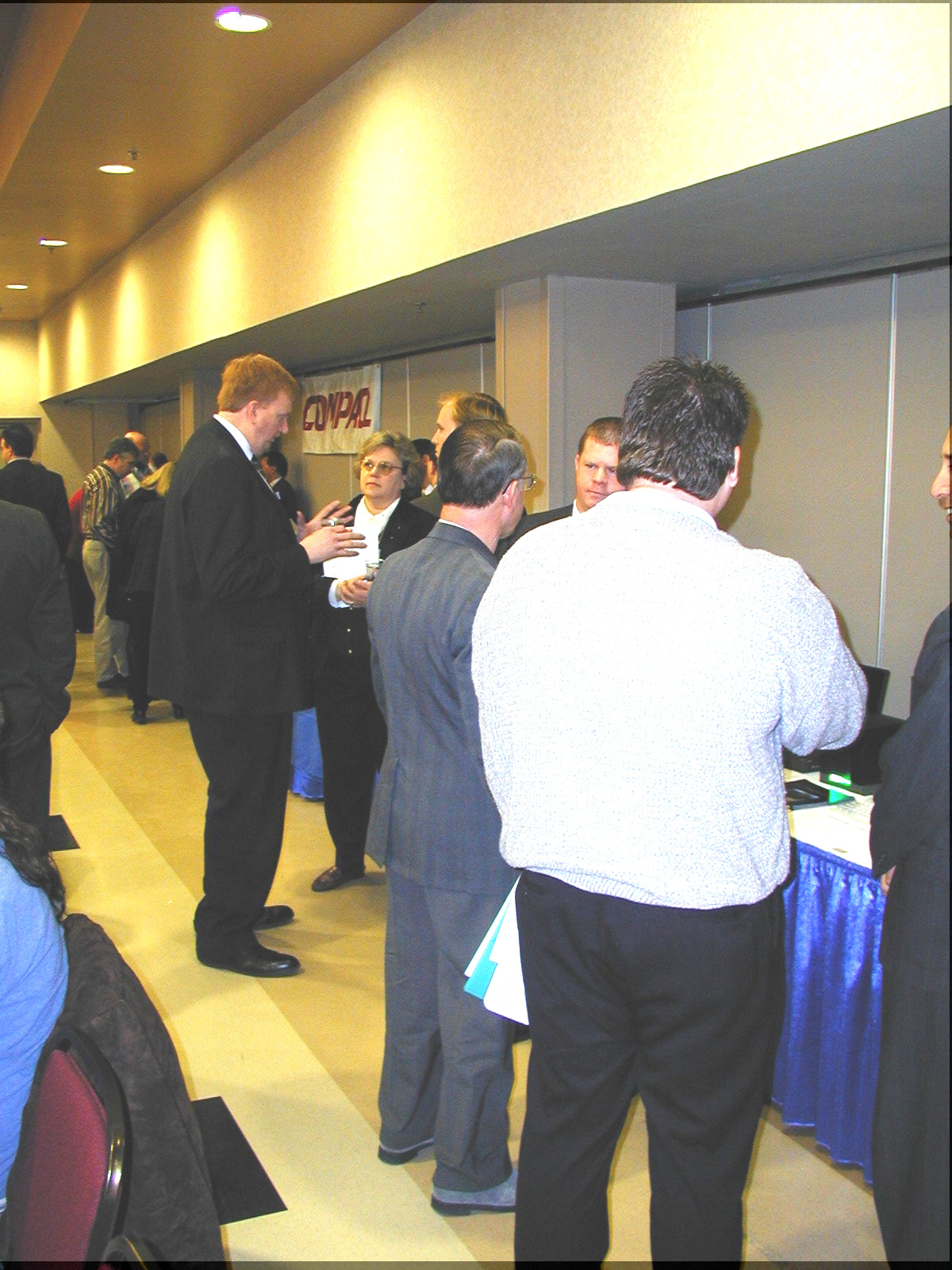 Information Services and Communications Division (IS&C) recently conducted a day-long seminar on the new statewide contract for information processing equipment (SWC-IP-99). Senior Buyer Charlyn Miller of the Purchasing Division participated in this event.

SWC-IP-99 has experienced several changes since it was last bid. Previously, there were 38 businesses contracted. The new contract has seven vendors, including Computerland of Huntington, Computer Store of WV, Cornerstone Technology Group, Hourly Computer Services, Pomeroy Computer Resources, Natcor, and Xtra Computers.

According to Helen Wilson, Manager of IS&C's Automation Resource Center, the general purchasing guidelines for this contract are as follows:

$1,000 or less


Agencies are not required to use the contract

$1,001-$10,000


Agencies should fax or e-mail (preferred) the vendors in the level chosen

Over $10,000


Agencies should fax or e-mail (preferred) Kristy James of IS&C the specifications for her to obtain bids.

Over $250,000


The requisition may be bid through the Purchasing Division, depending upon its complexity.

Wilson explains that this new contract also allows agencies to have the ability to standardize equipment, including desktops, servers, notebooks, printers and communication cards. The purpose of standardization is to minimize support costs by choosing a single manufacturer for all personal computers. Some advantages include agencies only have to keep up-to-date with one manufacturer's product line and the technical staff only needs to be trained on that particular equipment and tools.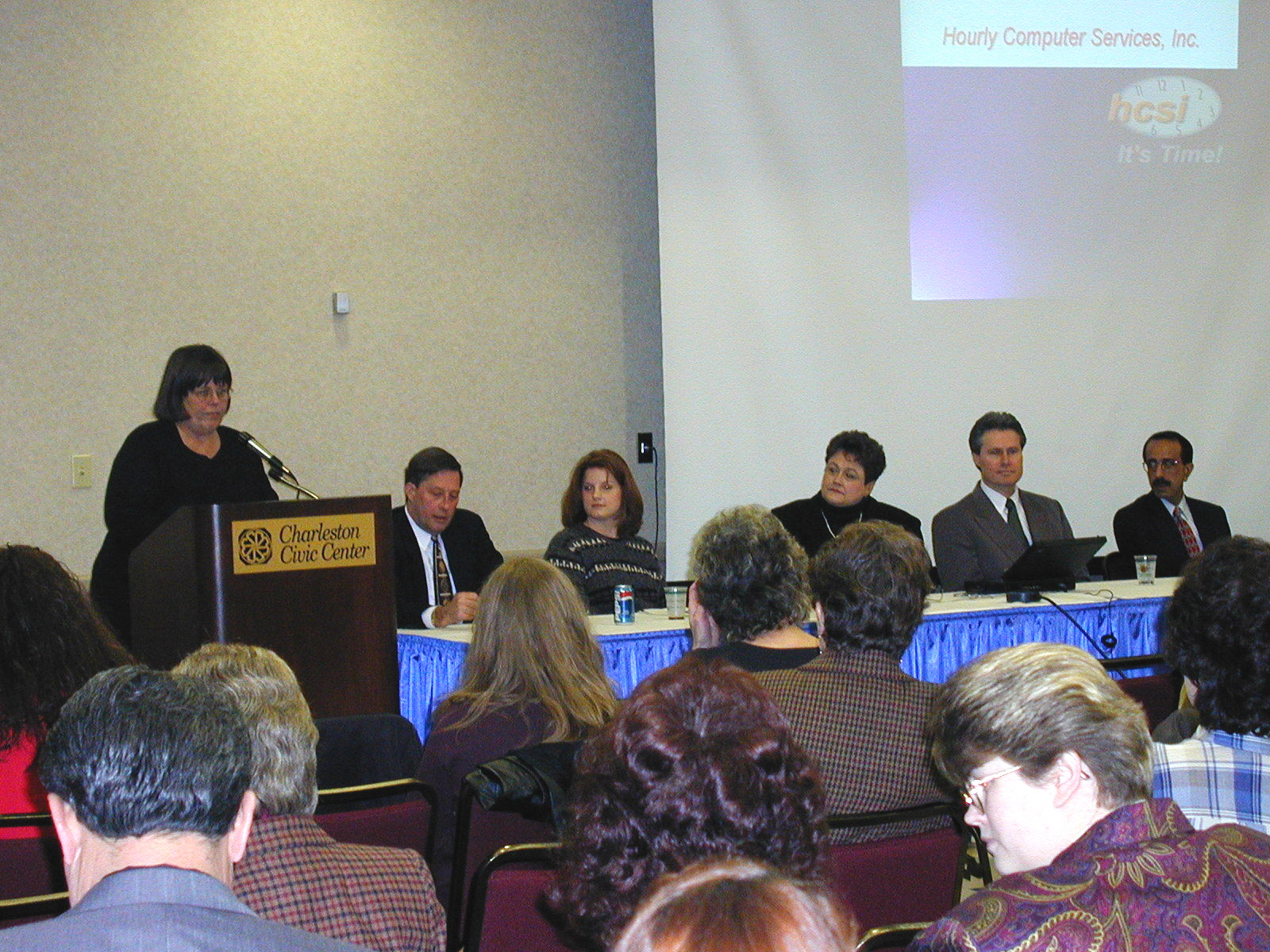 The vendors are categorized into three levels, depending upon the manufacturer of equipment the business is authorized to sell. For more information on this contract, Wilson encourages users to visit the SWC-IP-99 webpage on the state's Intranet at http://intranet.state.wv.us/admin /isc/swcip to learn more about specific details of this contract.
One important point which she raises regarding receipt of equipment is that equipment must be inspected and tested no later than 14 days after receipt. Agencies should check to ensure that they have all the equipment, software licenses, documentation and proof of extended warranties (if required in the bid). If problem are encountered during installation, the vendor is responsible for making the equipment work in the state's environment.
"Special seminars targeting such issues as the IP contract are important it informing users about this contract and to meet the resellers and manufacturers," according to Wilson. "Meetings will be scheduled with the IP vendors on a quarterly basis in order to keep communication open with all parties."
Who can you call with questions and concerns about the statewide IP-99 contract?
Kristy James, Contract Administrator
kjames@gwmail.state.wv.us
(304)558-1067
Helen Wilson, Automation Resource Center Manager
hwilson@gwmail.state.wv.us
(304) 558-1066
Charlyn Miller, Senior Buyer
cmiller@gwmail.state.wv.us
(304) 558-2596
Agencies are also encouraged to contact the contracted vendors directly for guidance. For telephone numbers, e-mail addresses and contact person, check the intranet site at http://intranet.state.wv.us/admin /isc/swcip.
By Dave Tincher
State Purchasing Director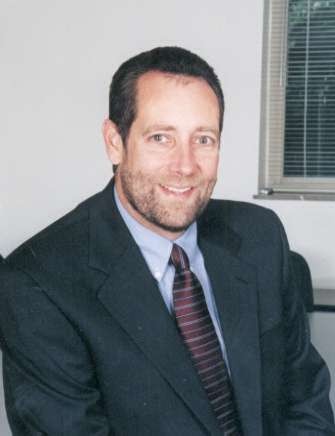 With a fear of possibly sounding like a broken record, I just can't say thank you enough to those external resources who continue to play a vital role in our training conferences.
Each year at our agency purchasing conference, we recognize agency procurement officers for assisting us in presenting workshop lectures and panel discussions.
In planning the vendor purchasing conferences, we find that this role of support is equally important. At the 2nd Annual Vendor Purchasing Conference, ten different agencies will be represented, participating in panel discussions, offering presentations and conducting individual consultation sessions. Their presence is greatly valued by the West Virginia businesses in attendance.
Also at this conference, various state business representatives have been asked to participate in a more active role. A panel of West Virginia vendors will share their experiences in selling to state government.
Below is our special tribute to agency, vendor and staff representatives who have agreed to participate in the 2nd Annual Vendor Purchasing Conference ...together, they create the perfect ingredients for success.
Special Appreciation to...
Agency and Business Representatives

Below are representatives from the Purchasing Division, state agencies and the vendor community who have agreed to participate as presenters or panelists in the 2nd Annual Vendor Purchasing Conference!

Purchasing Division:

Dave Tincher, Curt Curtiss, Jo Ann Dunlap, Ken Frye, Diane Holley, Jim Jackson, John Johnston, Pam Jones, Charlyn Miller, Dan Miller, Ron Price and Debbie Watkins.

State Agencies:

Syble Adkins (Tax), Clarence Bess (BEP), Lisa Comer (Auditor's Office), Lendin Conway (DEP), Sue Farley (DOH), Dennis Meadows (DHHR), Harry Price (DNR), Nancy Swecker (Corrections), Cpt. Steve Tucker (DPS),
Helen Wilson (IS&C).

West Virginia Businesses:

Gary Young (G&G Builders), Jim Tilson (Captiol Business Interiors), Jerry Lowe (American Office Systems), Richard Stephens (Stephens Auto), and John DeBlecourt (Cornerstone Technology Group).


The Travel Bag...Tips from the State Travel Management Office


Smart Tips for Personal Travel

Here's some advice from the Consumer Information Center (www. pueblo.gsa.gov) about how to avoid travel scams:

Only deal with travel agencies or tour companies in good standing. Ask if they belong to a professional association. Call the Better Business Bureau to find out if any complaints have been filed against them.

Shop around. Never rush into booking a vacation without checking offers from at least two agencies.

Beware of anything too good to be true, such as ridiculously cheap prices. Also be leery of free trips that require attendance to seminars; it is most likely a high-pressure sales gimmick. And, if anything is 'two for one' or a 'free stay,' make sure to find out what the catch is. After all, nothing is ever entirely free.

Ask, ask and ask again. Find out as many details as you can about each travel offer. Fully understand all of the terms before agreeing to buy. Ask for specific names of airlines, hotels, restaurants, tour providers, or any other vendor mentioned as part of the package.

Get promises in writing. Consider trip insurance for additional protection.

If you are asked to pay in advance, ask if you can only pay a deposit. Using a credit card is the safest way because of your right to dispute charges if the serves are misrepresented.

Q&A
Question of the Month


When receiving an item ordered, what should you look for?

The state agency should check the shipment immediately to verify that the product agrees with the specifications. Some of the items inspected should include make, model number, brand name, quantity, and the quality of the merchandise. If something is missing or damaged, the vendor should immediately be contacted, detailing the problem.




Evaluation Mechanism Tested for High Dollar Purchase Orders

To address a recommendation offer-ed during a West Virginia Legislative Audit, a mechanism has been formulated to gather data on purchase order transactions and to facilitate discussion with vendors who offer products and services to the state.

This process will be used to evaluate statewide contracts and other purchases totaling over $250,000. A satisfaction rating will be attained and used when inviting vendors and respective agencies to the table to discuss concerns relating to either a specific purchase order or the performance of a vendor. Although this process is not intended to replace the Vendor Performance form, it will increase data on all levels of satisfaction.

A pilot program has been implemented, with the Department of Administration as the initial agency. Other agencies will gradually be included after testing is complete.

How does this evaluation process work? A Purchase Order Response Form will be sent to respective agency personnel on all purchase orders four months after the purchase order print date. This form will be requested to be completed within 14 days or one year, depending upon the type of contract or purchase order evaluated.

The data from this report will be collected and recorded in a database so future queries may be made regarding the level of satisfaction of the vendor's product or service and performance.

The action taken will depend upon the rate of satisfaction. A good evaluation (score: >4.0) will result in a letter to be sent to the vendor annually expressing the Purchasing Division and agency's satisfaction. This evaluation may reflect positively on the vendor's performance history and future awards of contracts and purchase orders. A poor rating (score: <2.0) will be noted in an exception report generated quarterly, listing all vendors with a poor evaluation. The purpose of this action is to identify problem situations and may reflect negatively on the vendor's performance history and future awards.

Eight months after the purchase order print date, the Purchasing Division will schedule a meeting with the vendor and respective agency personnel for all purchase orders for statewide contracts and service contracts, exceeding $250,000. The meeting will discuss product quality, cost, responsiveness, market conditions, delivery, payment, future actions, and strategy for improvement. This information may be used to determine the appropriate contract administration in the future.

The expected results of this process include acquiring more data than the current process for managing contracts; offering a tool to improve quality and performance of products and services purchased by the state; and opening lines of communication among the Purchasing Division, state agencies and vendor community to make continuous improvements.


VENDOR SPOTLIGHT
Meet Our West Virginia Businesses!

Each month, The Buyers Network will be familiarizing our readers with state businesses who attended our Vendor Purchasing Conference last year. We appreciated their participation in this training event.

Introducing Guttman Oil Company of Elkins, West Virginia

Guttman Oil Company offers motor fuels, lubricants and petroleum equipment to private and public customers.

Experiencing successful with its business with state government, General Manager Darroll Talbott of Guttman Oil Company has found blanket purchase orders and the use of the State Purchasing Card very beneficial to their business. Presently, his company supplies products for the FUEL and RE-OIL statewide contracts.

By attending the Vendor Purchasing Conference last year, Talbott indicated that he found numerous benefits. "It was important to make those personal contacts and acquaintances with the specific buyers and other key personnel within the state of West Virginia," he said.

Guttman Oil Company's biggest customers are the Division of Highways, Division of Natural Resources, State Police, and the Division of Corrections. For more information on the products offered by Guttman Oil Company, call (800) 296-5823 or e-mail Darroll Talbott at gocelkins@neumedia.net.




It's That Time of the Year Again...
Preparing for Year End

Doesn't it seem like we just closed out Fiscal Year 1999? Here we are again preparing for another year-end closing.

According to Jo Ann Dunlap, Manager of the Administration Unit, year ending for Fiscal Year 2000 is now being planned. "The Purchasing Division has established May 1, 2000 as the cutoff date for all incoming expiring requisitions that must go through the bidding process and which must be encumbered prior to June 30, 2000," she said. "Agencies should clearly mark all expiring requisitions when sending to the Purchasing Division for processing."

Dunlap explains that by marking expiring requisitions, it will be a red flag to the Purchasing buying staff in order to expedite the requisition and avoid unnecessary delays.

The Purchasing Division stresses the importance of agencies preparing for this year-end deadline in order to process necessary purchase orders expeditiously.

n

Restructuring of Laidley Field Parking: The visitor's section of Laidley Field has been restructured, offering 93 spaces. A Pay-by-Space machine is installed.

n

Next Surplus Auction: The next public auction for the West Virgi-nia State Agency for Surplus Property is Saturday, March 11. For details, please call 766-2626.

n

Digital Voice Recording System: Bids for this contract opened on January 12 and are currently being evaluated. One of the benefits of this contract is that it will provide 911 centers and law enforcement offices statewide with the ability to document the time, date and content of each call.




Hospitality Form Now Available Online

Due to inquiries from state agencies, the Request for Hospitality Services and Temporary Space is now available online at the Purchasing Division's website at http://www.state.wv.us/admin/purchase/TMforms.htm.




MONEYWISE...Tips for the Thrifty

Destroy Credit Card Offers

If the envelope says "You're approved," it usually contains an unsolicited credit card offer. It must be treated differently from other advertising pieces for one big reason. A thief could fill out the application using your name and another address. Thousands of dollars could be charged to the account before you know it. Credit card offers, credit card receipts, and old credit card bills should be torn up, shredded, or burned to guard your identity.


How to Negotiate with Difficult People
An Important Lesson for Procurement Officers

Strong skills in negotiating are a must in many things we do in life, whether it is working with co-workers, buying a car or soliciting services or products for your department. But what do we do when the other person may be a bit difficult or hard for us to relate to?

Susan Onaitis, author of Negotiate Like the Big Guys, says keep these tips in mind:

1

First acknowledge and fully understand your own perspective — its strengths and limitations.

2

What is the other person's style? What is their motivation for being that way?

3

After you have identified the other person's goal, think about what strategies or tactics he or she may apply to get you to commit to his or her offer or idea.

4

What questions do you need to have the person answer before you can understand his or her position and perspective?

5

What is a solution that incorporates both party's goals and needs?


Tincher Represents State at NASPO Vendor Event

Purchasing Director Dave Tincher will represent West Virginia this month at the National Association of State Purchasing Official's Marketing to State Governments Meeting 2000.

This meeting, developed and presented by government purchasing officials from 29 different states, is designed to help companies, large and small, learn how to eliminate unnecessary obstacles in doing business with the states.

The program offers insight as to the purchasing process and an insider's guide on how companies can more effectively market their products and services to the states.

This event also provides private-sector representatives an opportunity to network with state procurement officials to discuss issues facing state procurement and alert them to products that are available for states to procure.

Tincher will be serving on two panel discussions pertaining on Marketing Tips for Working with Government and Protest Resolution.

The West Virginia Purchasing Division will be offering its own Vendor Purchasing Conference on May 15-17 at Canaan Valley State Park, with a similar goal of informing state businesses on how to market their products and services to state agencies. Approximately 10 different agency representatives will participate either on panel discussions or for one-on-one consul-tation sessions.

This is the second consecutive year which the Purchasing Division has offered this type of training targeting businesses in the state of West Virginia.

If the telephone number of the Purchasing employee is busy or if you call our toll-free number (1-800-243-7298), an Automated Attendent will ask for the extension of the person you are trying to reach. This list may be helpful to you:
NAME
558-
Ext.
Adkins, Joan
2312

0086

2614

7838

2613

7839

0059

2594

6025

0661

0468

2309

2402

0067

2566

2311

4785

2544

2596

2314

2315

0492

2306

2336

2538

3568

2316

250

210

209

220

208

249

202

228

248

206

217

223

221

214

225

201

224

226

215

203

204

219

200

211

213

212

218
Information and dates (as of January 16, 2000) included in this Current Statewide Contract Update are subject to change. If you need additional information, please contact the appropriate state buyer.

Contracts Awarded

Contract:

IP
Description: Information Processing
File: 21
Vendors: Computerland of Huntington, Computer Store of WV, Cornerstone Technology Group, Hourly Computer Services, Pomeroy Computer Services, Natcor, and Xtra Computers
Effective Date: 01/15/00

Contract:

SOAP
Description: Liquid Soap and Dispenser
File: 22
Vendor: WVARF
Effective Date: 03/18/00

Contract: CRENTAL
Description: Car Rental Services
File: 22
Vendor: Avis
Effective Date: 02/16/00

Contracts to be Bid or Under Evaluation

Contract:

WELD
Description: Welding Supplies
File: 33
Bid Opening: 03/08/00
Under Evaluation: To Open

Contract:

SYSFURN
Description: Modular Systems Furniture
File: 42
Bid Opening: 01/11/00
Under Evaluation: Yes

Contract:

PAINT
Description: Paint and Supplies
File: 42
Bid Opening: 02/02/00
Under Evaluation: Yes

Contract:

DIGCOP
Description: Digital Copiers
File: 21
Bid Opening: 12/08/99
Under Evaluation: Yes

Contract:

HOUSE
Description: Housekeeping Materials
File: 22
Bid Opening: 01/05/00
Under Evaluation: Yes

Contract:

N-TIRES
Description: Tires: Auto and Equipment
File: 33
Bid Opening: 02/02/00
Under Evaluation: Yes

Contract:

A/E FILTER
Description: Filters: Oil, Air and Fuel
File: 33
Bid Opening: 01/26/00
Under Evaluation: Yes

Contract:

TAGS
Description: Identification Tags
File: 42
Bid Opening: 02/15/00
Under Evaluation: Yes

Contract:

RCYCLN
Description: Remanufacture of Laser Toner Cartridges
File: 42
Bid Opening: 02/15/00
Under Evaluation: Yes

Contract

: RIB
Description: Ribbons and Laser Toners
File: 42
Bid Opening: 02/15/00
Under Evaluation: Yes

Contract:

FOOD
Description: Canned Food
File: 42
Bid Opening: 04/25/00
Under Evaluation: Yes

Contract:

CEREAL
Description: Breakfast Foods
File: 42
Bid Opening: 04/25/00
Under Evaluation: Yes

Contracts to be Renewed

Contract:

PRESORT
Description: Bulk Mail Handling
File: 22
Vendor: Rocal, Inc.
Effective Date: 01/01/00

Contract:

C-PIPE
Description: Corrugated Pipe
File: 33
Vendor:Contech Construction
Effective Date: 01/01/00

Contracts to be Reviewed

MARCH

TM


Travel Management Services

AUDIT


Single Audit Services

FUEL


Fuels: Motor and Heating

BARSOAP


Bar Soap

CABLE


Coaxial Cable (A)

ENVLOP


Envelopes

FINEPAP


Computer Paper

ABSORB


Liquid Spills

APRIL

COPIER


Copy Machines

AIRCON


Airconditioning

OFFICE


Office Supplies


Purchasing Division Staff

For questions concerning these contracts listed, please contact the appropriate buyer:

File 21
Charlyn Miller
(558-0067)

File 22
Pam Jones
(558-0468)

File 31
Evan Williams
(558-2596)

File 33
John Johnston
(558-0492)

File 41
Ron Price
(558-2316)

File 42
Jim Jackson
(558-2402)

Are you unsure of certain purchasing procedures? ... Do you need to know what printing services Consolidated Publishing Facility provides? ... Do you have a question regarding travel requests? ... Would you want to know what surplus property is available? ... If you need information concerning any function within the Purchasing Division, complete the form below:



Thank You for Viewing our March Issue of The Buyers Network