The Buyers Network is Published Monthly by the Purchasing Division of the West
Virginia Department of Administration to Promote Better Value in Public Purchasing
---
Welcome to the September 1999 Issue of the The Buyers Network!
---
Articles in this Issue:
Renewal of Statewide Contract with Boise Cascade
Continues the Same Discounts PLUS Fine Paper
Preparations Finalized for Agency Purchasing Conference
Director's Comments: SCAMS! Be on the Alert for Questionable Marketing Practices
How to Get the MAX from Conferences
Lease Rates for 1995 Model Cars Lowered
Surplus Property Public Auction Conducterd in Romney
Centralized Parking Payment System Set to Replace Meters for Added Security
State Capitol Parking Garage Set for Completion in October
Legislation Prohits Purchase Orders Being Issued to Debtors
Current Statewide Contract Update
---
Renewal of Statewide Contract for Office Supplies Continues the Same Discounts PLUS Fine Paper
Last year, when the Purchasing Division awarded a new statewide contract for office supplies to Boise Cascade, it was an adjustment for most state agencies.
They had previously acquired necessary supplies through the Central Stockroom; however, due to cost, timeliness, selection and other factors, the need to create a statewide contract was apparent.
Recently, the contract for office supplies was renewed in accordance with all terms and conditions of the original contract. "User agencies have told us that most of the routine start up problems which they experienced earlier have passed and everything is going very well," according to Curt Curtiss, Director of the Acquisitions and Contract Administration Section. "The successful implementation of any statewide contract of this magnitude is contingent upon the complete cooperation between the vendor and the user agencies. We appreciate the user agencies' patience and commend Boise Cascade's commitment to customer satisfaction."
Agencies will find that the statewide contract for office supplies (OFFICE-98) was expanded with this renewal to include fine grade paper.
"After comparing the cost of paper to the end user through the private sector and the Central Stockroom, we discovered that there were no appreciable savings at the agency level because of the administrative costs for handling and delivery."
Market fluctuations and demands were also a factor in this decision. "Paper is a very volatile commodity market because of the consistent strong demand and limited number of manufacturers," Curtiss added. "Therefore, we certainly do expect price adjustments in both directions during the course of this contract period similar to the market fluctuations experienced with the previous statewide fine grade paper contract."
A workshop will be offered at the Agency Purchasing Conference on the statewide contract for office supplies. Representatives from the Purchasing Division and Boise Cascade will be present to explain the various benefits of the contract and to answer any questions which the participants may have on ordering procedures, availability and future enhancements.

Mark Your Calendar for September 27-30
Plans Become Finalized for the 1999
Agency Purchasing Conference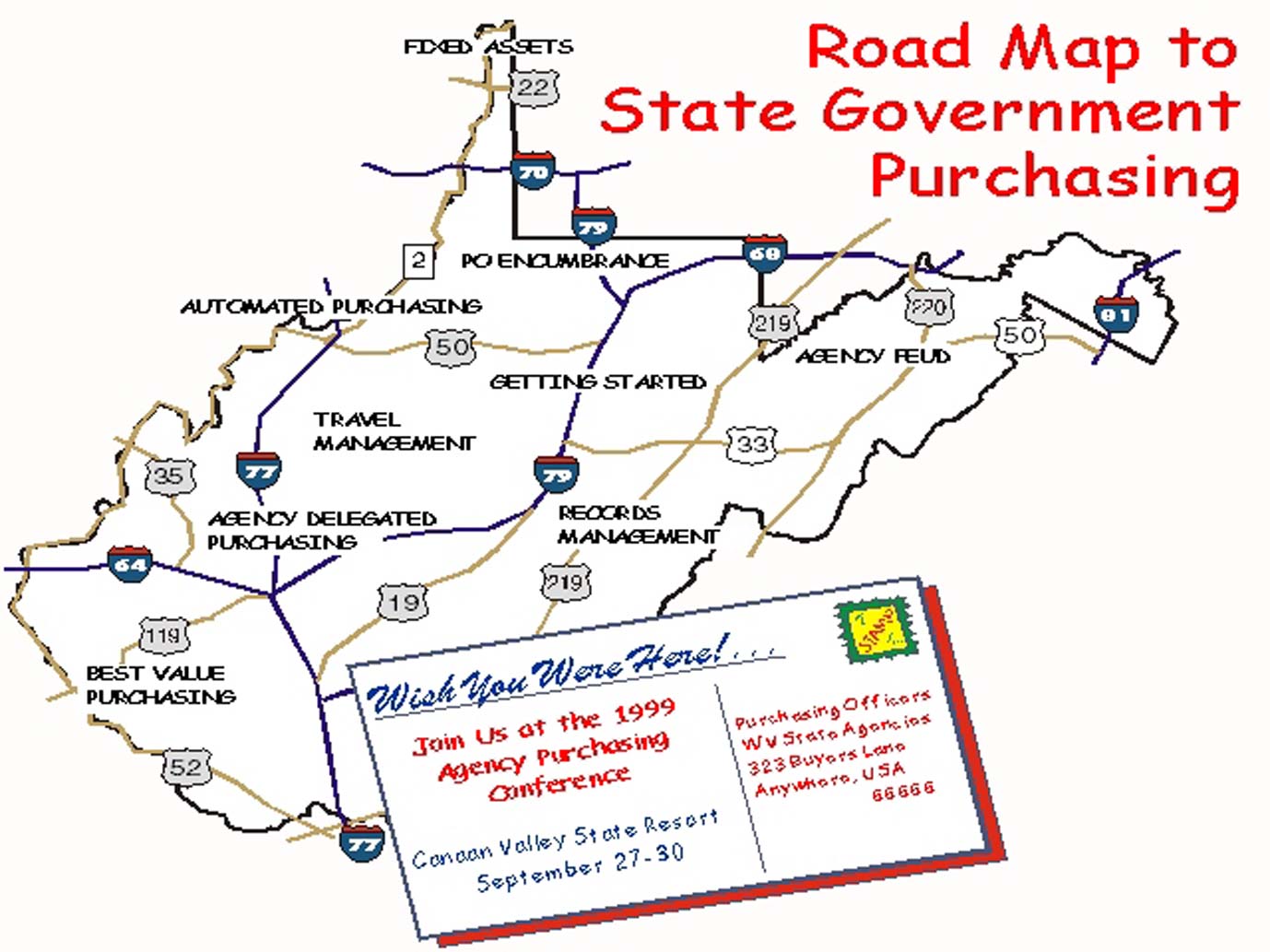 Since registration began on August 4 for the 1999 Agency Purchasing Conference, agency representatives have quickly responded by signing up to attend. The Purchasing Division is pleased with the overwhelming feedback and guarantee four days packed-full of information to share with the participants.

The conference will be held at Canaan Valley State Resort & Conference Center on September 27-30. The deadline to register is September 10.

Small workshop sessions will address 17 different topics, ranging from best value purchasing to the information processing (IP) statewide contract.

For more information, please contact Diane Holley (304) 558-0661, Debbie Watkins (304) 558-3568 or Kelli Doyle (304) 558-7839.

SCAMS! ... Be on the Alert for
Questionable Marketing Practices

By Dave Tincher
State Purchasing Director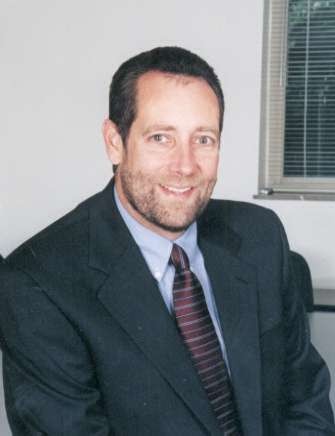 As public procurement agents, we are often the target of questionable marketing techniques used by certain businesses. Some of these techniques may be considered unethical, while others can be described simply as illegal.
The Purchasing Division occasionally receives calls from agency representa-tives who share their experiences and concerns. As you are aware, we try to alert our readers by including this information in The Buyers Network.
A telephone call that an agency employee recently received related to a warehouse supplier requesting model and serial numbers of their copy machines. The vendor indicated that they needed this information to determine pricing for supplies.
If you would receive a similar call, do not give out specific information such as serial numbers. Suppliers would only need to know the make and model number to offer pricing.
Telephone scams are not uncommon in any industry; therefore, the responsibility lies on each of us to be cautious when providing information to solicitors.
I suggest that you respond to these calls by requesting that business representatives mail you information about their products and services. This action will most likely deter questionable vendors from pursuing the scam.
Attending conferences is an excellent way for employee development and morale, but how can you get the most from the conferences you attend?
þ

Study the agenda in advance. Don't wait for the first-morning keynote to start leafing through the program. Get a copy of the agenda ahead of time, even if it is only tentative, and study to see what programs you want to attend.

þ

Get an attendee list early. Find out who is going to be there and what organizations they represent.

þ

Make appointments to meet others in advance. Don't wait until you are at the conference to schedule a time to speak to the presenters or other participants.

þ

Arrive early. Plan to check into the hotel as early as possible. You can start networking with other participants before the activities begin.

þ Share what you've learned when you return. There is a great amount of information offered at conferences and other training events. Relay this information with others in your organization.
Perhaps these tips will prove helpful to you when planning to attend the 1999 Agency Purchasing Conference sponsored by the Purchasing Division on September 27-30 at Canaan Valley State Resort & Conference Center.
Avoid "What If" Questions During Negotiations
When negotiating with a customer, try to avoid 'what if' questions that can push you into a corner. For exam-ple,"What if I double my order?" is a valid question from a customer, but your answer may provide important pricing information that you would prefer to keep private. Use such questions as a basis for gathering infor-mation and facilitating discussion, but don't let your answers manipulate you into making any unwise concessions.
Lease Rates for 1995 Model Cars Lowered
As a result of a financial note being satisfied, the monthly lease rates for 1995 vehicles under the State Fleet Management Program were reduced to $100. The previous rates varied from $400 to $500, depending upon the make and model. According to State Fleet Manager Janice Boggs, lease rates are evaluated annually with the Accounting Section of the Department of Administration and the lowest feasible price is determined.
Approximately 400 types of vehicles were affected by this reduction. These vehicles were acquired by various agencies which statutorily must lease their vehicles through the state's central fleet.
Boggs explained that agencies are encouraged to retire vehicles before they are worn out. The State Fleet Management Office recommends that agencies review the condition and usage of their vehicles at 100,000 miles or five years.

Surplus Property Public Auction Held in Romney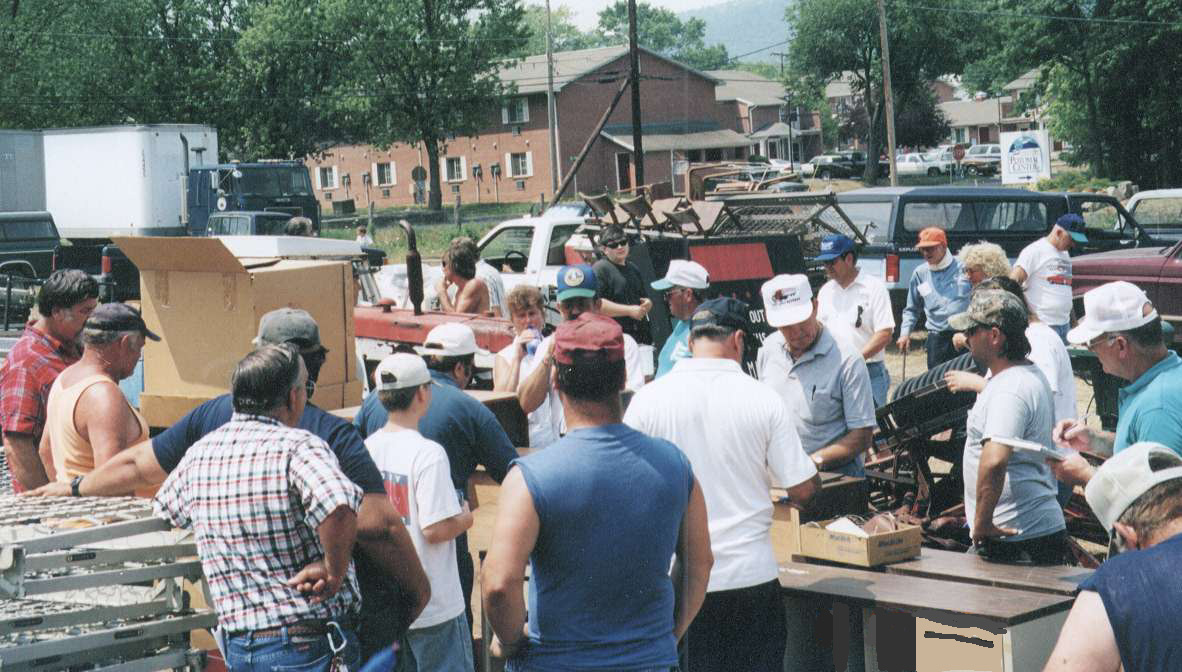 Five dollars...do I hear six dollars ...six dollars...do I hear seven dollars! There's nothing like the sound of an auctioneer at a state public auction. No matter how fast the auctioneer talks, everyone knows the bottom line: Great bargains!
Kanawha County residents are fortunate to have the opportunity to frequently attend public auctions conducted by the West Virginia State Agency for Surplus Property (WVSASP) almost monthly, since most sales are held at the agency's Dunbar location.
However, on July 17, the agency took their auction on the road to the West Virginia School for the Deaf and Blind at Romney in Hampshire County. Aside from the school, several state agencies contributed property to the sale. "This was truly a group effort," said Surplus Property Manager Ken Frye. "The Hampshire County Sheltered Workshop in Romney provided the labor to unload trucks and set up for the auction."
Frye indicated that the benefits in traveling to Romney to conduct an auction were two-fold. "By taking our auction to Hampshire County, we were able to assist state agencies in that region to dispose of unneeded property. But, an equally important benefit was to enable the residents of that area to experience similar savings as West Virginians from the Charleston area through the auction process," he said.
Last year, WVSASP conducted an auction at Hopemont State Hospital in Preston County. Property was gathered from agency locations and area agencies also assisted by providing the labor to set up for the sale.
Centralized Parking Payment System Set
to Replace Meters for Added Security
Parking your car may seem like a thoughtless task that most of us do every day. However, if you are responsible for coordinating parking in your organization, your perspective most likely is different: Parking is a BIG job!
The responsibility of parking at the State Capitol Complex falls under the jurisdiction of the Purchasing Division of the Department of Administration. The lack of adequate parking long has been a complaint of visitors and state employees alike at the State Capitol. But things are beginning to change.
The problem will be alleviated with the soon-to-open Capitol Parking Garage which is expected to be completed in October. It is located at the northwest corner of the Division of Motor Vehicles' parking lot adjacent to Piedmont Road near the Greenbrier street overpass.
Offering 788 spaces, the garage will provide for visitor and employee parking. The Carlton Company of Charleston was awarded the $5.6 million contract to build the facility.
In addition, changes are being made to the metered parking areas. Pay-by-space machines will soon be installed which will eventually replace nearly 200 parking meters at the Capitol Complex.
According to Cabinet Secretary Joseph Markus of the Department of Administration, safety and economy were the driving forces to convert to this new system. This "state of the art" plan will provide locked vault-type collection points.
The first machine will be installed at the public parking area at Laidley Field, according to State Parking Manager Janice Boggs. Here's how it works: Approximately 80 spaces at this site will be numbered with a machine centrally located within the lot. When a visitor parks his car, he will go to the machine and indicate the numbered space, how long he plans to be parked in that space, enter the appropriate amount of money for that parking term, and take his receipt.
The guards will continue to monitor the spaces in that area to determine if any vehicles have expired their time. Parking tickets will be issued for all expired vehicles.
This system is expected to be used in public spaces in the new parking garage as well as in other areas throughout the complex.
"We have chosen to implement this high-tech system for security in our collection process," said Capitol Parking Manager Janice Boggs. "We want to avoid any problems which may potentially occur in the collection of parking funds." Last year, two parking attendants pleaded guilty to stealing money from Capitol complex meters.
State Capitol Parking Garage Set
for Completion in October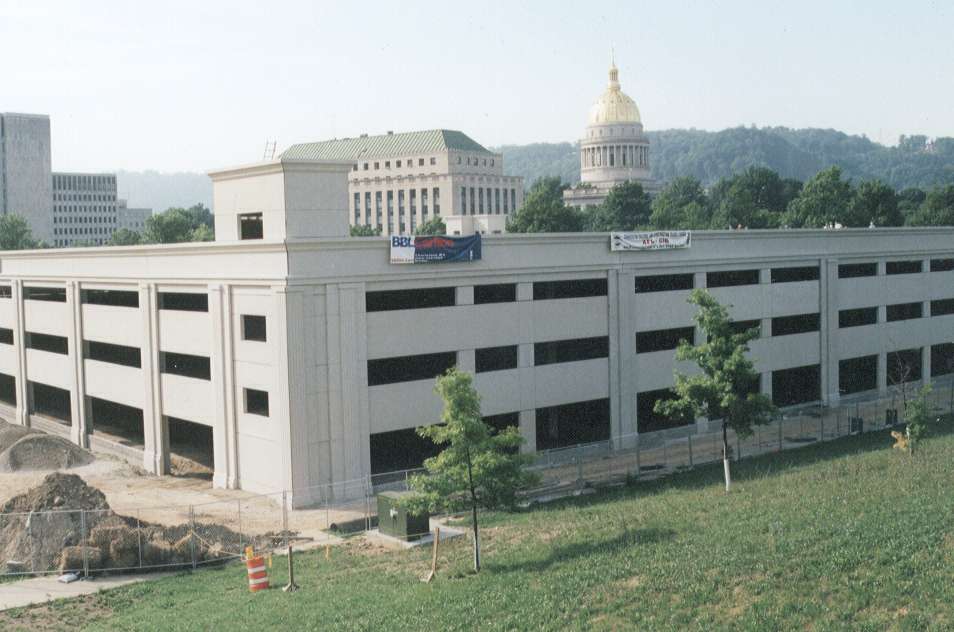 Work is progressing on the State Capitol Parking Garage. According to the Capitol Parking Office, 788 spaces will be available with approximately 200 of those spaces dedicated for 'pay-by-space' parking on the lower levels for visitors. The construction is scheduled to be completed by October.

MEET THE PURCHASING DIVISION FAMILY:
Curt, Jimmy, Dan, Diane and Kelli...Ready for Action
Let's Play the Agency Feud!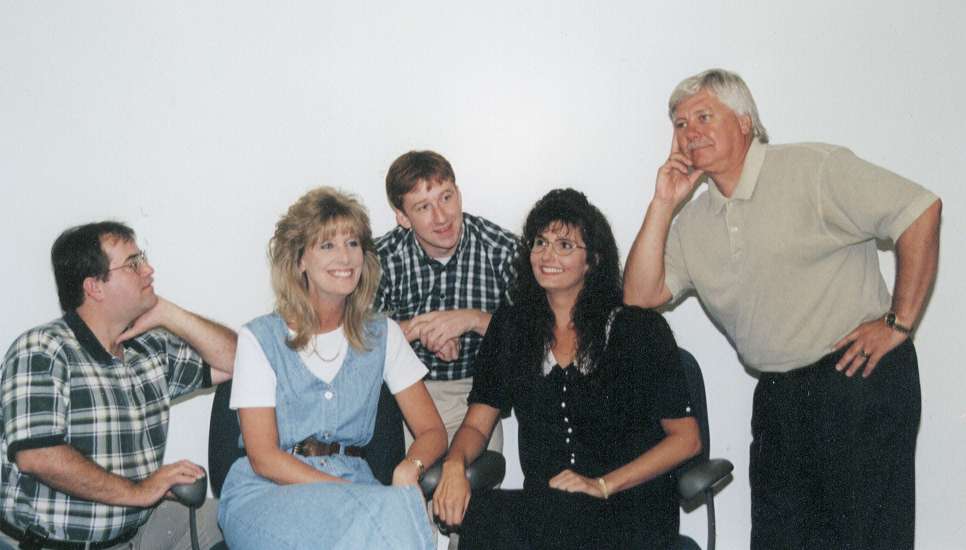 Does the headline sound familiar? If you are a television game show fan, you will easily recognize the headline as the introduction of Family Feud.
Game show formats, like Family Feud and Jeopardy, are excellent ways to teach individuals a variety of information. If you have been to an Agency Purchasing Conference in recent years, you most likely have come to realize that the Purchasing Division has incorporated fun with learning by offering a workshop called Purchas-ing Jeopardy.
This workshop consisted of agency contestants playing the game modeled closely after the television game show and the positive feedback was overwhelming. The contestants and audience members of this workshop applauded our creativity and unique, effective way of teaching purchasing regulations and programs.
"This workshop was a fun way to learn and review," said a conference participant. Another person said, "Purchasing Jeopardy was a very good learning tool for new employees."
At this year's Agency Purchasing Conference to be held later this month, the Purchasing Division has done it again. A new workshop, Agency Feud, will be offered which will appear similar to the popular 1970's game show Family Feud hosted by Richard Dawson.
Automation Manager Dan Miller headed up a development team which consisted of Curt Curtiss, Diane Holley, Kelli Doyle and Jim Morris, who served as our summer intern. This team met weekly to handle the logistics in creating a workshop to both entertain and educate.
Hosted by Purchasing Director Dave Tincher, Agency Feud will consist of two teams of agency representatives who have volunteered to show off their knowledge as contestants. Questions will be asked which have multiple answers, each with a specific point value. For example, "Name things found on a purchase order."
How did we come up with our point value? The Purchasing Division conducted a survey with a limited number of agency and Purchasing Division employees. The results were tallied and, using simple mathematics, our percentages made up our point value.
The Purchasing Division continues to seek innovative teaching methods to assist agency representatives in learning more about the information they need to know on the job. The way we see it...Why not have a little fun while you learn? If you would like to play in one of our two Agency Feud workshops at the purchasing conference, please contact Diane Holley at (304) 558-0661.
Legislation Prohibits Purchase Orders
Being Issued to Debtors
Effective July 1, 1999, a new law prohibits the award of purchase orders to vendors who owe a debt to the state. West Virginia Code, §5A-3-10a, states:
"No contract or renewal of any contract may be awarded under this article to any vendor or prospective vendor when the vendor or prospective vendor or a related party to the vendor or prospective vendor is a debtor as defined in this section and the debt owed is an amount greater than five thousand dollars in the aggregate."
The law also includes specific definitions for the terms debt, debtor and related party.
"Debt" means any assessment, penalty, fine, tax or other amount of money owed to the state because of a judgement, fine, permit violation, license assessment, penalty or other assessment presently due and required to be paid to the state or any of its political subdivisions, including any interest or additional penalties accrued.
"Debtor" means any individual, corporation, partnership, association, limited ability company or any other form or business association owing a debt to the state or any of its political subdivisions.
"Related party" means a party, whether an individual, corporation, partnership, association, limited liability company or any other form or business association or other entity whatsoever related to any vendor by blood, marriage, ownership or contract through which the party has a relationship of ownership or other interest with the vendor, so that the party will actually or by effect receive or control a portion of the benefit, profit or other consideration from performance of a vendor contract with the party receiving an amount that meets or exceeds five percent of the total contract amount.
The law does include an exception. This prohibition does not apply when a vendor has contested any tax admini-stered pursuant to chapter eleven of the West Virginia Code, worker's com-pensation premium, permit fee or envi-ronmental fee or assessment, and the matter has not become final, or where the vendor has entered into a payment plan or agreement and the vendor is not in default of any of the provisions of such plan or agreement.
In accordance with this law, the Purchasing Division has developed an affidavit for vendors to sign to certify compliance. Effective immediately, a copy of the affidavit will be attached to all request for quotations. State agencies should do the same for their delegated purchases. The law is applicable in all situations when a written purchase order is issued to a vendor. For a copy of the affidavit, visit one of the following sites:
Internet: www.state.wv.us/admin/purchase/vrc/pforms.htm
Intranet: intranet.state.wv.us
(click on the FORMS button)
If you have questions concerning this issue, we encourage you to e-mail one of the following individuals: Curt Curtiss: (ccurtiss@gwmail.state.wv.us); Diane Holley (dholley@gwmail.state.wv.us); Dan Miller (team@gwmail.state.wv.us).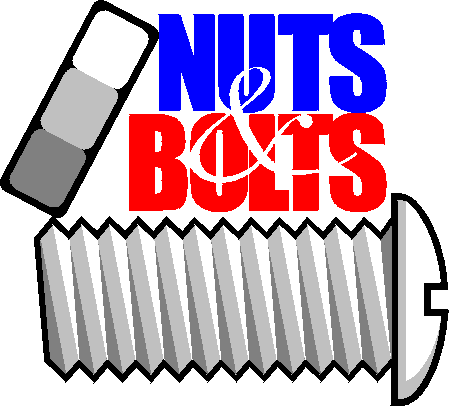 n State Auditor's Bid Observer: This office recently moved to Building 1, Room W-118 at the State Capitol.
n
Records Management Class Cancelled: The Records Management workshop scheduled for the purchasing conference has been cancelled. Please select another workshop for that session period when registering.

n

Fixed Assets: A memorandum was distributed to all state agencies as a reminder to submit a certification to the Purchasing Division that all fixed assets have been entered into the WVFIMS Fixed Assets System.

n

Purchasing Card Program: We've come a long way! Ac-cording to Curt Curtiss, Director of the Acquisitions and Contract Administration Section, when the program began, charges totalled $50,000 a month. After one year, the totals increased to one million per month. Today, the Purchasing Card Program has reached over $5 million in charges a month. "We have streamlined the approach to which we pay our bills," Curtiss said.

Information and dates (as of August 16, 1999) included in this Current Statewide Contract Update are subject to change. If you need additional information, please contact the appropriate state buyer.

Contracts Awarded

Contract:

LAWN
Description: Lawn Maintenance Equipment
File: 22
Vendor: Crede Tractor Sales
Effective Date: 02/01/99

Contract:

DC BATT
Description: Dry Cell Batteries
File: 33
Vendor: WV Electric
Effective Date: 09/15/99

Contracts to be Bid or Under Evaluation

Contract:

IP
Description: Information Processing Equipment
File: 21
Bid Opening: 07/14/99
Under Evaluation: Yes

Contract:

CARPET
Description: Carpet and Rugs
File: 42
Bid Opening: 08/31/99
Under Evaluation: To Open

Contract:

TCONES
Description: Traffic Cones and Flags
File: 22
Bid Opening: 08/18/99
Under Evaluation: Yes

Contract:

FINEPAP
Description: Computer Paper
File: 42
Bid Opening: 08/24/99
Under Evaluation: Yes

Contract:

LAUNDRY
Description: Laundry Materials
File: 22
Bid Opening: 08/18/99
Under Evaluation: Yes

Contracts to be Renewed

Contract:

COPIER
Description: Copy Machines
File: 21
Vendor: American Office - Xerox - Arrons Products
Effective Date: 07/31/99

Contract:

DWASH
Description: Dishwashing Materials
File: 22
Vendors: Ecolabs
Effective Date: 08/15/99

Contract:

ALCOHOL
Description: Ethyl Alcohol
File: 22
Vendor: Aaper Alcohol
Effective Date: 10/16/99

Contract:

BROOM
Description: Push Brooms
File: 22
Vendor: Winan Sanitary Supply
Effective Date: 10/15/99

Contract:

CLRM
Description: Classroom/Meeting Room Furniture
File: 42
Vendor: Virco
Effective Date: 08/15/99

Contract:

MOF
Description: Metal Office Furniture
File: 42
Vendor: Hon Company
Effective Date: 08/01/99

Contract:

OFFICE
Description: Office Supplies
File: 42
Vendor: Boise Cascade
Effective Date: 08/15/99

Contracts to be Cancelled

Contract:

G-RAIL
Description: Guard Rail and Posts
File: 33
The wood portion was cancelled; the steel portion was actually discontinued rather than cancelled.

Contract:

S-PLUG
Description: Spark Plugs: Auto and Equipment
File: 33


Contracts to be Reviewed

SEPTEMBER

C-PIPE


Corrugated Pipe

N-TIRES


Auto and Equipment Tires

R-TIRES


Retread Tires

A/E FILTER


Oil, Air and Fuel Filters

SYSFURN


Modular System Furniture

MF-SVC


Microfilm Services

FLOORPAD


Floor Buffing Pads

OCTOBER

SAFETY


Safety Equipment

ALUM


Alum Coil and Flat Sheets

LABELS


Computer Pin-Fed Labels

PAINT
Paint and Supplies

TAGS
Identification Tags

MED/SUR


Medical and Surgical Supplies


Purchasing Division Staff

For questions concerning these contracts listed, please contact the appropriate buyer:

File 21
Charlyn Miller
(558-0067)

File 22
Pam Jones
(558-0468)

File 31
Evan Williams
(558-2596)

File 33
John Johnston
(558-0492)

File 41
Ron Price
(558-2316)

File 42
Jim Jackson
(558-2402)

Are you unsure of certain purchasing procedures? ... Do you need to know what printing services Consolidated Publishing Facility provides? ... Do you have a question regarding travel requests? ... Would you want to know what surplus property is available? ... If you need information concerning any function within the Purchasing Division, complete the form below:



Thank You for Viewing our September Issue of The Buyers Network