The Buyers Network is Published Monthly by the Purchasing Division of the West
Virginia Department of Administration to Promote Better Value in Public Purchasing
---
Welcome to the October 1999 Issue of the The Buyers Network!
---
Articles in this Issue:
Travel Management Contractor Provides Overview of its Programs
and Services to State Coordinators
Director's Comments: It Takes Teamwork to Make Things Happen
Why Use Statewide Contracts? It's Simple...Because it is Mandatory
WV-96 Form Makes its Return to our Website
Traveling Down the Road to Success
The Travel Bag: Tips from the State Travel Management Office
Do You Understand?... Terms You Must Follow When Driving a State Car
Requests for Quotation Packages Requested Electronically Via E-Mail
Brower Beat: Let's Look Closer at our Website!
Revised Purchasing Manual Available
Purchasing Officials Join Governor on Eastern Panhandle Visit
MoneyWise...Tips for the Thrifty
Satellite Forum Scheduled to Address the Purchase of Recycled Products
Current Statewide Contract Update
---
Travel Management Contractor Provides Overview
of its Programs and Services to State Coordinators
"Personalized service with high technology" is how National Travel's chief executive officer and president Ted Lawson defines his company's mission.
Lawson addressed over 125 state travel coordinators at a meeting on September 9 at the Cultural Center. The purpose of this meeting was to reintroduce National Travel for those state employees who have used their services in the past and to offer an informational opportunity for new travel coordinators, according to State Travel Manager Catherine DeMarco.
National Travel is now into its third contract year as the state vendor for travel management services. These services range from booking flights to reserving hotel accommodations to planning meetings for your agency. With over 20 international services and nearly 50 domestic business travel programs offered, National Travel provides a wide gamut of travel-related assistance, which as Lawson explains makes his company more than just a travel agency.
"We are a travel management firm," he said. "We provide travel management services for state government, private businesses and for the individual traveler. Over 95 percent of businesses today have travel management firms to provide these services, alleviating the hassles while saving them money."
Lawson also promoted the technological enhancements made in the travel industry. An automated system can now provide flight information for all airlines, determine weather conditions at your destination, offer the currency exchange rate, share state department alerts in a certain location and detect the lowest rate for your destination instantaneously.
National Travel has joined the trend of most businesses by creating a website with helpful travel information. Their site at www.nationaltravel.com offers information on flight status, online airline reservations, hotel guide, vacation packages and travel-related news.
"We embrace our website as a tool and resource that can be accessed 24 hours a day, seven days a week," Lawson said. "We are not using this technology to replace our personalized agents, but to enhance our existing services." He explains that when state employees are traveling they sometimes experience unexpected problems. The troubled traveler wants to talk to a real person. If problems occur, National Travel has issued VIP Client Assistance cards which can fit comfortably in a wallet or purse when traveling. This card offers quick helpful resources and telephone numbers. To obtain a VIP Client Assistance card, contact your agency travel coordinator.
In case of flight delays or cancellations, enroute travel changes, lost or stolen travel documents, illness or accidents, or legal assistance referrals, call (304) 357-0808 (toll-free 1-800-624-8283). For emergencies after 9:00 p.m., call 1-800-343-5032 (Reference Code CK3/H4E/C5A Charleston).
By Dave Tincher
State Purchasing Director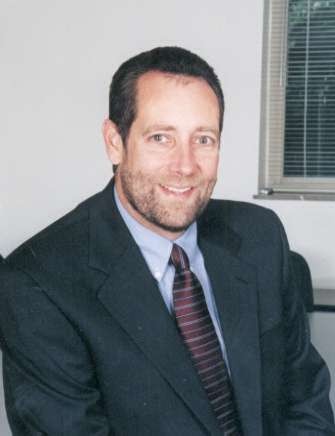 The 1999 Agency Purchasing Conference provided a wide variety of information to over 250 participants, but even more important, it offered wonderful networking opportunities with the Purchasing Division staff and other agency procurement officers.
We all experience moments when we need to discuss a particular situation with another purchasing professional to determine the best way to conduct business. This conference enabled agency representatives to create productive working relationships that can prove beneficial in the future.
A big thank you is extended to the staff of the Purchasing Division as well as representatives from other agencies who played a vital role in making this training initiative a success.
At the conclusion of the each of our conferences, it always amazes me how the Purchasing staff and agency representatives consistently pull together to offer participants a top-notch educational experience time after time. Last, but certainly not least, our conference runs smoothly as a result of the hard work and planning of our event coordinators, Diane Holley, Debbie Watkins and Kelli Doyle.
Thank you all for the professionalism and dedication which you demonstrated during the 1999 Agency Purchasing Conference!
It's Simple...Because it is Mandatory
Occasionally, the question arises as to whether state agencies are required to use statewide contracts when procuring commodities. The answer is simply yes.
According to the West Virginia Code, §5A-3-5, "the director shall promulgate and adopt standard specifications based on scientific and technical data for appropriate commodities, which shall establish the quality to which such commodities to be purchased and services to be contracted for by the state must conform...the purchases of no spending unit may be exempt from compliance with the standard specifications so established, but the director, whenever he deems it necessary and advisable, may exempt therefrom the purchase of particular items. The director shall update the standard specifications, as necessary."
The use of the term, standard specification, refers to specifications on a statewide contract. The purpose of statewide contracts is to obtain more favorable prices through volume purchasing and to reduce purchasing lead time and administrative effort. If any item is available on a statewide contract, the agency cannot use its agency delegated purchasing authority.
The Purchasing Division continues to evaluate the needs of agencies and has issued several new statewide contracts within the past year for such commodities and services as cellular phones coverage, electronic document management services, and Microsoft software.
For more information concerning the use of statewide contracts, please contact the buying staff of the Acquisition and Contract Administration Section at (304) 558-2306.
It came...it went...but it's back again! After mutual agreement between the Attorney General's Office and the Purchasing Division, the Agreement Addendum (WV-96) form is once again available on the Purchasing Division's website at www.state.wv.us /admin/purchase/vrc/pforms.htm.
Due to concerns related to its duplication, the downloadable WV-96 form which was on the Purchasing Division's website became unavailable until the use of this form in PDF format was approved.
The Attorney General's Office has agreed that using this format which prohibits any modification to the document is appropriate. Therefore, the online WV-96 form may be downloaded from our website or from the state's Intranet at intranet.state.wv.us (click on FORMS).
Because of the wide availability of these forms, the Attorney General's Office urged state agencies to cease faxing the WV-96 form to vendors. Its office reserves the right to reject fax copies of the WV-96 forms that are illegible, even if it includes original signatures.
These forms are also available through the Central Stockroom or may be provided by the Attorney General's Office.
Transforming Obstacles into Opportunities

Traveling Down the Road to Success
If you are smart, dedicated and a nose-to-the-grindstone worker, you are on your way to success. Right? Well, not always.
Here are five common obstacles to success and how to turn them into opportunities:
Obstacle:
You are not in step with your workplace culture.
You will have a good fit with the company when its values match your own; you like most of the people you work with; and, you respect the people who run the show.
Obstacle:
You operate like a lone wolf.
Find an ally. Work with others, let them discover your talents. Networking is a two-way street, so be prepared to support others in return.
Obstacle:
You fail to market yourself and be visible.
Communicating is a good form of marketing. In informal conversations, let others know that your work or project is going well. Bosses need reassurance that you are on top of things, so let them know.
Obstacle:
You bring private traumas to work.
Others have problems too. These are workplace friends, not personal confidants. They are the last people who should hear of trouble at home.
Obstacle:
You have such a bad attitude that people avoid you.
Smile. People with upbeat dispositions rise faster than others.
In her book, Top Tend Dumb Career Mistakes...and How to Avoid Them (VGM Career Horizons), Lona O'Connor offers this quiz that will help you check your attitude. If you answer yes to any of these questions, you have got a problem:
w

Are you angry more than half the time at work?
w Do you think people pick on you?
w Do you feel powerless to change things?
There are two things you can change right now, says O'Connor. Never badmouth bosses or co-workers, and stop complaining. You will feel better and lines of communication will reopen soon.

Tips from the State Travel Management Office


Beating Jet Lag
Doctors at British Airways say jet lag makes you feel lousy because the body's internal clock is disturbed. Here's some advice on how to handle it:
Adjust your watch to destination time as soon as you get on the plane. On arrival, adjust yourself to local time. If it is breakfast time, eat breakfast.
If it is daylight at your destination, but your body thinks it is night, a walk in the bright sunshine will help you adjust.
To determine how long jet lag lasts: When going west, divide the number of time zones you go through by two to get the number of days it will take you to adjust. When going east, divide the zones by one and one-half.
Top choices for winter fun
Florida is the top choice for winter-time getaways for Americans with 50 percent of vacationers visiting that state. The Travel Industry Association of America says these are the next most popular destinations:
Hawaii, 18 percent

Nevada, 17 percent

Colorado, 14 percent

Arizona, 11 percent

New York, 10 percent

Texas, 8 percent

Georgia, 4 percent

Multiple choices were allowed.




Do You Understand?...
Terms You Must Follow When Driving a State Car

On occasion, state employees may be required to use a state vehicle to conduct business travel. Do you understand the terms and conditions of driving a state vehicle? Perhaps a refresher course in the do's and don't's of driving a state vehicle is necessary.

DO...
Use the vehicle only for state business

Wear your seat belt

Abide by the state and other applicable motor vehicle laws, such as speed limits.

Have a current, valid WV driver's license.

Agree to return the vehicle for under-utilization, misuse, serious DMV violations, at-fault accidents or any other inappropriate activities.

Make any necessary repairs or reconditioning above normal guidelines for age and level of service.

Lock the vehicles when not in use.

Clean the vehicle's interior and exterior at least monthly.
DO NOT...
Questions relating to fleet vehicles should be directed to the Fleet Management Office. Contact State Fleet Manager Janice Boggs at (304) 558-0086 or Fleet Assistant Vanessa Cox at (304) 558-2614.




Request for Quotation Packages
Requested Electronically Via E-Mail

Each month, hundreds of requests are received from vendors wanting bid packages for requisitions of commodities and services. Some vendors opt to take the personal approach and visit the Purchasing Division's office to acquire bid packages, while others use fax, mail or the telephone.

We are now offering vendors another way to get the information they need to bid on state contracts...the Internet. Thanks to technology, vendors may now request bid packages online. When vendors access the online West Virginia Purchasing Bulletin, they may request copies of the bid packages. According to Administration Unit Manager Jo Ann Dunlap, using this electronic medium has gained in popularity. In August, 876 requests were received with the following breakdown:

455 telephone
217 fax
106 electronic mail
95 in person
3 mail

Share this information with vendors you deal with often. Technology at your fingertips!

Editor's Note:

Each month, the Purchasing Division's website will be highlighted to keep our readers better informed on information which may be accessed online. Questions relating to our website may be directed to our webmasters, Dan Miller (558-2314 or email:team@ gwmail.state.wv.us) and Diane Holley (558-0661 or email:dholley@gwmail.state.wv.us).
---
We've come a long way! ...

Remember the fear that many of us experienced when our bosses told us we were going to have to use this new technology called electronic mail to communicate. Now, most of us most likely could not survive without it. Another example is how you registered for purchasing conferences in the past. You filled out the form and mailed or faxed the information back to us.

This year, we offered online registration for our 1999 Agency Purchasing Conference.What a response we received! Over 80 participants (32 percent) registered using our online registration feature. Many expressed that registering online was faster and more reliable.




Revised Purchasing Manual Available

Agency Purchasing Manuals, complete with all revisions made since July 1, 1998, were distributed at the 1999 Agency Purchasing Conference in September.

Due to various changes, many pages within this reference document have been modified since its original print date. Periodically, revised pages were distributed to all agency procurement officers; however, it was their responsibility to share these changes with their respective staff.

If you are unsure if you have an updated manual, you may purchase a new copy for $10.00 by contacting Debbie Watkins at (304) 558-3568 or via e-mail at dwatkins@gwmail.state.wv.us. The State Purchasing Card may be used when making this purchase.


Purchasing Officials Join Governor on
Eastern Panhandle Visit

The Purchasing Division joined Governor Cecil H. Underwood in September to welcome business and government representatives from the eastern panhandle as part of the Governor's initiative to bring state government closer to this region. The Governor and his entire cabinet were in the eastern panhandle for two days of meetings, beginning August 31.

Two open purchasing forums scheduled on September 1 in Jefferson and Berkeley counties were conducted by the Purchasing Division staff.

The purpose of these meetings were to address purchasing-related issues and to answer questions concerning business opportunities with the state of West Virginia. Purchasing Director Dave Tincher, Administration Unit Manager Jo Ann Dunlap and Surplus Property Manager Ken Frye conducted these meetings.

"We are always looking for ways to reach out to West Virginia vendors by offering information on how to do business with state government," according to Tincher. "Last year, over 70% of state contracts were awarded to West Virginia businesses. We want that percentage to continue to increase."

In May of this year, nearly 100 state business representatives attended the first-ever vendor purchasing conference which was sponsored by the Purchasing Division. Another vendor conference is set for May, 2000.

Negotiation tip:


When you change your mind, explain why

When you are negotiating with an employee or vendor, remember one of the cardinal rules: Don't change your mind without telling the other person why. For example: You are discussing job duties with an employee and you differ on who will perform a certain task. If you decide to concede the difference, you should tell the employee why so you can get something in return: "If I assign Bill this task, then will you agree to perform this other task?"

You signal your willingness to change your position, but by making it conditional, you get something extra yourself - and both sides win.

WISE...Tips for the Thrifty

Auto Insurance Rates Decrease

Cars are safer, harder to steal, and baby boomers have moved into the 40 to 59 age group which has the best driving record of all ages. These factors and others have combined to produce fewer claims and more profits for auto insurers. Rates are falling 3 to 5 percent. State Farm and Geico have already reduced rates. Check with your carrier if yours is not less, or shop around. Other factors that reduce cost: raising your deductible to $500 may reduce the bill by 30 percent. Rural insurance costs less. Teenagers earning good grades and with spotless driving records cost less to insure.


Satellite Forum Scheduled to Address the
Purchasing of Recycled Products

The WV Solid Waste Management Board announces the presentation of a national satellite forum titled, Buying Recycled: The Real Story about Cost, Availability and Quality, which is scheduled for November 9 from 11:00 a.m. to 1:00 p.m.

This free, interactive program is designed to provide businesses, governments and other organizations with insights on ways to purchase quality, competitively priced recycled products.

This forum is being presented in support of America Recycles Day b the WasteWise program of the U.S. Environmental Protection Agency (EPA) and the Buy Recycled Business Alliance (BRBA), a partnership of the National Recycling Coalition.

The WV Solid Waste Management Board is working in cooperation with the West Virginia Library Commission to coordinate site for this forum. For more details, call Glenn Jarrell at (304) 558-0844.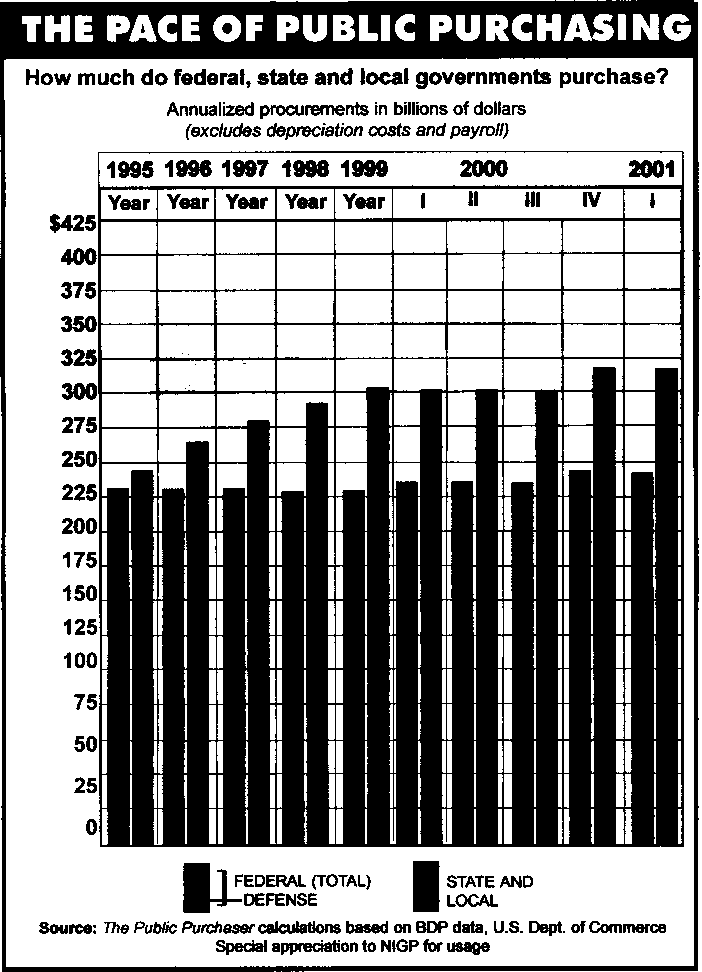 Current Statewide Contract Update

Information and dates (as of September 15, 1999) included in this Current Statewide Contract Update are subject to change. If you need additional information, please contact the appropriate state buyer.

Contracts Awarded

Contract:

TCONES
Description: Traffic Cones and Flags
File: 22
Vendor: Interstate Traffic Control, S&S Signs and Safety Equipment, Plasticade Products, Work Area Protection, Eastern Metal, Protective Services Inc.
Effective Date: 09/01/99

Contract:

WIPING
Description: Wiping Cloths
File: 22
Vendor: Jackson County Sheltered Workshop
Effective Date: 09/01/99

Contract:

FINEPAP
Description: Computer Paper
File: 42
Vendor: Xpedx, Unisource
Effective Date: 07/01/99

Contracts to be Bid or Under Evaluation

Contract:

IP
Description: Information Processing Equipment
File: 21
Bid Opening: 07/14/99
Under Evaluation: Yes

Contract:

CARPET
Description: Carpet and Rugs
File: 42
Bid Opening: 08/31/99
Under Evaluation: To Open

Contract:

HDTOOLS
Description: Hand Tools
File: 22
Bid Opening: 09/15/99
Under Evaluation: Yes

Contract:

ELEC-HDW
Description: Electric Cable
File: 22
Bid Opening: 09/15/99
Under Evaluation: Yes

Contract:

LAUNDRY
Description: Laundry Materials
File: 22
Bid Opening: 08/18/99
Under Evaluation: Yes

Contract:

PC
Description: Police Cruisers
File: 42
Bid Opening: 08/31/99
Under Evaluation: Yes

Contracts to be Renewed

Contract:

SAT
Description: Satellite Transponder Time
File: 21
Vendor: Globecast North Americaa
Effective Date: 08/15/99

Contract:

BUCKETS
Description: Buckets
File: 22
Vendors: Winans, Ross WIllougby, T&L Supply, ZEP
Effective Date: 11/01/99

Contract:

TEMPS
Description: Temporary Services
File: 22
Vendor: Aaper Various Vendors
Effective Date: 11/01/99

Contract:

AIRCOND
Description: Airconditioning
File: 41
Vendor: Friedrich Air Conditioners
Effective Date: 08/01/99

Contracts to be Cancelled

Contract:

TMEK
Description: Travel Mate


Contracts to be Reviewed

OCTOBER

SAFETY
Safety Equipment

ALUM


Alum Coil and Flat Sheets

LABELS


Computer Pin-Fed Labels

PAINT


Paint and Supplies

TAGS


Identification Tags

MED/SUR


Medical and Surgical Supplies

NOVEMBER

AUD/TAP


Audio Cassette Tapes

VID-TAP


Videotapes and Accessories

RCYCLTN


Remanufacture of Laser Toner Cartridges

RIB


Ribbons and Laser Toner

SAN-PAP


Sanitary Paper Supplies

HOUSE


Housekeeping Materials

PRESORT


Bulk Mail Handling

CRENTAL


Car Rental Services


Purchasing Division Staff

For questions concerning these contracts listed, please contact the appropriate buyer:

File 21
Charlyn Miller
(558-0067)

File 22
Pam Jones
(558-0468)

File 31
Evan Williams
(558-2596)

File 33
John Johnston
(558-0492)

File 41
Ron Price
(558-2316)

File 42
Jim Jackson
(558-2402)

Are you unsure of certain purchasing procedures? ... Do you need to know what printing services Consolidated Publishing Facility provides? ... Do you have a question regarding travel requests? ... Would you want to know what surplus property is available? ... If you need information concerning any function within the Purchasing Division, complete the form below:



Thank You for Viewing our October Issue of The Buyers Network