The Buyers Network is Published Monthly by the Purchasing Division of the West
Virginia Department of Administration to Promote Better Value in Public Purchasing
---
Welcome to the November 1999 Issue of the The Buyers Network!
---
Articles in this Issue:
CONFERENCE OVERVIEW...Agencies Gain Information from A to Z
Director's Comments: Look Around...There's a Huge Knowledge Base!
State Agencies Must Utilize Prison Industries for Printing Services
We've Got it All on Videotape!
Reminder Notice: EPA Satellite Forum
What Does the Future Hold? Capitol Parking Matters Discussed at Public Meeting
Recent Announcement Affects CPF
Closure Planned for Printing Operation
DHHR's Jo Miller Joins the Prestigious List of Recipients of
the Agency Procurement Officer of the Year Award
New Statewide Contract Addresses Electronic Management Systems
Current Statewide Contract Update
---
CONFERENCE OVERVIEW...
Agencies Gain Information from A to Z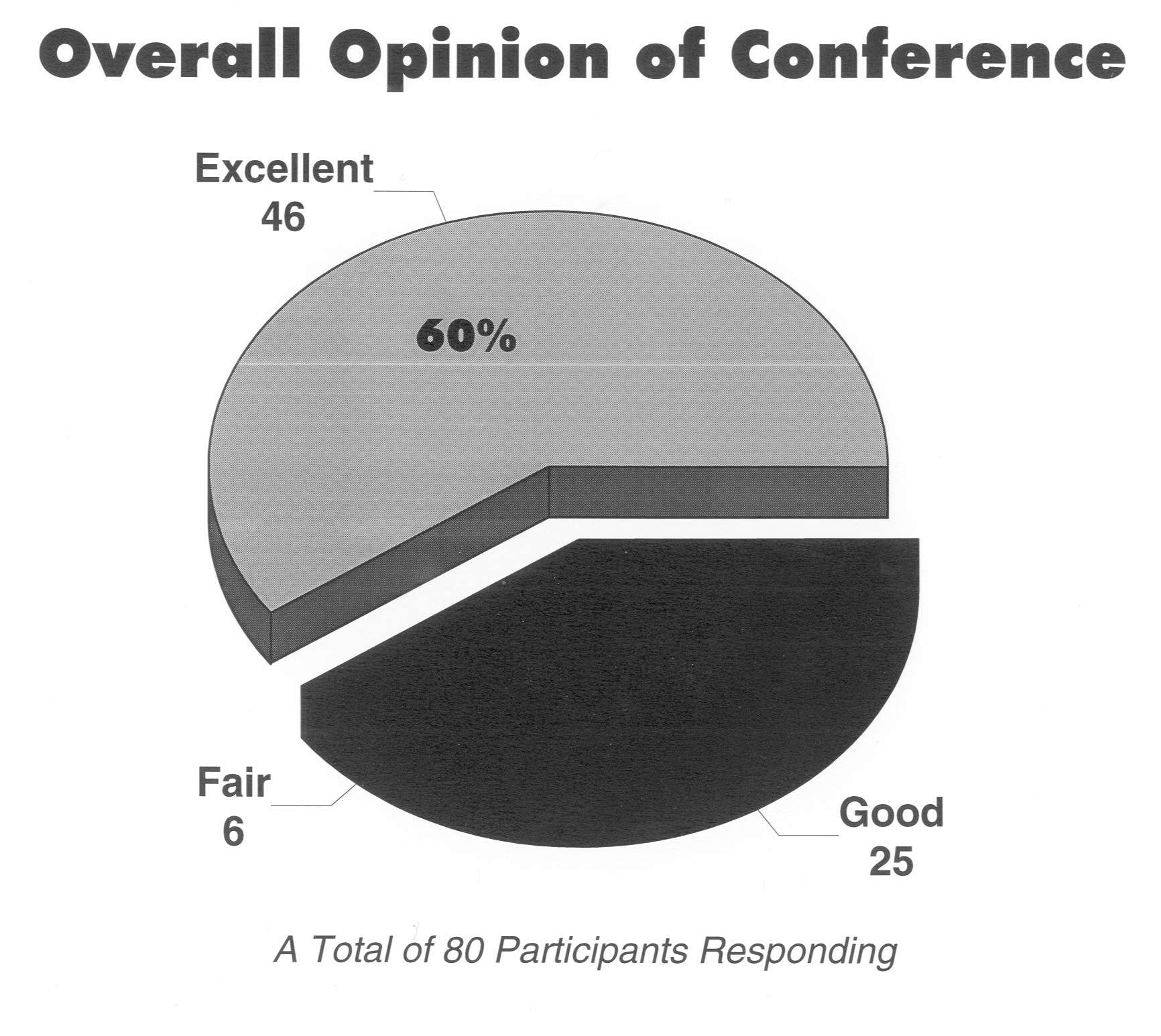 After months of preparation, the 1999 Agency Purchasing Conference is history. However, for nearly 300 agency representatives and presenters who attended the conference, the information gained from this training will thrive in procurement offices throughout the state.
The conference offered something for everyone at every skill level. From Getting Started to WVFIMS PO Encumbrance Module, the participants left Canaan Valley State Park on September 30 with a greater knowledge of Purchasing's programs and processes than ever before.
According to evaluation responses, 92 percent of the participants rated the overall conference as either good or excellent. "Being able to consistently maintain these high levels of satisfaction each year from our conference participants is extremely rewarding," according to Purchasing Director Dave Tincher. "Although we are pleased with this positive feedback, we continue to look at better, more efficient ways to share valuable information with agency representatives."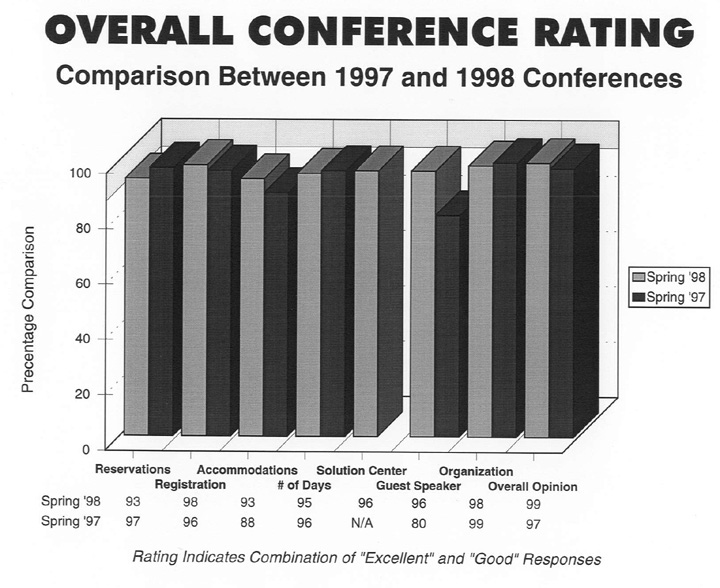 By Dave Tincher
State Purchasing Director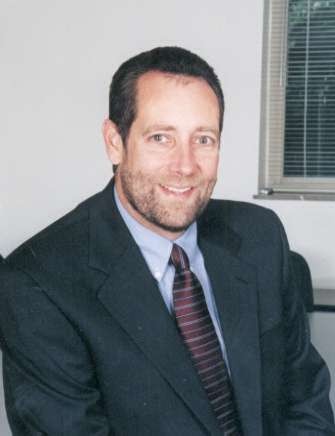 Look at the Purchasing Division staff ...the cumulative years of experience in the state purchasing process is quite impressive. The knowledge base is literally immeasurable.

But, at our recent purchasing conference, I was reminded of many other state employees at the agency level who have also built upon that knowledge base of state government purchasing in West Virginia.

A member of our staff who presented information during one of the workshops commented on how he looked out into the audience and saw many experts in public purchasing. The problems and solutions which these individuals have encountered, if bottled up in one place, could help guide us all and make our jobs easier.

However, as we know, each problem or situation we handle is a learning experience, from which we grow upon to become better public purchasers.

Let us not forget about our colleagues within state government who serve as beneficial networking resources when needing guidance or information.

The Purchasing Division is not the only place to turn when problems arise. Your fellow public purchasers are a wonderful resource. Grab your conference directory from this year and look at the 'Participants Listing' pages. These agency contacts may prove helpful when encountering purchasing problems.

State Agencies Must Utilize Prison
Industries for Printing Services

Need something printed? According to state purchasing procedures, state agencies must submit printing requests to Prison Industries. This sole source purchase requires no competitive bidding.

Any other agency which may provide similar printing services does not have priority or sole source status and, therefore, should be considered as a private vendor.

If Prison Industries is unable to complete the print job as specified, their representatives will inform the customer either in writing or verbally which would provide the justification to seek outside sources for printing.

Only at this time may agency print shops, such as West Virginia State College's Office of Printing Services, be requested to make a bid or to complete a printing request. For additional information on services provided by Prison Industries, please call 558-6054.

Smile!...You may not be on Candid Camera, but for several of our presenters at the Agency Purchasing Conference, they were caught on videotape.

Allison Stotts of the Administration Unit took time out from working in the Encumbrance Section of the Administration Unit to become our staff videographer, taping nine workshops. These videotapes are now available on a loan basis to agency representatives who were unable to attend the conference.

The sessions taped included: Getting Started; WVFIMS PO Encumbrance Module; OFFICE98 Contract ; Process Improvement; State Purchasing Card; Best Value Purchasing; Travel Management; Fixed Assets; and IP99 Contract.

To borrow a copy of any of these videotapes, please contact Kelli Doyle at (304) 558-7839. These tapes will be available on a 'first come, first serve' basis, so call early!




REMINDER NOTICE
EPA Satellite Forum

The WV Solid Waste Management Board will present a national satellite forum titled, Buying Recycled: The Real Story about Cost, Availability and Quality on November 9 from 11:00 a.m. to 1:00 p.m. For more information on this free, interactive program sponsored by the WasteWise program of the U.S. Environmental Protection Agency (EPA) and the Buy Recycled Business Alliance (BRBA), call Glenn Jarrell at (304) 558-0844.

Capitol Parking Matters Discussed at Public Meeting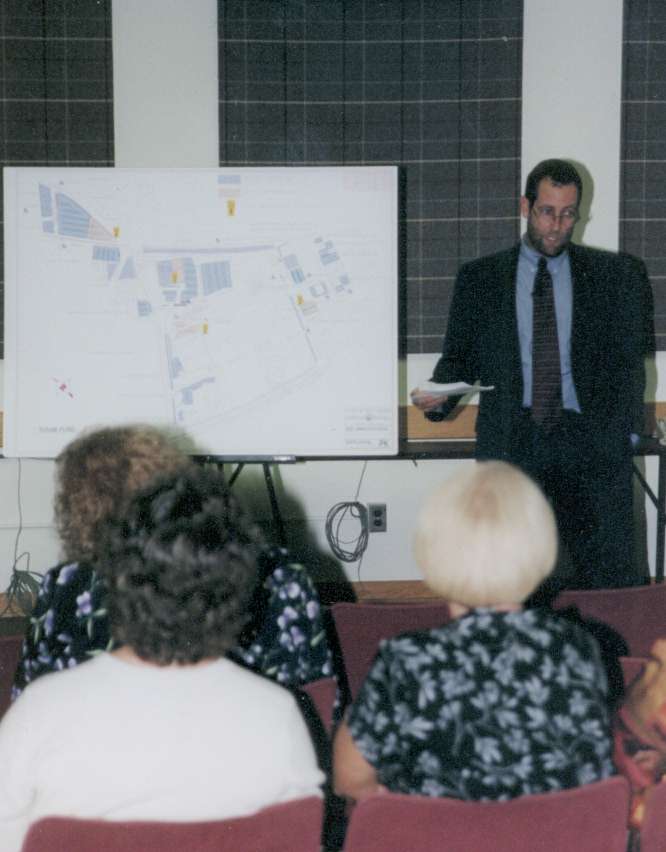 Nearly 40 people gathered at a public meeting on October 13 to listen to Department officials explain the state's parking plans at the Capitol Complex.
Purchasing Director Dave Tincher, who oversees the parking function at the Capitol, and Parking Manager Janice Boggs offered a visual picture of parking availability before and after the opening of the Capitol Parking Building on October 25.
The new parking building offers 788 spaces with 587 spaces for state employees, 194 (on the first level) for visitors and seven for media representatives.
Prior to implementing a two-phase improvement plan, there were 19 lots, with a total of 2,410 spaces for employees and visitors, which was insufficient in satisfying the parking needs at the State Capitol, Tincher said. More than 50 percent of state employees working on campus did not have an assigned parking space.
An improvement plan was developed to increase the number of lots to 23 and the total number of spaces to 3,128. Already completed, phase one consisted of renovating and paving smaller lots and constructing the parking building.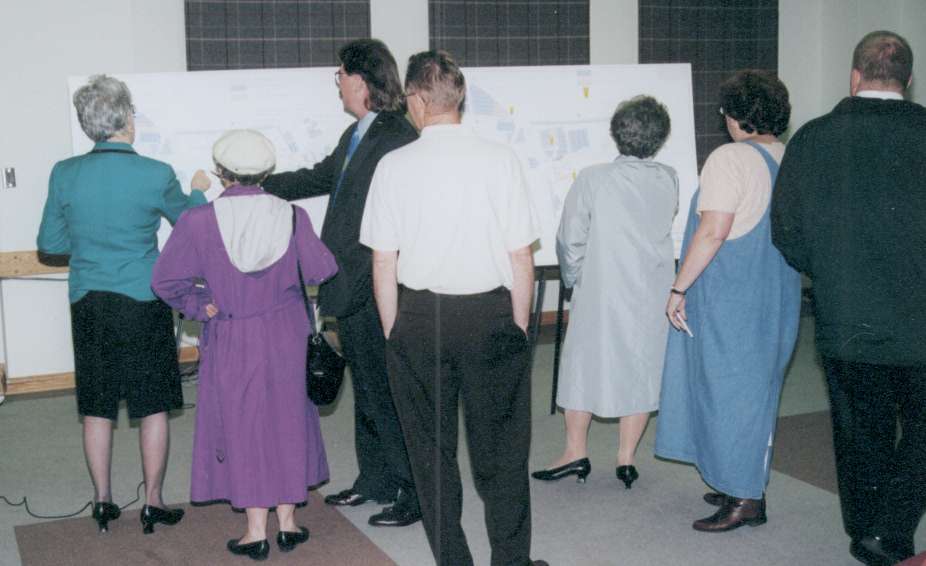 Phase two includes reallocating parking spaces on a department level, renovating parking gates, access cards and decals, and converting parking meters to pay-by-space machines. This high-tech automated system provides security and accuracy in the collection process of visitor parking fees. The charges are 50 cents per hour, except at the Laidley Field lot where the hourly rate is 25 cents.

As to the reallocation of employee parking, the Capitol Parking Unit previously assigned each agency parking spaces which were disbursed among employees, often based on tenure. The new plan places this responsibility at the department level. Each department will receive specified parking spaces, and it is their discretion as to how the spaces are assigned to each agency or division under their jurisdiction.

Tincher explains that once the second phase of the plan is complete, the percentage of state employees with assigned parking and the number of visitor spaces will increase. "This is a win-win solution for all parties involved," Tincher said. "An expected increase in parking availability should be realized by state employees, visitors and legislators."




Recent Announcement Affects CPF
Closure Planned for Printing Operation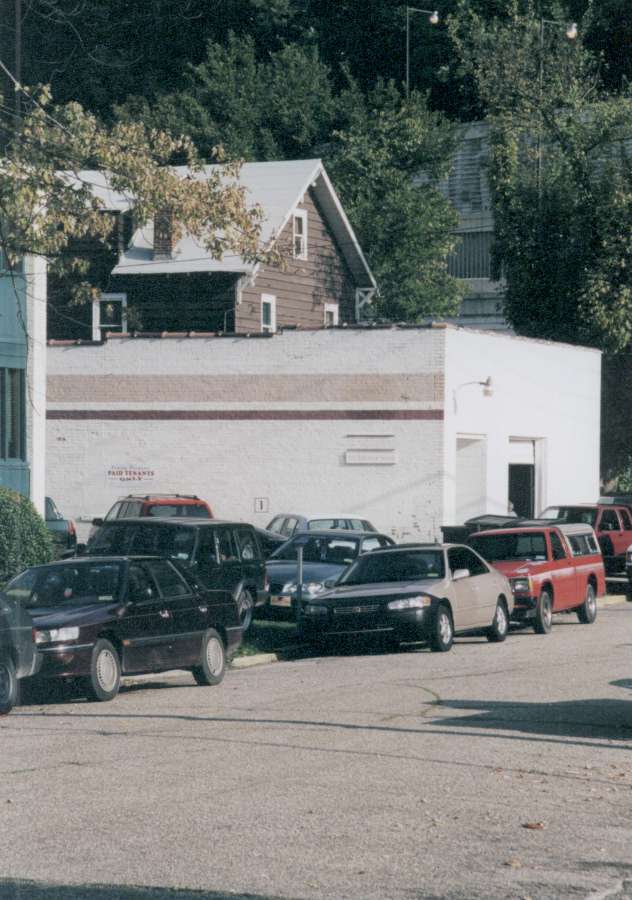 The Purchasing Division recently announced plans to close the Consolidated Publishing Facility (CPF). CPF provides digital quick copy printing services to state and local government agencies.
The responsibility for printing will be transferred to Prison Industries, a section under the Division of Corrections which also provides printing services.
For several years, the Consolidated Publishing Facility has experienced financial difficulties due to equipment and employee costs, and was unable to generate sufficient cash to sustain its operation and maintain its expenditures. The primary purpose of this action was to substantially reduce the cost of printing to state government.
Prison Industries officials will use this opportunity to provide education and training to Prison Industries trainees, while serving the needs of state government.
The 20 full-time employees on the Consolidated Publishing Facility's payroll will initially be laid off; however, these employees will be given recall and preference rights under state personnel guidelines.
DHHR's Jo Miller Joins the List of Recipients of the Agency Procurement Officer of the Year Award
For the past four years, the Purchasing Division has sponsored a program which recognizes one agency procurement officer who demonstrates the qualities which are extremely important in the purchasing profession Previous winners include Edi Barker of the Bureau of Employment Programs, Susie Teel of the Department of Health & Human Resources, and Lt. Col. Jim Powers of the WV State Police.
At the 1999 Agency Purchasing Conference, another name was added to this prestigous list with the announcement of Jo Miller of the Department of Health and Human Resources as this year's recipient.
The Purchasing Division values the expertise and cooperation of those who handle the day-to-day procurement operations within each agency. A six-member committee representing the Purchasing Division and state agencies evaluated the nominations received.
For the past 24 years, Miller has worked in public purchasing, with the past nine years directly supervising and managing an entire unit. Her experience and knowledge has made her colleagues consider her outstanding in the purchasing profession, a 'watch dog' to effective procurement practices.
According to her co-workers, she has an excellent understanding of beneficial purchasing practices while being flexible to change as those procedures and policies change. The Purchasing Division is pleased to include Jo Miller as a recipient of the Agency Procurement Officer of the Year.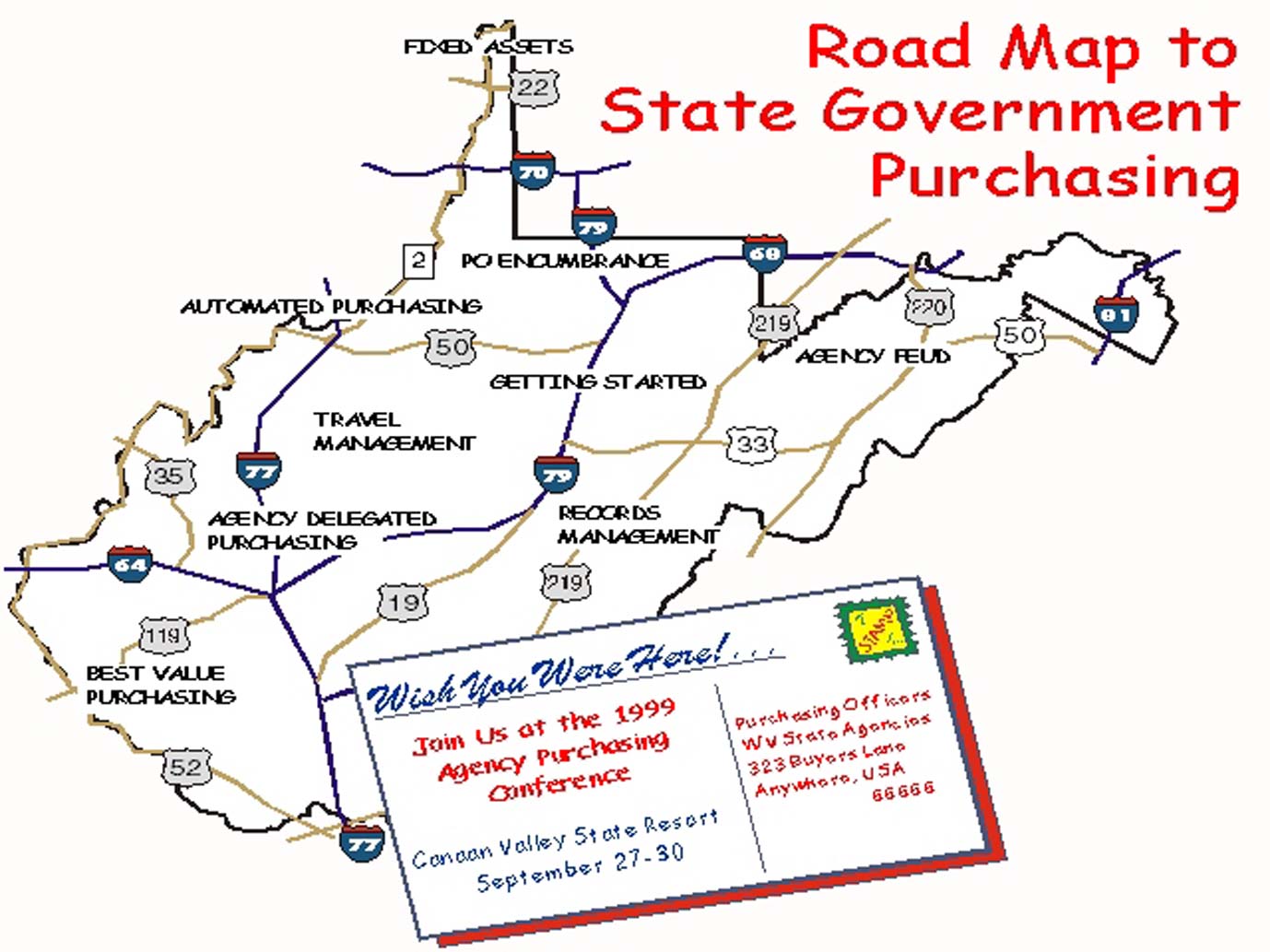 With the theme of "Road Map to State Government Purchasing," the Purchasing Division gave the participants of the 1999 Agency Purchasing Conference a ride full of valuable information.
With 17 different workshop sessions covering a variety of programs and services, the participants were able to customize their own agenda to gather information that pertained directly to their job. Topics included Agency Delegated Purchasing, Agency Feud, Automated Purchasing, Best Value Purchasing, Fixed Assets, Fleet Management, Getting Started, IP99 Contract, Office98 Contract, Prison Industries, Process Improvement, Real Property Leasing, State Purchasing Card, Surplus Property, Travel Management, WVARF and WVFIMS PO Encumbrance Module.
In addition to the workshops, display booths were also available to offer additional information on Prison Industries, WVARF and the State Purchasing Card Program.
What did our participants think about this year's event? Let's share some of the comments received on the evaluation forms:
"I felt this was an excellent seminar...
I learned something in every class."
"We had a great time and the sessions were both interesting and informative."
"The classes and conference were conducted professionally."
"Great conference. I look forward to attending and always pick up new things each year even though I've been a state employee for 18 years."
"Excellent conference with something to offer for everyone from beginner to advanced."
The Purchasing Division would like to thank everyone who attended this year's conference and to those who served as presenters!
Photographs below: 1] Purchasing's Janice Boggs made sure that PEIA's Chip Myers used our 'soundproof' device during the quick Round of Agency Feud; 2] Boise Cascade offered a display booth in the lobby along with WVARF, Prison Industries and the Purchasing Card Program; 3] Purcahsing Director Dave Tincher greets nearly 300 people who were in attendance at the 1999 Agency Purcahsing Conference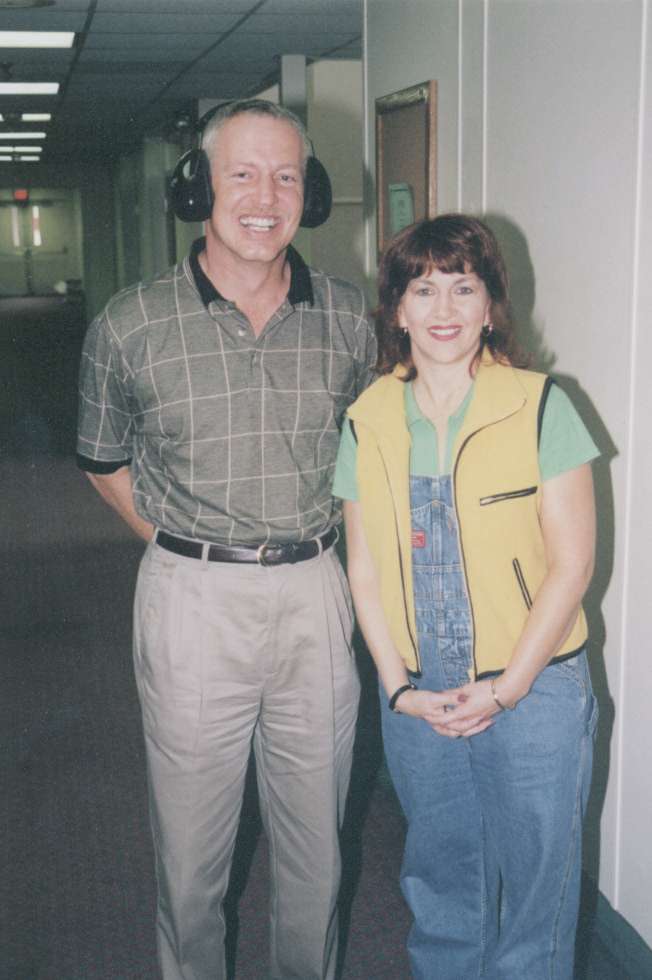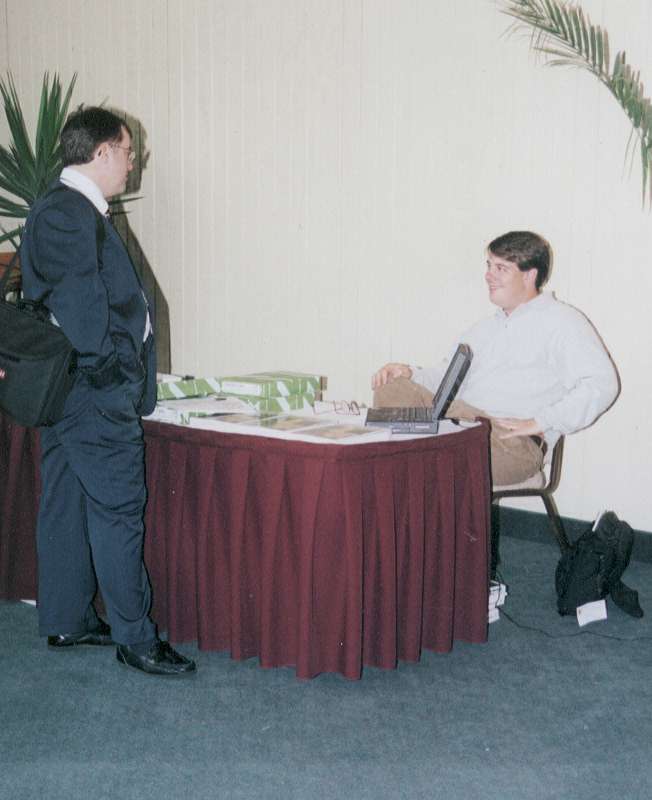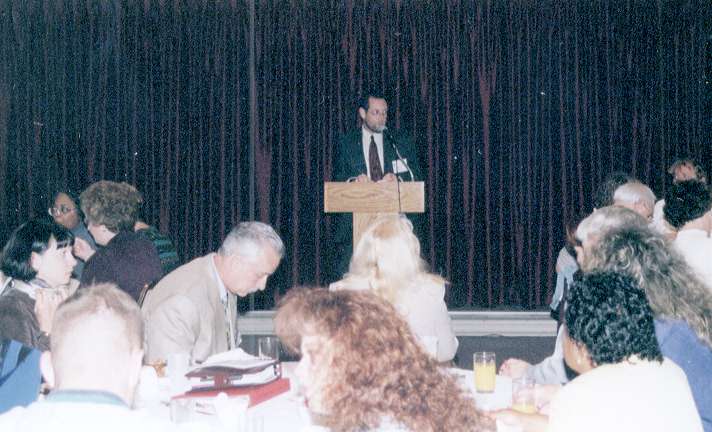 Learn to Focus on Priorities

Having trouble managing your time? You may need to rethink your priorities. Are you trying to do everything? Here's how you can motivate yourself to focus on what's really important at work: Prepare a complete "to do" list each morning. Rip it in half and put the bottom half out of sight. You'll quickly learn to put the important items on top, and you'll have enough time to get them done right because you are not rushing to finish everything on the complete list.


New Statewide Contract Addresses
Electronic Management Systems

Earlier this year, the Purchasing Division awarded a new statewide contract for electronic document management systems. SWC-EDMS98 is an open-ended, non-exclusive multiple-vendor statewide contracts which includes hardware, software and services for such systems.

Recently, the successful vendors of this contract joined with representatives from the Information Services and Communications Division (IS&C) for Electronic Document Management Day: How to Use SWC-EDMS98. According to Kristy James of IS&C, this event provided an excellent opportunity for users to meet and discuss face-to-face their needs with the contract vendors.

The purpose of this contract is to ensure that agencies purchase systems which utilize industry and de facto standards and facilitate the installation of systems which promote the sharing of related data between agencies and departments. Since this contract is non-exclusive, agencies with specialized document management needs may seek approval from the Purchasing Division to purchase a system outside of this contract.

Everything that an agency would need to implement an electronic document management system is available on this statewide contract to provide for a 'turn key' solution. The following products and services are covered under this contract: Software (Document Management, Imaging, Workflow, Full Text Search and Retrieval, Optical Character Recognition Software, Computer Output to Laser Disk, Bar Code Recognition); Services (Project Management,

Analysis, Application Development, Software Customization, Installation, Training, Backfile Document Conversion); and Hardware (Simplex and Duplex Scanners, Optical Drives, CD and Optical Jukeboxes, CD Recorders, System Servers, Image Processing Cards, Scanning Workstations, Printers Rated for Image Processing).

Agencies are required to prepare an agency mini-request for proposal, which will define the current environment, detail documents and/or business processes and the agency's requirement for the new system. The standard RFP format is to be used with the vendor being required to provide at a minimum: 1] a statement of understanding; 2]a technical response to the agency's needs; 3] the vendor's capability and areas of specialization; and 4] the cost of the proposed system. Seventy percent (70%) of the points will be distributed among the technical requirements and the remaining 30 percent will be reserved for cost.

The Agency RFP will be sent to IS&C and the Governor's Office of Technology for approval of the need and an assessment of the completeness of the technical content. There are different processes depending upon whether the award is expected to be under or over $250,000. Although approval by the Chief Technology Office and IS&C are required for both, those systems estimated to exceed $250,000 are also required to be processed through the Purchasing Division.

For more information on how to purchase an EDMS system, please contact Charlyn Miller, the buyer assigned to this contract, at (304) 558-2596. For more technical assistance, state agencies are encouraged to contact the contract vendors for general information or clarification of procedures.

The approved vendors for this contract are as follows:

AbleSoft Solutions
Contact: Tony Angle
(1-304-252-5463)

ManTech Advanced Systems International
Contact: Homer Sweeney
(1-304-722-7289)

Radian Systems Inc.
Contact: Diane McDonnell
(1-703-317-2000, ext. 378)

Raytheon Systems Company
Contact: George Downsbrough
(1-814-238-4311, ext. 3756)

Vredenburg/VIT Group
Contact: Charles Hudson
(1-703-758-2875)

Information and dates (as of October 16, 1999) included in this Current Statewide Contract Update are subject to change. If you need additional information, please contact the appropriate state buyer.

Contracts Awarded

Contract:

LAUNDRY
Description: Laundry Materials
File: 22
Vendor: Ecolab Materials
Effective Date: 09/01/99

Contract:

HDTOOLS
Description: Handtools
File: 22
Vendor: Searss
Effective Date: 10/15/99

Contract:

WIPING
Description: Wiping Cloths
File: 22
Vendor: Jackson County Sheltered Workshop
Effective Date: 09/01/99

Contract:

ELEC-HDW
Description: Electric Cable and Hardware
File: 22
Vendor: Noland Co.
Effective Date: 10/01/99

Contracts to be Bid or Under Evaluation

Contract:

DICT
Description: Dictating Equipment
File: 21
Bid Opening: 10/13/99
Under Evaluation: Yes

Contract:

CARPET
Description: Carpet and Rugs
File: 42
Bid Opening: 08/31/99
Under Evaluation: To Open

Contract: DISKETTE
Description: Diskettes
File: 21
Bid Opening: 09/22/99
Under Evaluation: Yes

Contract: MV
Description: Motor Vehicles
File: 33
Bid Opening: 09/29/99
Under Evaluation: Yes

Contract: PC
Description: Police Cruisers
File: 33
Bid Opening: 09/29/99
Under Evaluation:

Contracts to be Renewed

Contract:

XRAY
Description: X-Ray Film and Supplies
File: 31
Vendor: Amis Systems, Inc.
Effective Date: 10/01/99

Contracts to be Extended

Contract:

SB188
Description: Bank Credit Card Services
Extended Until: 06/30/00


Contracts to be Reviewed

NOVEMBER

AUD/TAP
Audio Cassette Tapes

VID-TAP


Videotapes and Accessories

RCYCLTN


Remanufacture of Laser Toner Cartridges

RIB


Ribbons and Laser Toner

SAN-PAP


Sanitary Paper Supplies

HOUSE


Housekeeping Materials

PRESORT


Bulk Mail Handling

CRENTAL


Car Rental Services

DECEMBER

IPTEMP


Temporary Personnel - Information Processing

BEDDING


Mattress, Boxsprings and Pillows

LIGHT


Lighting; Bulbs


Purchasing Division Staff

For questions concerning these contracts listed, please contact the appropriate buyer:

File 21
Charlyn Miller
(558-0067)

File 22
Pam Jones
(558-0468)

File 31
Evan Williams
(558-2596)

File 33
John Johnston
(558-0492)

File 41
Ron Price
(558-2316)

File 42
Jim Jackson
(558-2402)

Are you unsure of certain purchasing procedures? ... Do you need to know what printing services Consolidated Publishing Facility provides? ... Do you have a question regarding travel requests? ... Would you want to know what surplus property is available? ... If you need information concerning any function within the Purchasing Division, complete the form below:



Thank You for Viewing our November Issue of The Buyers Network