The Buyers Network is Published Monthly by the Purchasing Division of the West
Virginia Department of Administration to Promote Better Value in Public Purchasing
---
Welcome to the August 1999 Issue of the The Buyers Network!
---
Articles in this Issue:
1999 Agency Purchasing Conference
Registration to Begin this Month!
Register Online for the Conference...it's Simple!
Director's Comments: Stressing the Importance of Continuous Learning
Nominations Encouraged for the 1999 Agency Procurement Officer of the Year
1999 Agency Procurement Officer of the Year
OFFICIAL NOMINATION FORM
Meet Nancy Price...A Welcome Addition to the ACA Section
Helpful Tips for Year End Closing
Changes to Agency Purchasing Manual Become Effective July 1
Selecting an Effective RFP Evaluation Committee
Current Statewide Contract Update
---
1999 Agency Purchasing Conference
Registration to Begin this Month!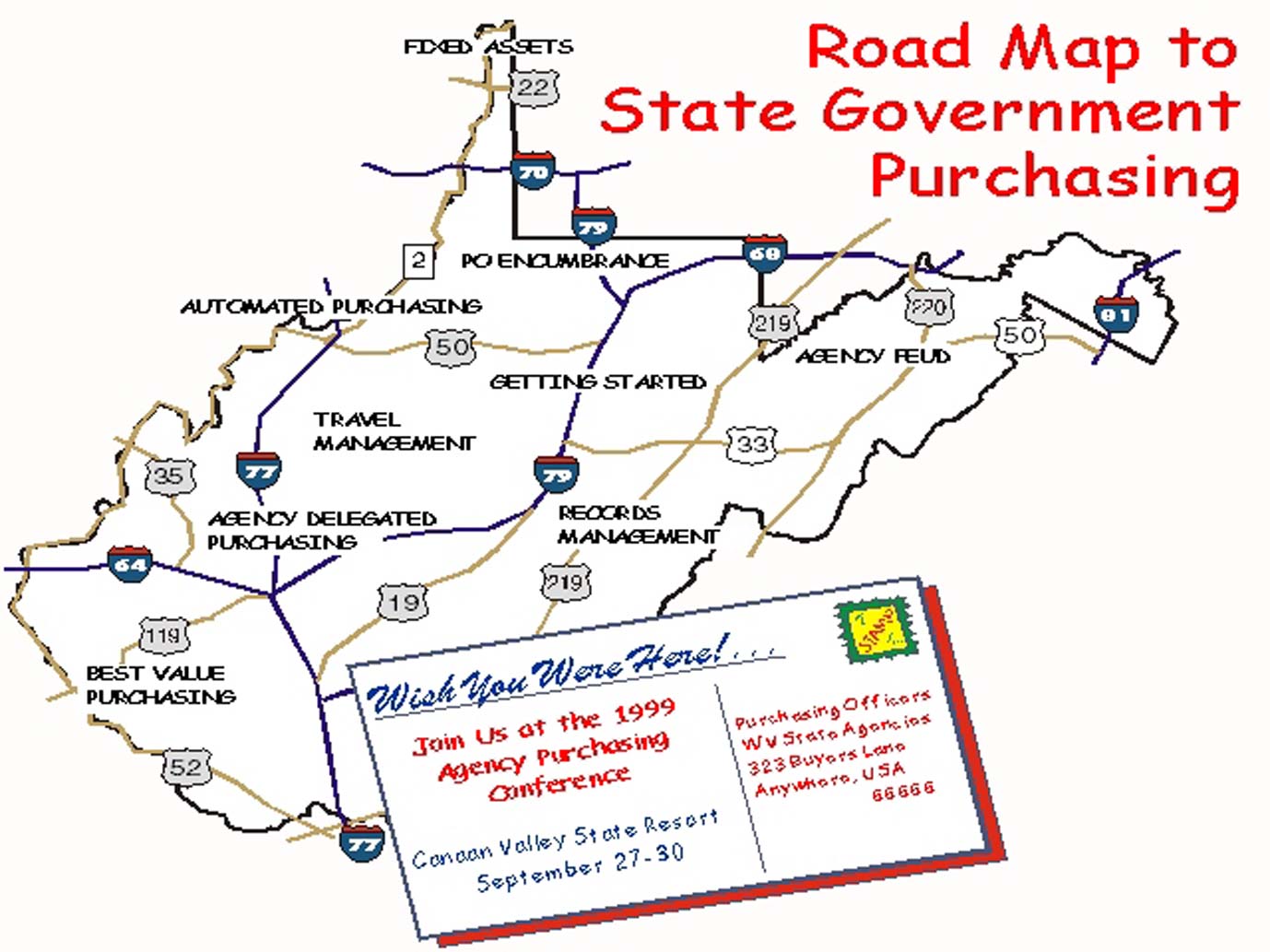 With a theme of Road Map to State Government Purchasing, the Purchasing Division is excited to take agency procurement officers on a trip along the scenic highway to Canaan Valley State Resort & Conference Center on September 27-30 for the 1999 Agency Purchasing Conference.

On this educational journey, the conference participants will learn more about the many programs and services administered by the division. They will also gain a better understanding of the procedures and guidelines which are established through Purchasing's Legislative Rule and the State Code. A variety of small workshop sessions will be offered throughout the conference including:
w

Process Improvement
(an interactive question and answer session focusing on enhancing programs and procedures)

w

Real Property Leasing

w

Getting Started (an introduction workshop for new employees; also a good refresher course)

w

Agency Delegated Purchasing (a panel discussion from the agency purchasing professional's perspective)

w

Agency Feud (a fun workshop based on the television game show "Family Feud" with agency contestants. Would YOU like to play? Let us know!)

w

WVFIMS PO Encumbrance (an explanation of the encumbrance process)

w

Best Value Purchasing (the new purchasing philosophy which addresses all factors, not just cost)

A registration fee of $100 per participant covers class materials, an Agency Purchasing Manual, a social gathering, a breakfast meeting, the conference banquet, all administrative costs and attendance to all workshops.

Why should you attend? There are many benefits of attending this conference. Aside from learning valuable information on programs, policies and services administered by the Purchasing Division, you will have an opportunity to network with other public purchasing professionals and discuss common problems and goals.

Please note that participants are responsible for making their own lodging arrangements. For reservations at Canaan Valley, call 1-800-CALL WVA and indicate that you will be attending the Agency Purchasing Conference in order to receive a special rate of $65 per night. Space is limited...so register early. Interested individuals may register online at Purchasing Division's website (www.state.wv.us/admin/purchase) or may request a registration form by contacting the conference coordinators:

Diane Holley (558-0661)


dholley@gwmail.state.wv.us

Debbie Watkins (558-3568)


dwatkins@gwmail.state.wv.us

Kelli Doyle (558-7839)


kdoyle@gwmail.state.wv.us




Register Online for the Conference...It's Simple!

You can register for the conference the good old fashion way by mailing the form or the more technically advanced can fax the form to our office. But, for those who have become increasingly dependent upon the Internet, try registering online at our website (www.state.wv.us/admin/purchase). It's quick and easy. You can even print out a copy of your schedule before it is electronically submitted to the Purchasing Division.

By Dave Tincher
State Purchasing Director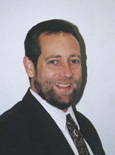 We've heard the saying, "They can take things away from you, but they can't take away your education." These words emphasize the importance and endlessness of learning.

Whether its called continuous education or professional development, enhancing our skills and knowledge of public purchasing is the premise for all of our training programs targeting state agencies and businesses. Educating those with whom we serve results in good, productive working relationships.

On September 27-30, the Purchasing Division will host the 1999 Agency Purchasing Conference at Canaan Valley State Park. This conference will introduce new agency procurement staff to the world of public purchasing, and clarify new and existing procedures to the more experienced agency purchasers.

An added benefit is that our staff can learn from listening to ideas from agency representatives that may improve our processes and programs. Remember that the Purchasing Division staff are continuous learners too!

If you plan to attend our conference, don't just pack your clothes, toiletries and golf clubs...we want you to bring your suggestions and questions which can lead to an effective training experience for all of us.

I am planning an event for my agency which includes offering food for the particpants. Do I need to receive approval from the Travel Management Office for the hospitality expenses?

According to the Agency Purchasing Manual, all hospitality events for functions which are estimated to cost $5,000 or greater must have prior approval of the Purchasing Division. However, for hospitality functions expecting to cost less than $5,000, payment may be submitted without the Purchasing Division's approval.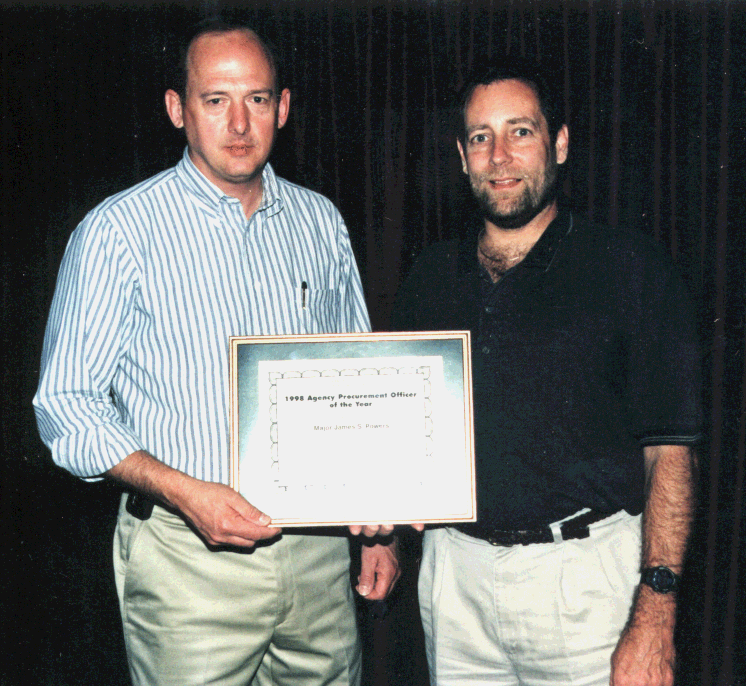 Nominations Encouraged for the 1999
Agency Procurement Officer of the Year
In 1996, the Purchasing Division began a tradition which it continues to strongly endorse: the Agency Procurement Officer of the Year recognition program.
Past recipients include (1996) Edi Barker of the Bureau of Employement Programs; (1997) Susie Teel of the Department of Health and Human Resources; and (1998) Lt. Col. Jim Powers of the State Police
(see photograph to the right).
The 1999 honoree will be announced at the Agency Purchasing Conference in September at Canaan Valley State Park. But first...we need you to nominate a well-deserving candidate.
Individuals who are employed by a West Virginia state agency and presently working in the purchasing field are eligible for this recognition. You may nominate a co-worker within your agency or a public purchaser from a different agency. Purchasing Division's staff are not eligible for this award.
A nomination form must be completed, detailing information relating to the following criteria: tenure, performance, communication, internal training, professional development, cost-saving ideas, cooperation, positive image, good purchasing practices, and participation in professional purchasing organizations.
A six-member team of both Purchasing Division and agency procurement officers will evaluate the nominees based on the forms received.
For additional information on this recognition program, contact Diane Holley at (304) 558-0661 or via email (dholley@gwmail.state.wv.us).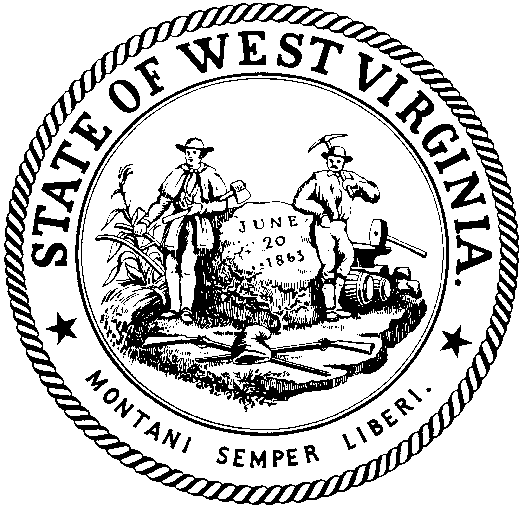 1999 Agency Procurement Officer of the Year

NOMINATION FORM

Name of Person Nominated: _______________________________________Title: ____________________________________

Agency: _________________________________ Supervisor's Name/Telephone: _____________________________________

Reason for Nomination: (Please explain why you consider the nominee a prime candidate for this honor, basing your summary on the established criteria listed below. Note any special accomplishments which the nominee attained in 1998.)

Tenure:

Performance:

Communication:

Internal Training:

Professional Development:

Cost-Saving Ideas:

Cooperation with Purchasing and Agency Staff:

Positive Image:

Good Purchasing Practices:

Participation in Professional Purchasing Organizations:

Additional comments may be included on a separate sheet of paper.

Person Submitting the Nomination: _________________________________________________________________________

Telephone Number: _________________________________________ Email Address: _______________________________

RETURN NOMINATION FORM TO:

WV Purchasing Division, ATTN: Diane Holley, 2019 Washington Street East,
P.O. Box 50130, Charleston, WV 25306. Questions? Call 558-0661 or email (dholley@gwmail.state.wv.us).




Meet Nancy Price...A Welcome Addition to the ACA Section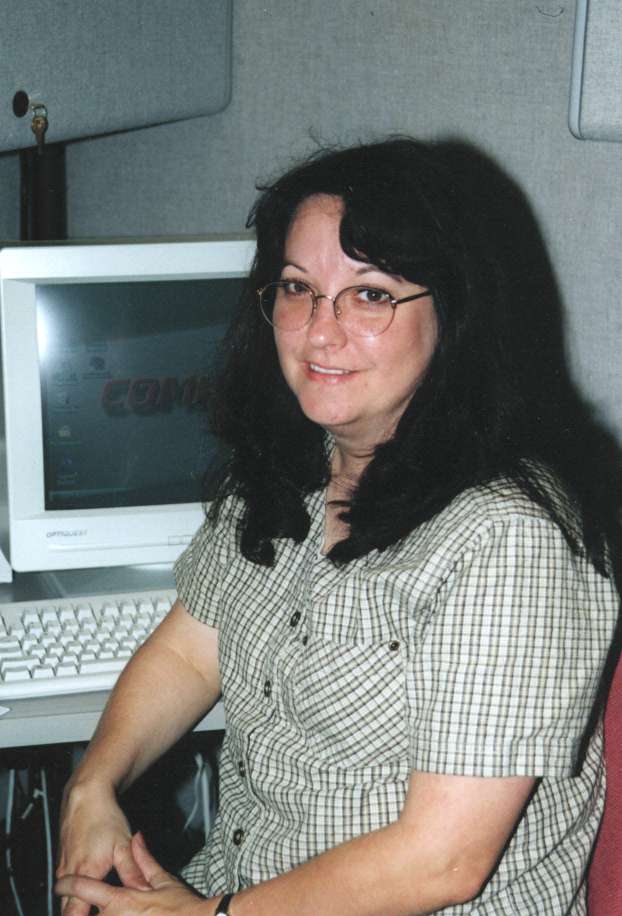 Nancy Price began working on July 2 for the Acquisition & Contract Administration Section. She was previously employed by the Clay County Health Department.

She is married and has three children. Join the Purchasing Division in welcoming Nancy to our staff!

June 30th is a magical date for state government...the end of the fiscal year, the annual time frame by which most budgeted dollars must be spent.

When closing out year end, several tasks must be completed in order for payments to be made on purchase orders issued by that 'magical date'. Fiscal year 1999 was the first full year in which all agencies used the WVFIMS PO Encumbrance Module for year close out. Representatives from the Purchasing Division, Information Services and Communications Division (IS&C) and the State Auditor's Office have offered some helpful tips on how year end closing may run more efficiently.

Tip #1:

Pay close attention to cut off dates, says Purchasing's Jo Ann Dunlap. "When cut off ended, agencies were still sending information for fiscal year 1999. These documents had to be rejected for resubmission as fiscal year 2000."

Tip #2:

Double check the WVFIMS weekly report that advise agencies of documents that are posted but not complete, according to IS&C's Rick Pickens and Denise Russe. "This report tracks your transactions and ensures that they are moving through the system and the procurement process in a timely manner. Purchase orders and adjustments affect your ability to spend!"

Tip #3:

Review all purchase orders in WVFIMS to set automatic rollover flag to "Y," according to State Auditor's Office's Lisa Comer. "This eliminates the need to process accounting adjustments immediately following year end closeout." In addition, expenditure schedules for re-appropriated accounts need to be filed as soon as possible. Rollover documents cannot be approved to the Auditor until all the accounts utilized have approved expenditure schedules.

Tip #4:

Be responsive to requests from the Purchasing Division, Auditor's Office and IS&C. "It is important that agencies respond to requested corrections," Dunlap said.

Tip #5:

Understand what 'year end' means, Pickens adds. "On June 30, any WVFIMS purchase order with an encumbrance balance funded by a non-appropriated account and/or re-appropriated account will have that balanced reduced to zero. This is a PO closeout or "Z" document. If the purchase order has been marked for rollover, IS&C will re-establish that balance on the new fiscal year version of that same account. The closeout is automatic."

Tip #6:

Look closely at your accounts, especially at this time of the year. "If money needs to be moved within accounts, a Type 1 Adjustment must be made through the Auditor's Office, not the Purchasing Division. Sending these adjustments to Purchasing only slows down the process," Dunlap adds.

Tip #7:

New year accounts on transactions are allowed once the pre-cut off period has been entered, which is usually around the middle of May. If an agency is initiating a procurement that will not be awarded and/or invoiced until after the new year, it is to be entered as a PO funded by new year account and approved to 0200. However, do not also use current year non-appropriated or re-appropriated accounts along with the new year account(s) on the same transaction. These accounts will not be valid after July 1 when the new year is opened. Consequently, the document will not post.

Tip #8:

Similarily, do not create PO Adjustments ("X" documents) that decrease encumbrances in a current year account and increase or move them to the same account for the new year. If the current year accounts are non-appropriated special or re-appropriated, this document cannot be completed because both years' versions will never be active at the same time.

Tip #9:

If your contract necessarily spans fiscal years, show the total value of the contract on the ORIG PO AMT in WVFIMS and encumber only what you need for the first fiscal year (ORIG ENC AMT). In subse-quent years, use an Accounting Adjust-ment (Type '1'), which can be directly approved to the Auditor, to increase an encumbrance to the purchase order.

Tip #10:

In the months prior to year end, agencies utilizing WVFIMS extensions should ensure that they have built their extended accounts for the coming new year. Since WVFIMS purchase orders can be approved to Purchasing (org '0200') prior to the new year opening, agencies can be assured that both state and agency level budget controls have been satisfied.

Tip #11:

Send the "X" coversheet for accounting adjustments to the State Auditor's Office upon approval to org 1200, Comer said. "This eliminates the possibility of failed liquidity. Close to year end, it is often necessary for agencies to free up encumbrances not used on purchase orders to process non-purchase order related transactions. If the paperwork is not received by the State Auditor's Office in a timely manner, the non-purchase order related transactions can fail liquidity."




Changes to Agency Purchasing Manual
Becomes Effective July 1, 1999

Effective July 1, 1999, several sections of the Agency Purchasing Manual (original issuance date: July 1, 1998) were revised. It is imperative that agency procurement staff receive a copy of the revised pages for inclusion in their copy of the manual. All respective pages with revision dates prior to July 1, 1999, should be discarded.

The information below details the changes which were recently made to the manual:

Section 8: Pages 30-32

In Section 8.4, Formal Bid Process: Contract Commencement, clarification was necessary regarding the "Notice to Proceed" requirements and the execution of the Type 1 and Type 2 Adjustments.

Section 11: Pages 41-42A

In Section11.4, Special Procedures and Exemptions: Grants, an exemption from Purchasing Division's approval was provided to 'for profit' entities for grants over $10,000 made through the Governor's Guaranteed Work Force Program (GGWFP).

In Section 11.2, Special Procedures and Exemptions:Cash Advances, an exemption of special investigations by the Office of the Inspector General of the Department of Health and Human Resources was added.

Section 12: Pages 43-44

In Section 12, Appeals and Disputes, new procedures for the submission and review of protests have been incorporated in the manual. These new procedures went into effect with the change of the Purchasing Division's Legislative Rule, filed on April 6, 1999.

Appendix B: Page 99

Changes were made to the Purchasing Division Directory in regard to the Operation Section's telephone numbers and the restructuring of the two buying teams under the Acquisitions & Contract Administration Section.

Appendix C: Pages 100-105

This entire appendix was changed to reflect the reassignment of commodities and services which took place February 1, 1999.

Appendix D: Pages 106-117

Purchasing Division's Legislative Rule was modified and filed April 6, 1999 and went into effect April 7, 1999.

If you have any questions regarding the Agency Purchasing Manual, please contact Diane Holley, Executive Assistant, at (304) 558-0661.

If you wish to order a copy of the manual at $10 per copy, please contact Debbie Watkins at (304) 558-3568.

Once responses to a request for proposal have been officially opened, an extensive evaluation must be made to ensure that the proposals are complete and the methodology for making an award has been selected.

The first step is creating the evaluation committee. A minimum of three qualified, knowledgeable members must be chosen. The state agency presents a list of potential evaluators with their qualifications to the Purchasing Division, which in turn has the right to accept or refuse the agency's recommendation.

After the committee is approved, one member is chosen as chairperson. This person is a voting member who has responsibility for all communication to and from the committee to the Purchasing Division. This individual also sets the ground rules, keeps the processing moving, oversees the evaluation procedure, and prepares the evaluation and recommendation documents which are later forwarded to the Purchasing Division.

All evaluation committee members are trained to evaluate proposals prior to their evaluation. The purpose of this training is to ensure that the committee is knowledgeable of the purchasing process. This training may be conduct-ed by the Purchasing Division staff in person, by videotape presentation or an agency procurement officer may perform the training as determined by the Purchasing Division.

After the training is complete, the members review all proposals independently. The committee then convenes to evaluate and assign points to each proposal. A Purchasing Division employee or agency procurement officer, at the discretion of the Purchasing Division, is present to observe and ensure that proper procedures are followed in the final evaluation and assignment of scores.

After a consensus recommendation is signed by all members, it is submitted to the Purchasing Division for approval. Since subjective criteria are used for the evaluation, vendors may challenge the award of an RFP; however, a challenge is likely to add delays to the process.

If the committee's recommendation is acceptable to the Purchasing Division, the contract award will be processed. Any exception to these procedures must be approved by the Purchasing Director.

Information and dates (as of July 16, 1999) included in this Current Statewide Contract Update are subject to change. If you need additional information, please contact the appropriate state buyer.

Contracts Awarded

Contract:

EDMS (NEW)
Description: Electronic Document Management System
File: 21
Vendor: Mantech Desing & Development, Ratheon Systems, R.M. Uredenburg, Radian Systems, Able Soft Solutions
Effective Date: 05/01/99

Contract:

STAKE
Description: Survey Stakes
File: 22
Vendor: WVARF
Effective Date: 07/01/99

Contracts to be Bid or Under Evaluation

Contract:

IP
Description: Information Processing Equipment
File: 21
Bid Opening: 07/14/99
Under Evaluation: Yes

Contract:

DC BATT
Description: Dry Cell Batteries
File: 33
Bid Opening: 07/07/99
Under Evaluation: Yes

Contract:

CARPET
Description: Carpet and Rugs
File: 42
Bid Opening: 08/31/99
Under Evaluation: To Open

Contracts to be Renewed

Contract:

ABSORB
Description: Liquid Spills
File: 22
Vendor: WVARF
Effective Date: 07/01/99

Contract:

WIPING
Description: Wiping Cloths
File: 22
Vendors: Jackson County Sheltered Workshop
Effective Date: 08/01/99

Contract:

OIL
Description: Lubricants and Oils
File: 33
Vendor: Pennzoil
Effective Date: 08/18/99

Contract:

RE-OIL
Description: Re-Refined Oil Products
File: 33
Vendor: Guttman Oil
Effective Date: 08/18/99

Contract:

CEREAL
Description: Breakfast Foods
File: 42
Vendor: Kelloggss
Effective Date: 07/01/99

Contracts to be Extended

Contract:

OFFICE
Description: Office Supplies
File: 42
Vendor: Boise Cascade
Effective Date: 12/31/99

Contracts to be Reviewed

AUGUST

PHOTO


Photography Film and Supplies

WELD


Welding Supplies

SEPTEMBER

C-PIPE


Corrugated Pipe

N-TIRES


Auto and Equipment Tires

R-TIRES


Retread Tires

A/E FILTER


Oil, Air and Fuel Filters

SYSFURN


Modular System Furniture

MF-SVC


Microfilm Services

FLOORPAD


Floor Buffing Pads


Purchasing Division Staff

For questions concerning these contracts listed, please contact the appropriate buyer:

File 21
Charlyn Miller
(558-0067)

File 22
Pam Jones
(558-0468)

File 31
Evan Williams
(558-2596)

File 33
John Johnston
(558-0492)

File 41
Ron Price
(558-2316)

File 42
Jim Jackson
(558-2402)

Are you unsure of certain purchasing procedures? ... Do you need to know what printing services Consolidated Publishing Facility provides? ... Do you have a question regarding travel requests? ... Would you want to know what surplus property is available? ... If you need information concerning any function within the Purchasing Division, complete the form below:



Thank You for Viewing our August Issue of The Buyers Network